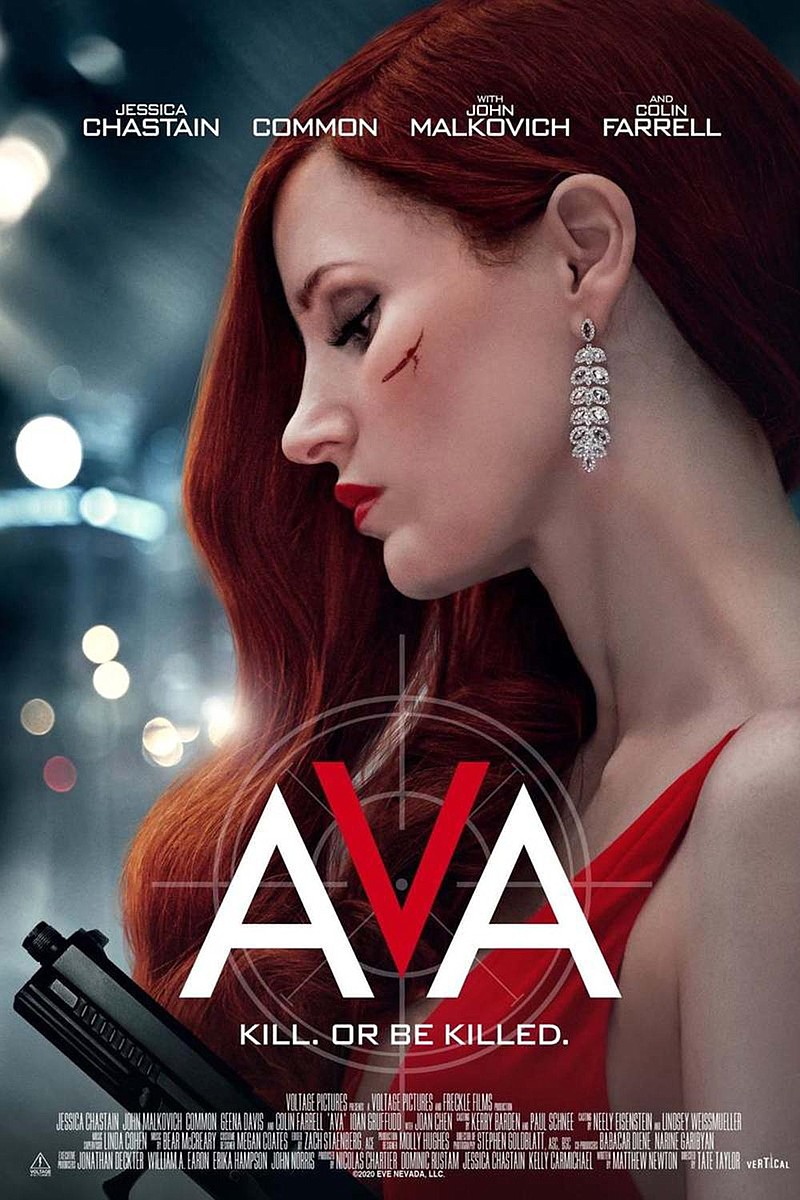 Ava
"Ava,"
directed by Tate Taylor
(R, 1 hour, 36 minutes)
Remember when Jessica Chastain could do no wrong? After being the go-to star for much of the last decade (2011's "The Help," 2012's "Zero Dark Thirty," 2014's "Interstellar," 2016's "Miss Sloane" and 2017's "Molly's Game") she turns up in this dead-on-arrival snoozer of an espionage caper in which she plays a sexy assassin who, while making spectacular appearances in glamorous locations, becomes the target of her own black-ops organization's permanent dismissal program.
It's not her fault that the film doesn't succeed; despite help from fellow well-regarded performers such as Colin Farrell, Geena Davis, John Malkovich, Common, Joan Chen and Ioan Gruffudd. It's the cliche-ridden silly script that does them in. Directed by Tate Taylor.
"The Irishman" (R, 3 hours, 29 minutes) A film well-suited for watching over the course of a couple of nights, this knockout Netflix drama follows Frank Sheeran (Robert De Niro) who, while taking up quiet occupancy in a home for senior citizens, reveals in fascinating flashbacks his history of working as a hitman for the top crime family in Buffalo, N.Y. With Al Pacino, Joe Pesci, Harvey Keitel, Ray Romano, Bobby Cannavale, Anna Paquin, Jack Huston, Jesse Plemons, Steven Van Zandt; directed with the level of skill you'd expect from Martin Scorsese.
"The Last Blockbuster" (not rated, 1 hour, 24 minutes) A documentary on the last remaining Blockbuster Video in Bend, Ore. With Sandi Harding, Kevin Smith, Ione Skye, Jamie Kennedy; directed by Taylor Morden.
"Sonic the Hedgehog" (PG, 1 hour, 39 minutes) This bright, feisty video game-turned-animated kidfest focuses on cute little blue Sonic, who may resemble a hedgehog but is much, much more. He finds a friend in a human named Tom Wachowski, who aids in fighting off the efforts of evil Dr. Robotnik from capturing Sonic and using his super-powers for world domination. With the voices of Jim Carrey, James Marsden, Ben Schwartz, Tika Sumpter, Adam Pally, Neal McDonough; directed by Jeff Fowler.
"All I Can Say" (not rated, 1 hour, 42 minutes) A documentary -- best consumed by fans -- that employs the self-shot video diary of self-destructive Shannon Hoon, the late lead singer of alternative-rock band Blind Melon. Directed by Danny Clinch, Taryn Gould and Colleen Hennessy.
"All Roads to Perla" (aka "Sleeping in Plastic") (not rated, 1 hour, 48 minutes) Although burdened with too many side trips down rabbit holes that lead nowhere, this is a fairly watchable crime thriller in which a sleepy Texas town suddenly becomes exciting when a high school wrestler gets entangled with a drifter and her psychopathic lover. With Addison Timlin, Corin Nemec, Dash Mihok, Nick Chinlund; written and directed by Van Ditthavong.
"After We Collided" (R, 1 hour, 45 minutes) Based on the 2014 romance novel of the same name, this dull, depressing drama concerns a college student's encounter with a troubled kid. With Josephine Langford, Hero Fiennes Tiffin, Dylan Sprouse; directed by Roger Kumble.
"The Walrus and the Whistleblower" (NC-17, 1 hour, 28 minutes) An intriguing if under-achieving character-driven documentary about an animal welfare activist who goes to extreme lengths to reveal mistreatment of animals at Marineland in Niagara Falls, Canada. With Phil Demers, Doug Draper, Jimmy Kimmel; co-written and directed by Nathalie Bibeau.
"Buddy Games" (R, 1 hour, 36 minutes) -- Our Philip Martin reviewed this when it opened theatrically last week. He said it was "a dumber version of Adam Sandler's 'Grown Ups,' crossed with the forgettable 2018 comedy 'Tag,' crossed with the episode of 'Jackass' where Johnny Knoxville tests a protective cup by having somebody drop a billiard ball on his groin from the roof of a two-story building." But we wanted a second opinion, so we went to The Artful Critic website. They said: "a depressingly unfunny dudes-will-be-dudes romp that could have been called 'Barstool Sports: The Movie.'" For a third opinion we went to Nate Adams' The Only Critic site: "an abhorrent waste of time and talent." For our last recount, we went to the San Francisco Chronicle's Mick LaSalle, who noticed that the main character, played by Josh Duhamel, who also wrote and directed (it's his directorial debut) "plays Bob, a man who feels more loyalty to his friends than he does to his wife. He'd rather be with them than with her, even though the wife is played by Olivia Munn ... Olivia Munn plays the wife, and yet he'd rather be with his flatulent, disgusting friends. And the movie isn't science fiction, and the man isn't presented as mentally ill."
"Iron Mask" (PG-13, 2 hours) -- In what sounds like a lost '90s artifact, Jackie Chan plays a prisoner trying to escape from the jailer of the Tower of London (Arnold Schwarzenegger) in this sequel to a 2014 film called "Viy," which is better known as "Forbidden Kingdom." And that's just one of the sidebars -- the main storyline concerns British cartographer Jonathan Green (Jason Flemyng) who is tasked with exploring East Russia and China and comes face-to-face with an alien dragon called "Viy" whose eyelashes can be used to create some sort of magic tea. Anyway, it was sort of a hit in Russia and China, where it was released theatrically in 3D. Apparently, there are a lot of green-screen special effects and Rutger Hauer. Directed by Oleg Stepchenko.
Sponsor Content