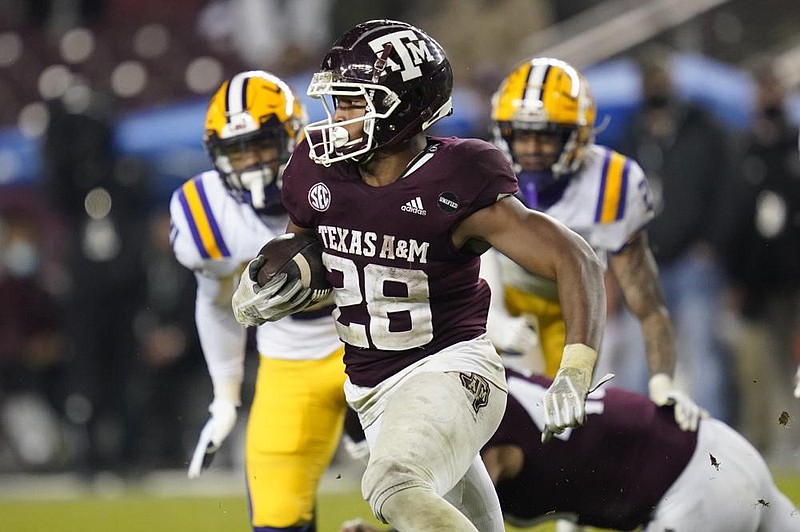 Texas A&M running back Isaiah Spiller rushed for 141 yards and a touchdown Saturday night during the No. 5-ranked Aggies' victory over LSU in College Station, Texas. (AP/Sam Craft)
COLLEGE STATION, Texas -- Isaiah Spiller ran for 141 yards and a touchdown and Buddy Johnson returned an interception for a score in No. 5 Texas A&M's 20-7 victory over LSU on Saturday night.
Texas A&M (6-1) extended its winning streak to five games in its first contest since Nov. 7 after the team couldn't play the last two weeks because of a coronavirus outbreak.
"I thought we could have played better," Spiller said. "We were a little rusty."
The Aggies relied on their running game and tough defense on a wet and soggy night where rain fell steadily and made passing difficult. Kellen Mond had a season-low 105 yards passing in his first game this season without a touchdown pass. LSU's 123rd-ranked pass defense broke up eight of his passes in the first half and finished with 11.
"Our offense was way too inconsistent, didn't get a rhythm (but) our team found a way to win the game and that's what's important," Coach Jimbo Fisher said.
TJ Finley threw for 118 yards and had an interception in the second quarter for LSU (3-4) before he was benched for Max Johnson after Buddy Johnson's interception return for a touchdown in the third quarter.
Texas A&M beat the Tigers for the second time in three years after the Aggies had a 74-72 victory in seven overtimes in LSU's last visit to Kyle Field in 2018 in a game that tied the record for most OTs in an FBS game.
The Aggies limited LSU to 36 yards rushing and allowed just 2 of 16 third-down conversions.
LSU fumbled on a punt return with about six minutes left in the third, but the Aggies were unable to take advantage of the miscue when Mond was sacked on third down to force a punt.
Texas A&M made it 20-0 when Johnson picked off a pass Finley threw under heavy pressure and returned it 15 yards for a touchdown with about 4 1/2 minutes left in the third.
LSU Coach Ed Orgeron ripped off his mask and screamed at Finley as he approached the sideline after the interception. He then put his hand on Finley's chest and continued yelling in his face for several more seconds before Finley retreated to the bench.
Orgeron was asked what he told Finley.
"Just protect the football. Don't throw the ball away like that," he said. "It was a freshman mistake, but I wanted him to learn that that's not acceptable. Just take the sack."
Max Johnson, who played briefly in the first half, finished the game and had 113 yards passing and a 3-yard TD pass that made it 20-7 with less than a minute remaining.
Spiller had a 52-yard touchdown run, dragging a defender with him for the last couple of yards, to extend Texas A&M's lead to 10-0 late in the first quarter.
Texas A&M led 13-0 at halftime after Seth Small made a 40-yard field goal at the end of the second quarter.
OLE MISS 31,
MISSISSIPPI STATE 24
OXFORD, Miss. — Matt Corral threw for two touchdowns as Ole Miss raced Freshman Will Rogers threw three touchdown passes for Mississippi State (2-6) including 6 and 11 yards to Malik Heath. Rogers finished 45-of-61 passing for 440 yards and pulled the Bulldogs within 24-21 on a 7-yard strike to Austin Williams. Rogers directed Mississippi State to an opportunity on the final play from the Ole Miss 36-yard line, lofting a pass to the end zone that was knocked down by A.J. Finley.
NO. 6 FLORIDA 34,
KENTUCKY 10
GAINESVILLE, Fla. — Florida's Kyle-to-Kyle connection returned in a big way after a two-week hiatus and put the sixth-ranked Gators on the verge of to a 14-0 first quarter lead and held off a late Mississippi State surge to defeat the Bulldogs in the Egg Bowl rivalry. Ole Miss (4-4) snapped a two-game losing streak in the rivalry, erasing last year's painful one-point loss after Elijah Moore drew an unsportsmanlike conduct penalty in the end zone, pushing back an extra-point attempt that failed in the final seconds.
Saturday, Moore responded with 12 receptions for 139 yards, including four catches to convert on third and fourth downs. Moore entered the game leading the nation in receptions (10.6 per game) and yardage (159.3 ypg). Corral was 24 of 36 passing for 385 yards with touchdowns of 81 yards to Braylon Sanders and 48 yards to Dontario Drummond as Ole Miss built a 21-7 second quarter lead and never trailed. Snoop Conner and Jerrion Ealy added touchdown runs of 1 and 8 yards, respectively.
the SEC Championship Game.
Kyle Trask found Kyle Pitts for three touchdowns, including a 56-yarder in which the star tight end ran away from a cornerback, and Florida overcame a sluggish start to beat Kentucky.
It was Pitts' first game since suffering a concussion and breaking his nose on a hit against Georgia. Trask wasted little time reconnecting with his favorite and most talented target.
Trask has 34 touchdown passes this season, moving him past 2007 Heisman Trophy winner Tim Tebow and into a tie for third on the school's single-season list. Only Danny Wuerffel (39 in 1996, 35 in 1995) is ahead of him. Rex Grossman also had 34 in 2001.
Trask did break one of Wuerffel's records Saturday. He became the first player in school history with at least three touchdown passes in eight consecutive games, topping Wuerffel's mark of seven set in 1996.
Trask is on pace to pass Wuerffel for touchdowns, too, and it could happen in his final two regular-season games. More importantly for Trask and the Gators (7-1), though, is they can clinch the East Division with a victory at Tennessee next week. The Wildcats are 3-6.
NO. 9 GEORGIA 45,
SOUTH CAROLINA 16
COLUMBIA, S.C. — James Cook ran for 104 yards on just six carries and three other Georgia backs had at least 77 yards to help the No. 9 Bulldogs overpower depleted South Carolina. After throwing for 401 yards in his first start last week, JT Daniels was 10 for 16 for 139 yards with 2 touchdowns.
Daniels overthrew a few open receivers and took two sacks. But Georgia (6-2) barely needed Daniels to pass at all. The Bulldogs ran for 332 yards. Georgia led 21-0 after its first three possessions and before South Carolina (2-7) got a first down.
Zamir White ran 13 time for 84 yards, Kenny McIntosh had 79 yards on nine carries, and Daijun Edwards ran 14 times for 77 yards. The Bulldogs didn't attempt a pass after Daniels' 31-yard touchdown strike to Arian Smith on the first play of the fourth quarter gave them a 45-10 lead.
Georgia got the ball back with 9:27 left and ran 12 consecutive times, taking a knee at first-and-goal at the 1 to mercifully end it. The Bulldogs averaged 8 yards a run when Daniels sacks were removed from their total.
MISSOURI 41, VANDERBILT 0
COLUMBIA, Mo. — Larry Rountree rushed 21 times for 160 yards and 3 touchdowns as the Tigers (4-3) defeated the Commodores (0-8).
Missouri outgained Vanderbilt 603-196 and rarely allowed the Commodores to cross midfield.
"He refuses to get tackled," Missouri Coach Eli Drinkwitz said of Rountree. "The play is never over until you physically get him to the ground."
Connor Bazelak completed 30 of 37 passes for 318 yards. Running back Tyler Badie had seven catches for 102 yards and scored on a 1-yard run in the second quarter.
Missouri has held three of its past four opponents to 10 points or less. Vanderbilt quarterback Ken Seals completed 11 of 19 passes for 79 yards.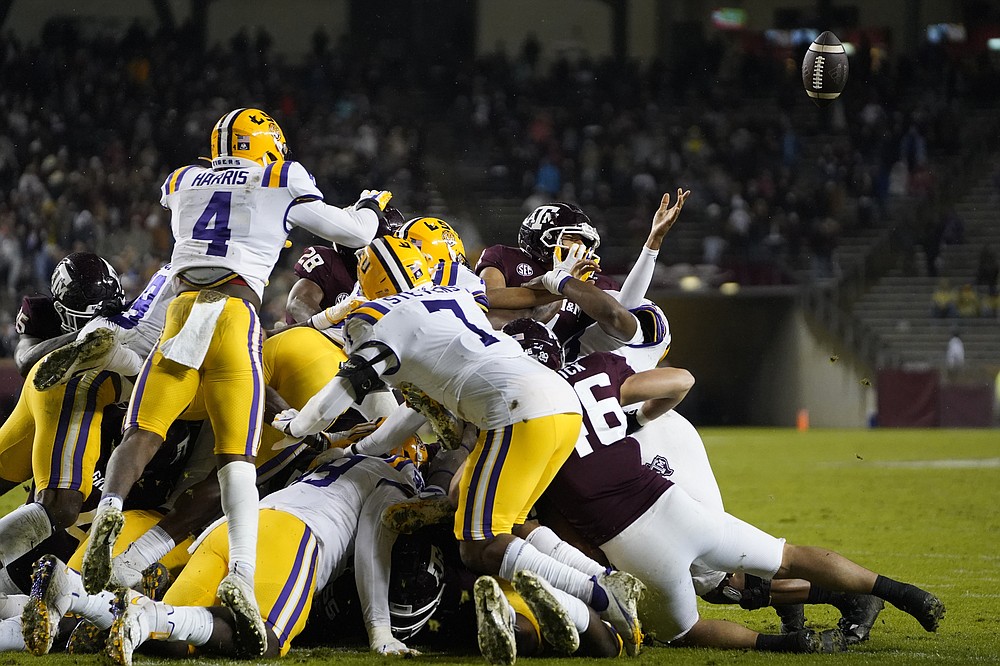 Texas A&M quarterback Kellen Mond (11) has the ball knocked out of his hands by LSU on a fourth-down play during the second quarter of an NCAA college football game Saturday, Nov. 28, 2020, in College Station, Texas. (AP Photo/Sam Craft)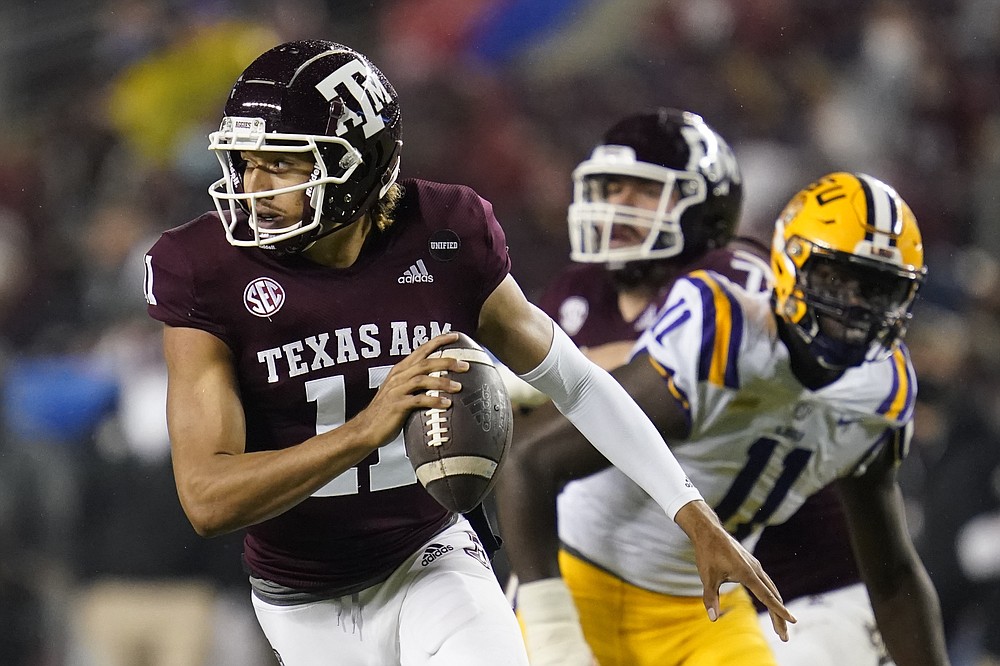 Texas A&M quarterback Kellen Mond (11) is chased out of the pocket by LSU defensive lineman Ali Gaye (11) during the first quarter of an NCAA college football game, Saturday, Nov. 28, 2020. in College Station, Texas. (AP Photo/Sam Craft)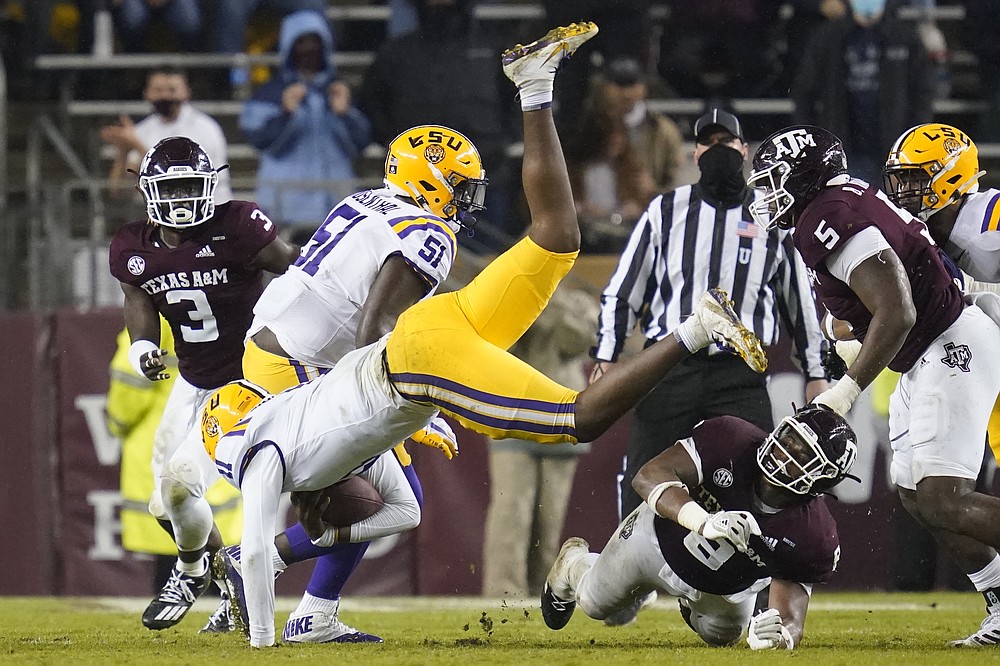 Texas A&M defensive lineman DeMarvin Leal (8) upends LSU quarterback TJ Finley (11) for a sack during the second quarter of an NCAA college football game Saturday, Nov. 28, 2020, in College Station, Texas. (AP Photo/Sam Craft)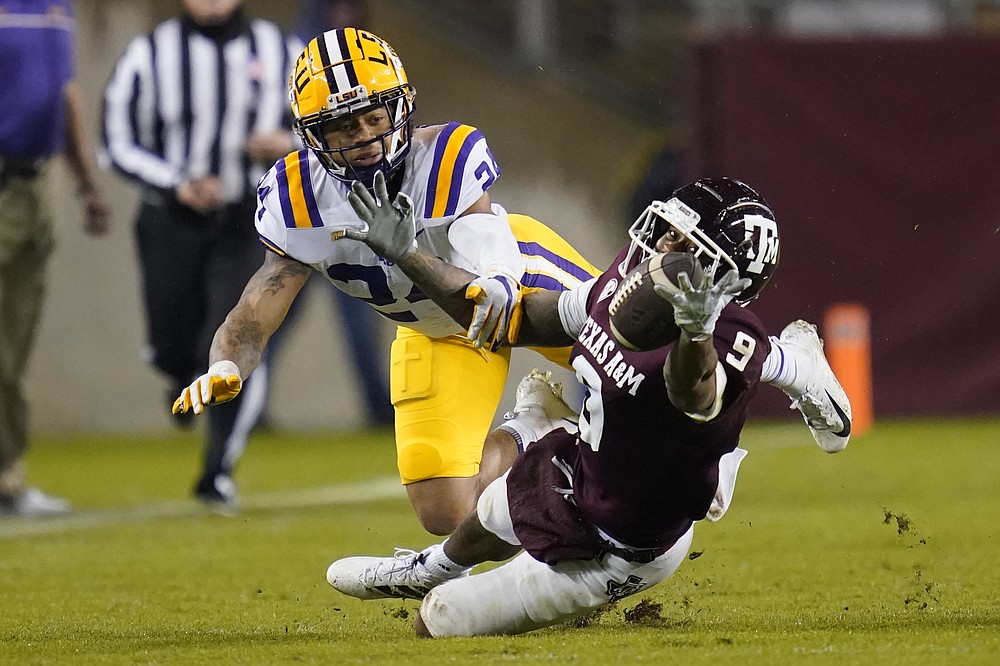 Texas A&M wide receiver Hezekiah Jones (9) tries to make a catch as LSU cornerback Derek Stingley Jr. (24) during the first half of an NCAA college football game, Saturday, Nov. 28, 2020. in College Station, Texas. (AP Photo/Sam Craft)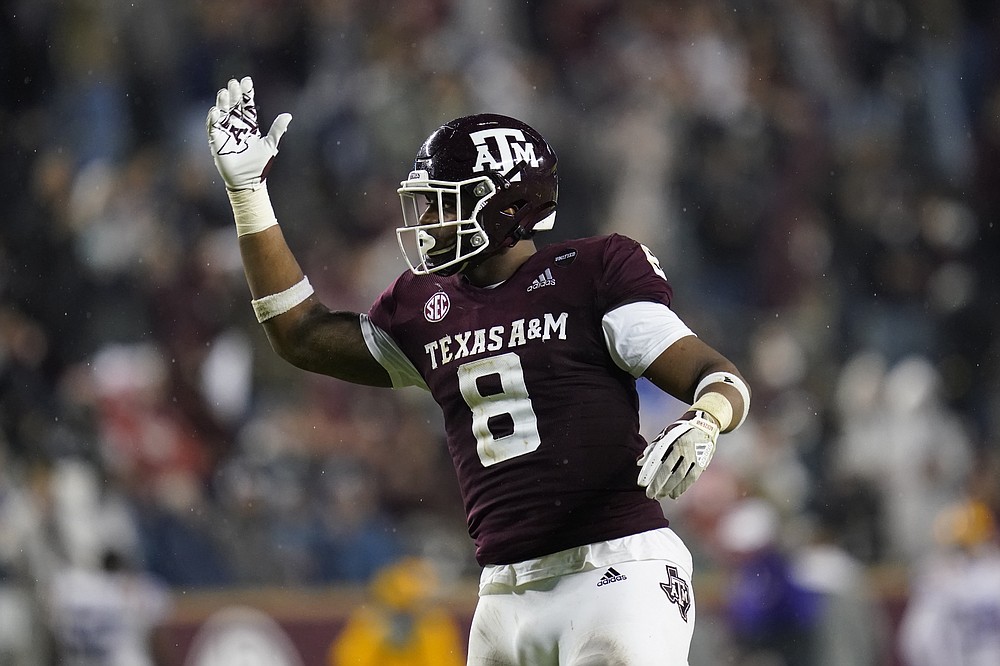 Texas A&M defensive lineman DeMarvin Leal gestures toward the crowd at Kyle Field before a third-down play by LSU during the first half of an NCAA college football game Saturday, Nov. 28, 2020, in College Station, Texas. (AP Photo/Sam Craft)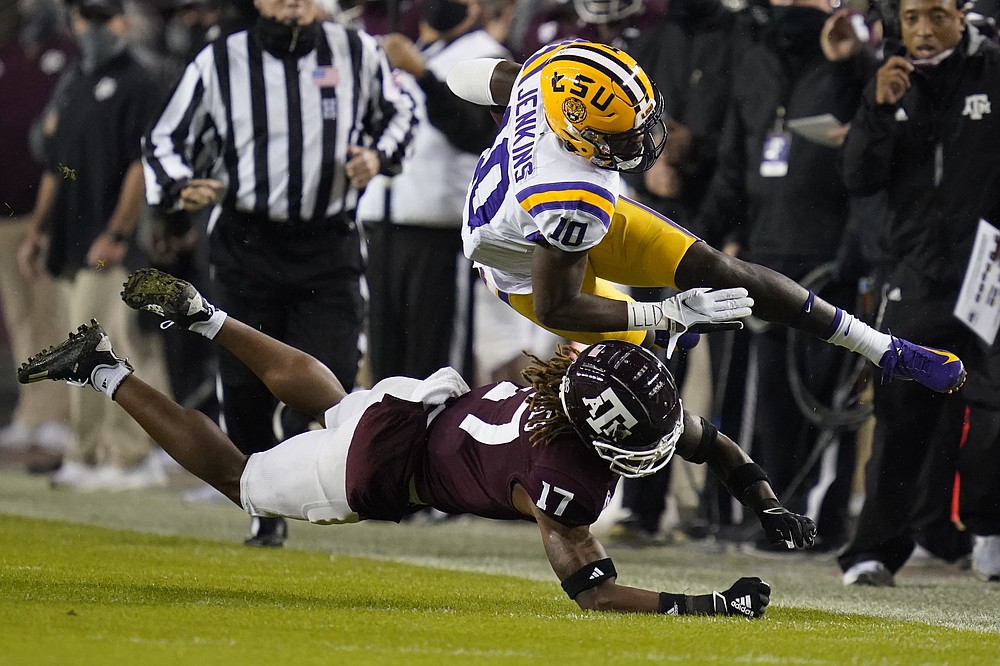 Texas A&M defensive back Jaylon Jones (17) cuts out the legs of LSU wide receiver Jaray Jenkins (10) during the first half of an NCAA college football game, Saturday, Nov. 28, 2020. in College Station, Texas. (AP Photo/Sam Craft)
Sponsor Content