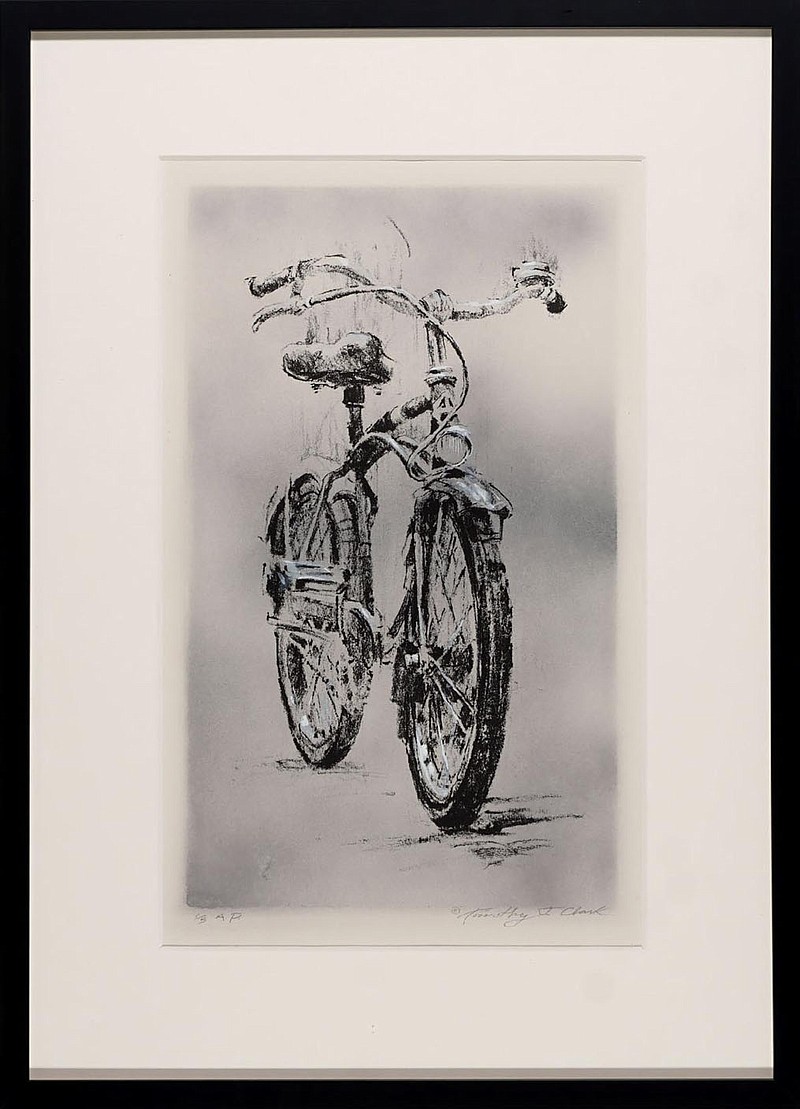 "Savoy Bicycle" by Timothy J. Clark (Courtesy Image)
Fort Smith Regional Art Museum leaders recently announced their inaugural quarterly auction, which will conclude at 6 p.m. today.
Organizers say: "The highlight of this auction is an original Timothy J. Clark hand-pulled stone lithograph of one of his famous bicycle renderings. It comes directly from the artist studio with hand-applied highlights."
Proceeds from the auction will "keep RAM's free exhibitions and educational programs alive."
Other items available include framed original fine art, prints, art glass, rare books and vintage film cameras.
The ongoing mission of the museum is to "foster art appreciation in the community through diverse exhibitions, educational programming, dynamic events and cultural partnerships."
"RAM provides art-viewing experiences with national and international traveling exhibits as well as exhibitions featuring the work of our region's artists," the museum website says. "We also provide a full education program for ages beginning at 18 months. We have now moved to an online format for our art classes, fsram.org/education. RAM also features a wonderful gift shop with unique items and art by local artists. Organizers are in the planning stages of forming special interest groups for members to help them delve more into the areas of art that appeal to them, from art history to photography."
Currently on view at the museum is "Billie Holiday at Sugar Hill: Photographs by Jerry Dantzic," organized by the Smithsonian Institution Traveling Exhibition Service in collaboration with the Jerry Dantzic Archives. The exhibition is featured in today's What's Up!
— CARIN SCHOPPMEYER CSCHOPPMEYER@NWADG.COM
Quarterly Art Auction
Who: Fort Smith Regional Art Museum
What: Framed original fine art, prints, art glass, rare books and vintage film cameras
When: through 6 p.m. today
Where: www.ebay.com/sch/jumonc-91/m.html?ssPageName=STRK%3Anull%3AME SOI&rt=nc&_dmd=2
Information: (479) 784-2787 or fsram.org
Sponsor Content