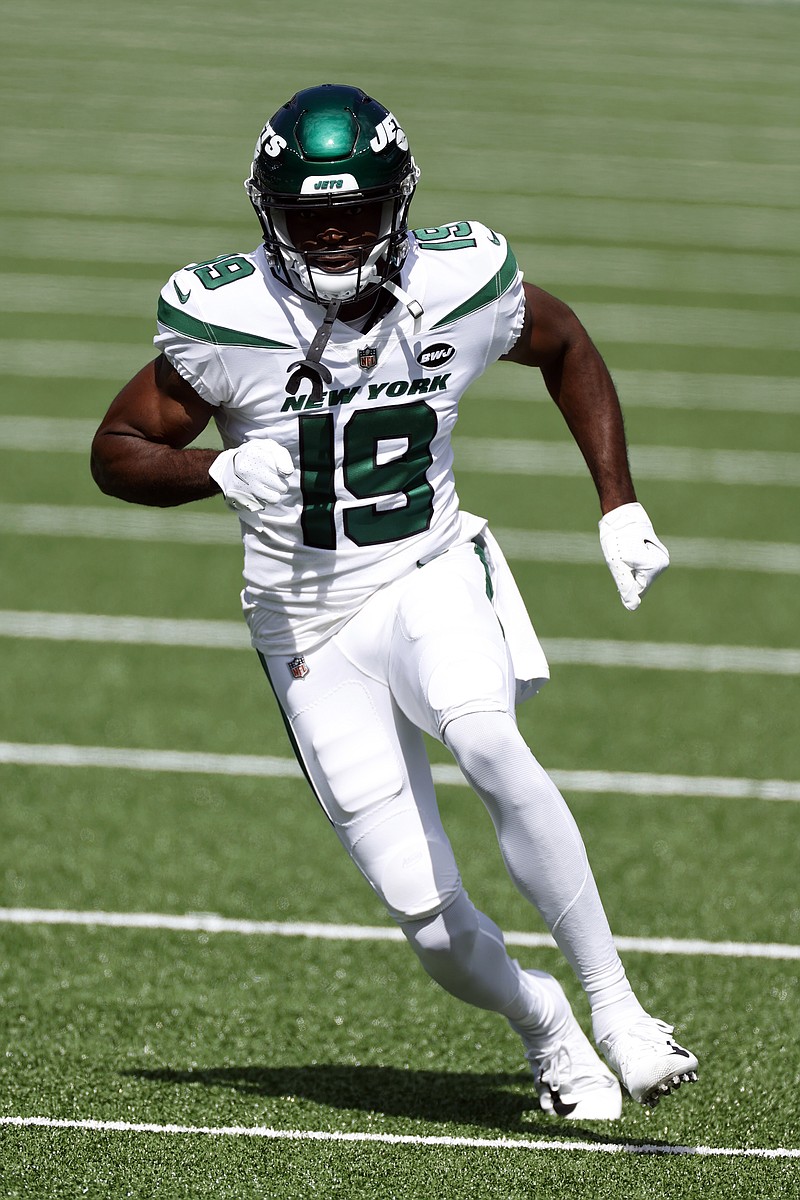 File-New York Jets wide receiver Breshad Perriman (19) prior to an NFL football game against the San Francisco 49ers, Sunday, Sept. 20, 2020, in East Rutherford, N.J. New York Jets wide receivers Perriman and Jamison Crowder sat out practice Wednesday, Sept. 23, 2020, with injuries, and they could miss the team's game at Indianapolis on Sunday.(AP Photo/Adam Hunger, File)
BASEBALL
Postseason fans allowed
Fans can take themselves out to the ball game for the first time this season during the NL Championship Series and World Series at new Globe Life Field in Arlington, Texas. Major League Baseball said Wednesday that about 11,500 tickets will be available for each game. That is about 28% of the 40,518-capacity, retractable-roof stadium of the Texas Rangers, which opened this year adjacent to old Globe Life Park, the team's open-air home from 1994 through 2019. The World Series is being played at a neutral site for the first time in response to the coronavirus pandemic. It will be played at one stadium for the first time since the St. Louis Cardinals defeated the Browns at Sportsman's Park in 1944. Tickets are priced at $40-$250 for the NLCS and $75-$450 for the World Series, and 10,550 seats in the regular sections of the ballpark and 950 in suites will be sold in "pods" of four contiguous seats. Each pod will be distanced by at least 6 feet and a checkerboard pattern will be used, with alternating rows of seats in the middle or rows and at the ends. Unsold seats will be tied back. The NLCS is scheduled on seven consecutive days from Oct. 12-18, and the World Series from Oct. 20-28, with traditional off days between Games 2 and 3, and Games 5 and 6 if the Series goes that far.
HOCKEY
Rangers, goalie part ways
The New York Rangers have bought out the contract of star goaltender Henrik Lundqvist on Wednesday, parting ways with one of their greatest players in franchise history after 15 mostly spectacular seasons. In buying out the final year of the 38-year old's contract, the Rangers will save $3.7 million in cap space for next season. Lundqvist is now a free agent. The Rangers traded veteran defenseman Marc Staal and a second-round draft choice to Detroit in the last week in another cap move.
TENNIS
Player banned for 4 years
Spanish tennis player Gerard Joseph Platero Rodriguez has been suspended for four years and fined $15,000 after being convicted of courtsiding, the first player to be charged with the offense. The Tennis Integrity Unit said Wednesday that six months of the ban were suspended on condition that no further breaches of the Tennis Anti-Corruption Program were committed. It said an investigation established that Rodriguez, who has no ranking, had acted as a courtsider at an ITF tournament held in Pittsburgh in July 2019. Courtsiding is a prohibited practice that involves transmission of live scoring data from a match to a third party for betting purposes. Rodriquez was also found to have placed 75 online bets on tennis matches during June 2019.
FOOTBALL
CFP expansion declined
The conference commissioners who manage the College Football Playoff decided to stick with a four-team format during this pandemic-altered season after the Pac-12 made a request to consider expansion. College Football Playoff executive director Bill Hancock said Wednesday that Pac-12 Commissioner Larry Scott asked the rest of management committee to consider having eight teams play for the national championship this season. The request was made because of disruptions to the season caused by the pandemic. Conferences are not playing the same number of games, are starting play at different times and there are no interconference matchups between Power Five leagues. "To do it now, it's such a significant change with so many challenges, especially with the season started, they thought it was best to not make a change," Hancock said.
Perriman out vs. Broncos
New York Jets wide receiver Breshad Perriman will be sidelined a second consecutive game because of a sprained left ankle. The speedy receiver was ruled out, as expected, on Wednesday for the Jets' home game tonight against Denver. Perriman was injured during New York's loss to San Francisco on Sept. 20. Wide receiver Jamison Crowder was listed as questionable but could return after being sidelined two games with a hamstring injury. He was limited at practice, but he said Tuesday he was confident he could play a full game without fear of reinjuring his leg. Left tackle Mekhi Becton was also questionable after injuring a shoulder during New York's loss at Indianapolis on Sunday. Coach Adam Gase said Monday the MRI came back better than expected, so there's optimism the rookie will play against the Broncos.
Saints' WR returns to practice
Saints top receiver Michael Thomas returned to practice Wednesday for the first time since injuring his ankle in New Orleans' season-opening victory over Tampa Bay on Sept. 13. The Saints, who visit Detroit on Sunday, have lost both games Thomas has missed, falling to 1-2 and into second place in the NFC South Division. Thomas, who has been named All-Pro the past two seasons, set an NFL single-season record in 2019 with 149 catches. His 1,725 yards receiving led the Saints last season, while his nine touchdowns receiving tied for the team lead with running back Alvin Kamara.
Broncos sign D-lineman
The Denver Broncos signed free agent defensive lineman Timmy Jernigan on Wednesday after placing five-time Pro Bowler Jurrell Casey on injured reserve along with tackle Elijah Wilkinson and linebacker Austin Calitro. The Broncos (0-3) also promoted running back LeVante Bellamy and outside linebacker Derrek Tuszka from their practice squad ahead of tonight game against the New York Jets (0-3). Jernigan is a seventh-year pro who was released Monday by the Jacksonville Jaguars after playing in all three of their games. Before this season, he appeared in 78 games, including playoffs, for the Baltimore Ravens (2014-16), where he was a second-round pick out of Florida State, and the Philadelphia Eagles (2017-19).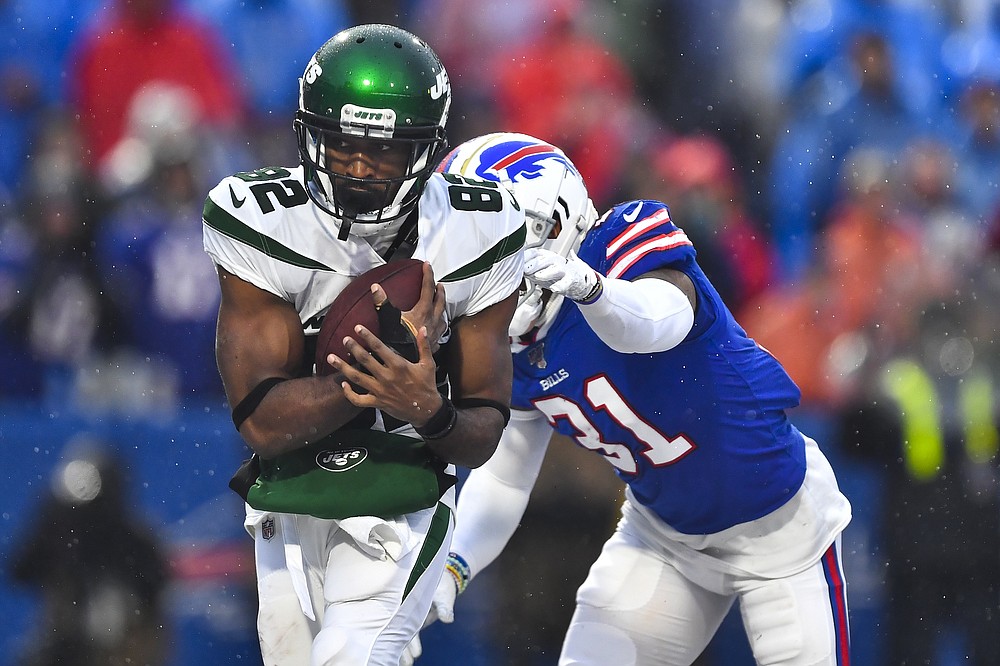 File-New York Jets wide receiver Jamison Crowder (82) catches a pass for a touchdown in front of Buffalo Bills' Dean Marlowe (31) during the second half of an NFL football game Sunday, Dec. 29, 2019, in Orchard Park, N.Y. New York Jets wide receivers Breshad Perriman and Crowder sat out practice Wednesday, Sept. 23, 2020, with injuries, and they could miss the team's game at Indianapolis on Sunday. (AP Photo/Adrian Kraus, File)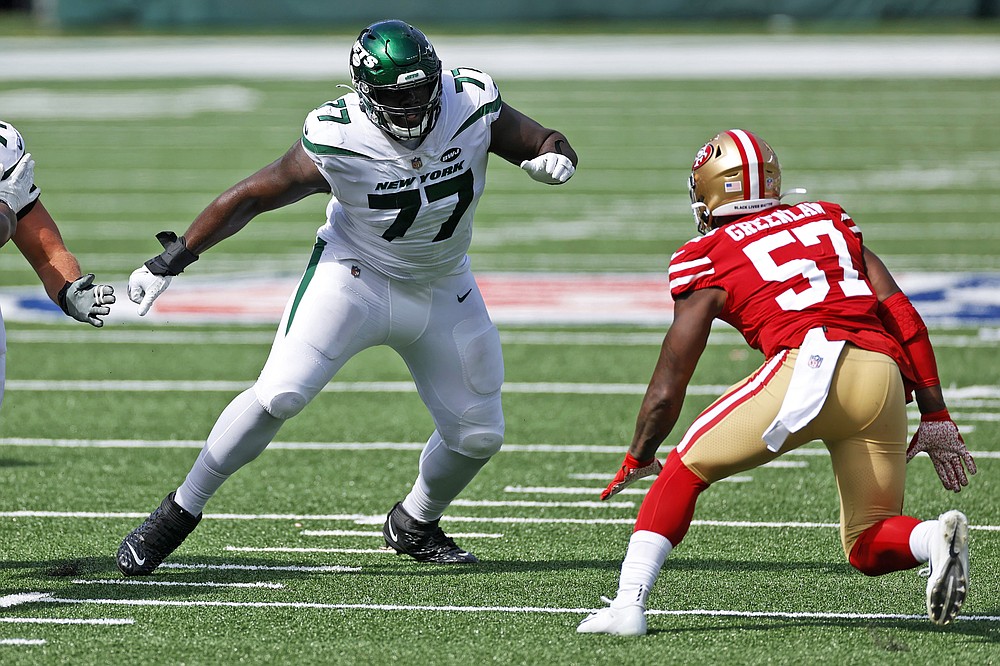 FILE - In this Sunday, Sept. 20, 2020, file photo, New York Jets offensive tackle Mekhi Becton (77) looks to block against the San Francisco 49ers during an NFL football game in East Rutherford, N.J. Becton flings 300-pound defenders to the ground as if they're merely little rag dolls. This is exactly what the Jets envisioned when they drafted the 6-foot-7, 363-pound behemoth out of Louisville. (AP Photo/Adam Hunger, File)
Sponsor Content