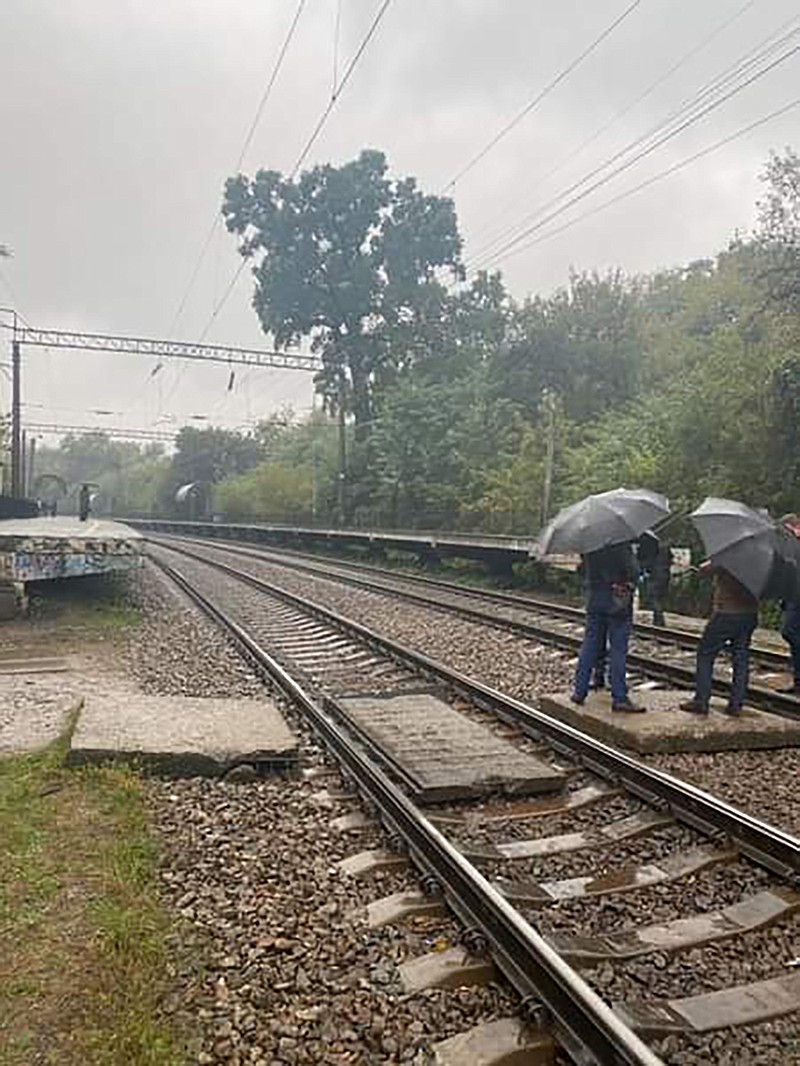 In this photo released by Ministry of Internal Affairs of Ukraine on Wednesday, Sept. 30, 2020, investigators work at the scene of an accident in Kyiv, Ukraine. Police in Ukraine are investigating the death of an American woman who worked for the United States Embassy in Kyiv. The woman was found unconscious with a head injury near the railway tracks in a park not far from the embassy on Wednesday, according to a police statement. She died in a hospital later in the day. (Ministry of Internal Affairs of Ukraine via AP)
U.S. Embassy worker dies in Ukraine
KYIV, Ukraine -- Police in Ukraine are investigating the death of an American woman who worked for the United States Embassy in Kyiv.
The woman was found unconscious with a head injury near the railway tracks in a park not far from the embassy Wednesday, according to a police statement. She died in a hospital later in the day. U.S. Embassy identification was found in her belongings.
The Embassy confirmed that the woman was a U.S. citizen in a statement and said they were "heartbroken" to report her death. Embassy officials were "working with authorities to determine the circumstances of the death."
Police said the woman may have been assaulted and that they were looking for a 30- to 40-year-old man wearing black shorts, dark-blue sneakers and a T-shirt.
Artyom Shevchenko, the spokesman for Ukraine's Interior Ministry, said on Facebook that police were investigating the death as a murder but at the same time had not ruled out an accident.
The woman was wearing sports clothes and headphones, he said. "The death of such reckless pedestrians as a result of injuries [caused by a] train is not uncommon on the railways," Shevchenko wrote.
Ukrainian President Volodymyr Zelenakiy's office issued a statement offering condolences to the family and friends of the woman, who, according to the statement, had a husband and four children.
Car bomb kills 9 people in Afghanistan
KABUL, Afghanistan -- An Afghan official says at least nine people including four civilians were killed when a suicide car bomber attacked a military checkpoint in southern Afghanistan.
Omer Zwak, a spokesman for the provincial governor in Helmand, said Thursday that a small child and three security personnel were wounded in the late Wednesday night attack in Nahri Sarah district.
Zwak said civilians were in a vehicle passing by when the attacker targeted the checkpoint. Two women were among those killed.
No one immediately claimed responsibility for the attack, but Taliban insurgents are in control of most part of Helmand province.
The violence comes even as Taliban leaders and Afghan government-appointed negotiators are holding historic peace talks in Qatar, a Mideast country where the Taliban set up a political office after they were toppled from power in the 2001 U.S.-led invasion of Afghanistan following the Sept. 11, 2001, terrorist attacks on the U.S.
2 nations reach deal to avoid standoffs
BRUSSELS -- Greece and Turkey agreed Thursday to safety measures aimed at preventing standoffs between their warships and military aircraft in the Mediterranean Sea from breaking out into open conflict, NATO said.
Tensions between the neighbors and alliance members ran high for several weeks in the eastern Mediterranean, where Turkey was prospecting the seabed for potential energy reserves in an area Greece claims as its own continental shelf. But things have eased in recent days.
NATO headquarters said in a statement that the new measures include the setting up of a hot line between Greece and Turkey for use between senior officials in case confrontations arise. No further details were provided.
"This safety mechanism can help to create the space for diplomatic efforts to address the underlying dispute and we stand ready to develop it further. I will remain in close contact with both allies," NATO Secretary-General Jens Stoltenberg said in the statement.
Talks on the measures got off to a rocky start last month, with Greece refusing to even acknowledge that they were underway, and both sides arguing over what steps should be taken.
Egypt abusing LGBT people, group says
CAIRO -- A prominent human rights group Thursday accused Egyptian police of arbitrarily arresting and torturing lesbian, gay, bisexual and transgender people, and urged authorities to end prosecutions for adult, consensual sexual relations.
Security forces routinely make random arrests of people based on their gender expression, unlawfully search their phones and entrap them through social media sites and dating applications, said a statement released by New York-based Human Rights Watch.
Detainees face torture and sexual violence, including repeated beatings, water-hosing and forced examinations, the rights group said. It also accused security forces of extracting forced confessions from LGBT detainees, denying them access to legal counsel and medical care, and inciting fellow inmates to abuse them.
"Egyptian authorities seem to be competing for the worst record on rights violations against LGBT people in the region, while the international silence is appalling," said Rasha Younes, LGBT rights researcher at Human Rights Watch.
Attempts to reach a government spokesman for comment were not immediately successful.
Homosexuality is highly taboo in Egypt among both majority Muslims and the Christian minority, but is not explicitly prohibited by law. In practice, however, the state regularly seeks to prosecute individuals under alternative charges including "immorality" and "debauchery," which are normally reserved for prostitution.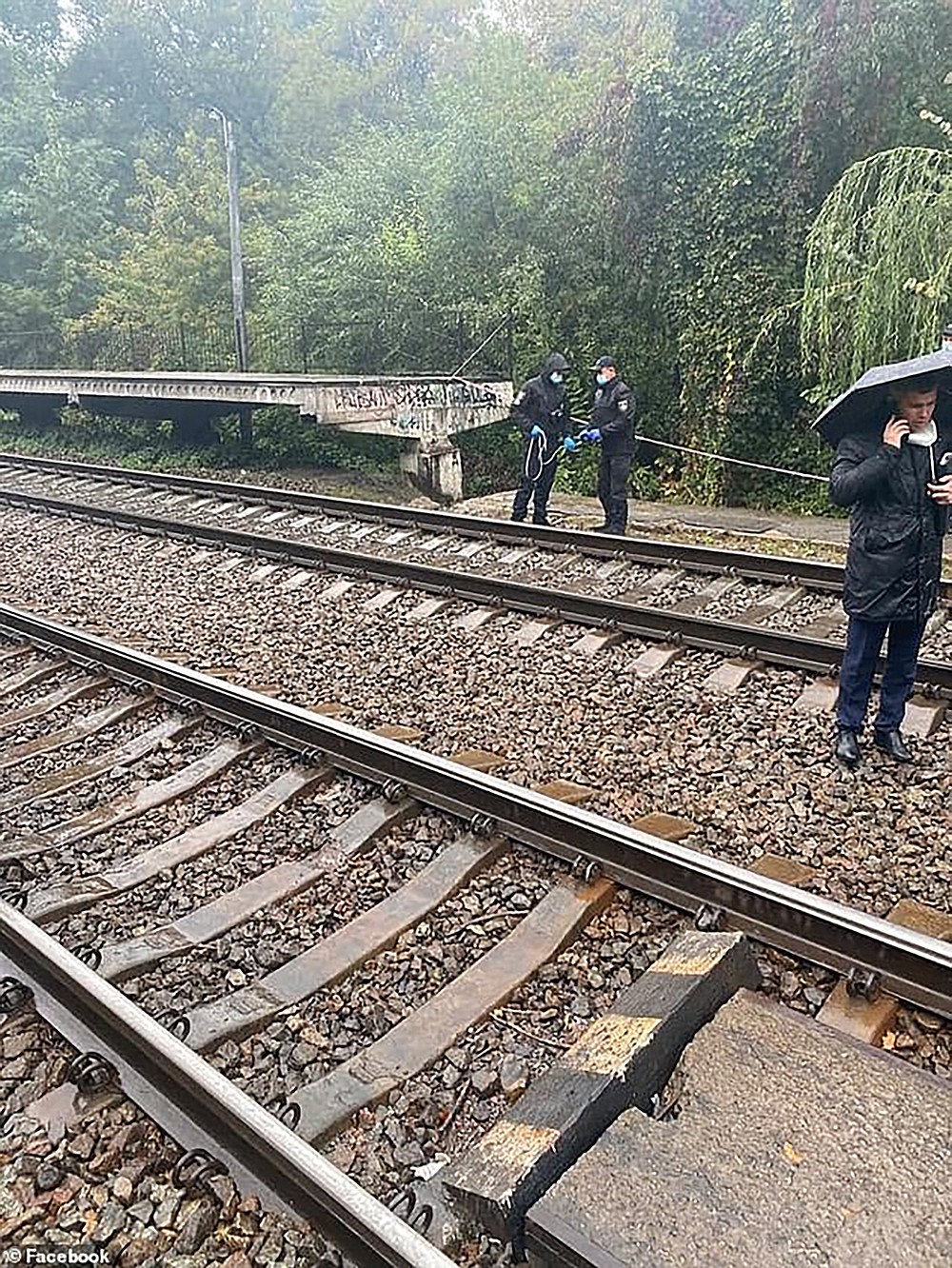 In this photo released by Ministry of Internal Affairs of Ukraine on Wednesday, Sept. 30, 2020, investigators work at the scene of an accident in Kyiv, Ukraine. Police in Ukraine are investigating the death of an American woman who worked for the United States Embassy in Kyiv. The woman was found unconscious with a head injury near the railway tracks in a park not far from the embassy on Wednesday, according to a police statement. She died in a hospital later in the day. (Ministry of Internal Affairs of Ukraine via AP)
Sponsor Content