Gang shootout in Mexico City kills 6
MEXICO CITY -- A shootout between rival gangs in Mexico City left six people dead and four wounded, and police in the north-central state of Guanajuato found two heads and bags of severed body parts scattered on roadsides in two cities there.
The violent and fast-growing Jalisco cartel has been expanding into both Mexico City and Guanajuato, though it was unclear immediately who was responsible for the killings.
Guanajuato state prosecutors said the gory discoveries there began Sunday, when two severed human heads were found on the side of a highway in the town of Romita. Then on Monday, police in the larger city of Celaya reported finding "several black bags in wooden boxes, a sack and some sheets" containing hacked-up bodies.
"These were found next to a banner and placards with messages referring to organized crime," meaning drug cartels, the city police reported.
In the Mexico City shootings, city police said the gang shooting occurred Saturday outside a business in a rough neighborhood on the city's north side. Bullets fired in the fray hit nearby businesses as well.
Police said the assailants drove up and opened fire on a group of people outside a food and drinks establishment in the northern borough of Azcapotzalco.
The victims appear to have returned fire, because the alleged assailants' car had several bullet holes in it when police pulled it over later. A gun was found in the vehicle, and three people riding in the car were arrested.
Oman renews diplomatic ties with Syria
DUBAI, United Arab Emirates -- Oman has sent an ambassador to Syria after an eight-year hiatus, the state news agency reported, the latest sign of deepening engagement between Gulf Arab states and Syria's President Bashar Assad.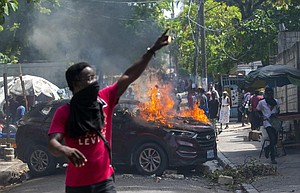 Photo by AP
A protester in Port-au-Prince, Haiti, holds up matches after set- ting a government car ablaze Monday during a demonstration demanding justice for a student who was gunned down by po- lice last week during a protest over government teaching jobs. (AP/Dieu Nalio Chery)
The move on Sunday made Oman the first Gulf Arab state to reinstate its ambassador to Syria since the start of the country's ruinous civil war. In 2012, Oman and other Gulf Arab countries withdrew their ambassadors in protest of the Syrian government's violent suppression of a year-old uprising. Other Arab states shuttered their embassies but Oman, known for its neutrality and diplomacy between regional foes, kept its open throughout the years of conflict.
During the ambassador's reception in Damascus, Syrian Foreign Minister Walid al-Moallem expressed "pride in Omani foreign policy" and appreciation for "the close fraternal relations between the countries," according to Oman's state news agency.
Oman's new ambassador, Turki bin Mahmood al-Busaidy, said he looks forward to "expanding the paths of cooperation and shared interests between the two brotherly countries," the statement added.
Afghan official target of suicide bomber
KABUL, Afghanistan -- A suicide car bomber targeted the convoy of a provincial governor in eastern Afghanistan on Monday, killing at least eight people, including four civilians, government officials said.
The governor, Rahmatullah Yarmal, was unharmed in the attack in Laghman province, according to his spokesman, Asadullah Dawlatzai.
Four of Yarmal's bodyguards were killed, the spokesman said, adding that about 38 people -- both military and civilians -- were wounded in the attack, which took place in Mihterlam, the provincial capital. Dawlatzai said 36 civilians were among the wounded, including children, as well as two other bodyguards of the governor.
The explosion also left several badly damaged vehicles at the site of the attack. The wounded, including small children, were taken to the city's main hospitals.
No one immediately claimed responsibility for the attack but both the Islamic State and the Taliban are active in the area.
Man injured in German synagogue attack
BERLIN -- Germany's leading Jewish group said Monday an attack on a Jewish student outside a synagogue "can only be classified as anti-Semitic" -- an assessment that was later confirmed by the authorities.
"The situation that Jews increasingly become a target of hatred must not leave anybody cold in a state of law like Germany," said Josef Schuster, the head of the Central Council of Jews in Germany.
The 26-year-old man, who was wearing a kippah, was about to enter the synagogue grounds in the northern city of Hamburg on Sunday when he was hit on the head with what appeared to be a folding spade, police said. He was taken to the hospital with head injuries.
There was no official update on the victim's condition Monday, but local daily Hamburger Abendblatt reported that while the man was in intensive care, his life was not in danger.
The suspected perpetrator, a 29-year-old German man of Kazakh origin wearing military-style clothes, was arrested after the attack.
Hamburg police and prosecutors said in a joint statement that the assault was being evaluated as attempted murder with an alleged anti-Semitic motive.
-- Compiled by Democrat-Gazette staff from wire reports