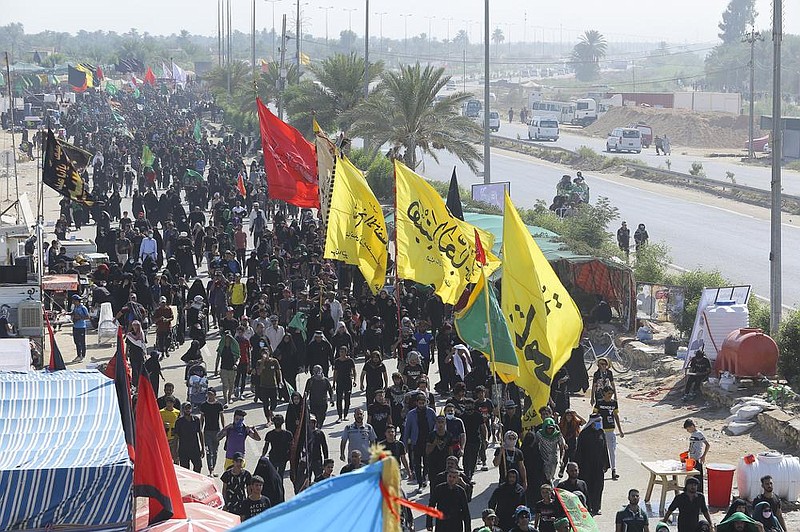 Shiite pilgrims arrive Tuesday in Karbala, Iraq, for the Arbaeen ritual, the end of the 40-day mourning period marking the mar- tyrdom of Imam Hussein, the Prophet Muhammad's grandson in the seventh century. (AP/Anmar Khalil)
Iraqis injured in clash during pilgrimage
BAGHDAD -- Dozens of people were wounded in clashes between Iraqi security forces and anti-government protesters in Iraq's south Tuesday during the annual Shiite Muslim pilgrimage of Arbaeen.
The violence took place at a location between two important shrines in the holy city of Karbala as thousands of worshippers made their way to the area to observe Arbaeen, according to an Associated Press photographer at the scene. The Shiite pilgrimage marks the end of 40 days of mourning for Imam Hussein, Prophet Mohammed's grandson.
The violence was sparked when a group of pilgrims from other parts of southern Iraq entered the visitation area separating the Imam Hussein and Imam Abbas shrines. They held banners with pictures of protesters killed in mass demonstrations last year and chanted anti-government slogans.
Paramilitary groups linked to Iraq's top cleric tasked with guarding the shrines attempted to keep the group from intermingling with other pilgrims. Police were soon dispatched and beat some of the protesters with sticks.
At least 50 people were wounded in the altercations, two Iraqi security officials said. They spoke on condition of anonymity in line with regulations.
Among the wounded were 30 demonstrators and less than a dozen pilgrims, including women. Some of the militiamen guarding the shrines were also wounded.
Poland, Lithuania pull Belarusian envoys
WARSAW, Poland -- Poland and Lithuania have recalled their ambassadors from neighboring Belarus, where hundreds of people have been detained during widespread protests against the authoritarian president who won a sixth term in office in an election widely seen as rigged.
The foreign ministries of Poland and Lithuania, nations that offer support to the Belarusian opposition, have said they were recalling their ambassadors from Minsk for consultations. Poland suggested ambassadors from some other European Union nations were also being recalled.
The move by Poland and Lithuania followed Friday's announcement by Belarus that it was recalling its ambassadors from the two countries and urging them to do the same. Belarus also demanded that Poland and Lithuania scale down their missions in the country because of their "destructive activity."
Unprecedented mass protests have rocked Belarus ever since Aug. 9 presidential election that gave authoritarian president, Alexander Lukashenko, a sixth straight term, with 80% of vote, but which the opposition says was rigged.
EU: Hungary law changes out of line
BRUSSELS -- The European Union's highest court ruled Tuesday that changes by Hungary to its law on higher education, which effectively forced a university founded by George Soros to leave the country weren't in line with EU law.
The European Court of Justice ruled against Prime Minister Viktor Orban's government, saying in the ruling that "the conditions introduced by Hungary to enable foreign higher education institutions to carry out their activities in its territory are incompatible with EU law."
At the heart of the conflict is the fate of the Central European University established by Soros, a Hungarian-American financier. Under pressure from Orban, it had to relocate most of its main activities to Vienna from Budapest, where it had been operating since the early 1990s.
Orban has been a vocal critic of Soros for years, arguing that the billionaire philanthropist is intent on undermining European values with his liberal views on migration, claims Soros has denied.
13 bodies found in 2 SUVs in Mexico
MEXICO CITY -- Authorities in Mexico said Tuesday that 13 bodies were found stuffed into two SUVs in northern Mexico, while a shooting attack on a funeral in another state killed five and wounded four.
The violence appears to be part of bloody turf battles involving the Jalisco cartel that has left dozens dead in recent weeks.
Prosecutors in the northern state of San Luis Potosi said the bodies of 11 men and two women were found Monday in two SUVs on the side of a road near the border with the neighboring state of Zacatecas.
Prosecutors said Tuesday that a hand-written drug gang message was found at the scene, and local media reported the message was signed by the Jalisco cartel. One of the vehicles had Jalisco license plates.
In Mexico's most violent state, Guanajuato, officials said five people were killed and four wounded in a shooting attack Monday on a funeral in the town of Jaral del Progreso.
The victims were apparently there to mourn the victim of a previous killing.
-- Compiled by Democrat-Gazette staff from wire reports
Print Headline: The World in Brief
Sponsor Content