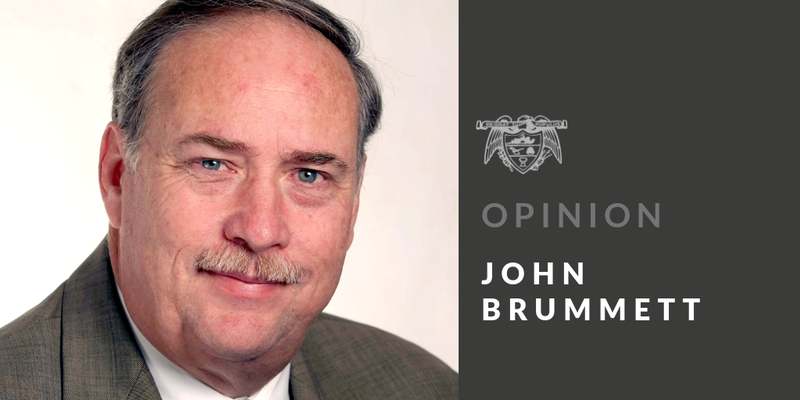 We must not forget about the white Arkansas State Police trooper who detained, handcuffed and searched a Black law student in August on Interstate 40 for ... well, that's the question.
My recent correspondence tells me that some of you will want to take a moment to fume about the revision in Associated Press style to capitalize Black and not white.
Done fuming? Let's move on.
A bit past 7:30 p.m. on Thursday, Aug. 20, law student Marion Andrew Humphrey was driving a rented moving truck east on Interstate 40 and was in the Russellville area. He was headed eventually to an apartment in Little Rock where he could better isolate from covid-19, stay nearer his parents (his dad, also Marion Humphrey, is a former circuit judge) and complete his studies at the Fayetteville law school virtually.
Trooper Steven Payton pulled him over after Humphrey turned his blinker on and then off at an exit near the 81-mile marker.
Payton then pronounced Humphrey suspiciously nervous-looking, called for a drug dog that barked, then handcuffed Humphrey and detained him for a search of the truck that found nothing other than the normal moving items of a law-abiding law student moving from Fayetteville to Little Rock.
Humphrey had been an intern at the law firm in Fayetteville of former U.S. Attorney Conner Eldridge, who now represents Humphrey and may soon file a civil-rights lawsuit.
You can watch this incident by going here to what's called the Bad Government in Arkansas blog and scrolling down to the embedded relevant video: tinyurl.com/humphreystop.
The video shows the trooper driving at a high speed to catch Humphrey's U-Haul.
As the trooper sped close, Humphrey flipped on his blinker as if to take an exit, but then turned off the blinker and continued straight ahead, at which time the trooper blue-lighted him to pull over.
Humphrey instantly complied by pulling across the eastbound entrance ramp and then to the shoulder.
The audio shows Payton pressing Humphrey on why he seemed nervous, with Humphrey explaining that he'd been stopped for no apparent reason and adding at one point that he didn't want to get shot.
Payton told Humphrey he pulled him over because he had nearly wrecked his truck back there. Humphrey said he merely reversed an intention to exit because he realized that the Cracker Barrel and a motel were off another exit.
Payton wanted to know why a guy would spend the night an hour from his destination. Humphrey said his mother didn't like him driving at night and he couldn't move his belongings into the apartment at night anyway.
In a Zoom meeting with Presbyterian clergy Wednesday, Humphrey said that loading his truck had taken longer than he expected and he hadn't intended to be driving after dark. He said he had always been advised that there are places in Arkansas where a Black man ought not to drive at night.
He told the ministers that he'd first appeared nervous when he hesitated to reach across the truck cab to the passenger side to open the door at the officer's direction because he feared he might be suspected of reaching for a firearm.
The point ought to be clear: There are complications and considerations a young Black man faces on a moving-van trip from Fayetteville to Little Rock that would never occur to some of us.
On the video, Payton got back in his car and muttered about a 32-year-old man still in college and said it made no sense to stop early in the evening for an overnight stay a mere hour or so from one's destination.
It all seemed so strange to Payton that he called a U.S. Forest Service officer to bring his drug dog. When the dog barked, Humphrey got handcuffed with his hands behind his back and placed in the back seat of the police car for more than an hour while the search found nothing.
The trooper eventually gave Humphrey a warning ticket for ... exit-ramp blinker reconsideration, or something.
I'm told the State Police agency sees no problem in a mere case of possible "interdiction." That is the police practice of seeking to interrupt drug traffic or human trafficking in part by using legitimate traffic-violation stops to pursue any arising legitimate suspicions of drug transportation.
Whether it's a legitimate reason for a traffic stop that a moving-truck driver flicked his blinker on and off near an exit ... that's the foundational question before we even get to whether a Black man deserves to be detained as an interdiction suspect because he looks nervous and asserts he reversed an exit move because he was looking for an overnight motel at another exit, not because he was trying to slip away from the speeding policeman coming upon him.
I'm wondering if interdiction and racial profiling might ever overlap.
I'm wondering if this incident might help us better understand.
--–––––v–––––--
John Brummett, whose column appears regularly in the Arkansas Democrat-Gazette, is a member of the Arkansas Writers' Hall of Fame. Email him at jbrummett@arkansasonline.com. Read his @johnbrummett Twitter feed.
Sponsor Content