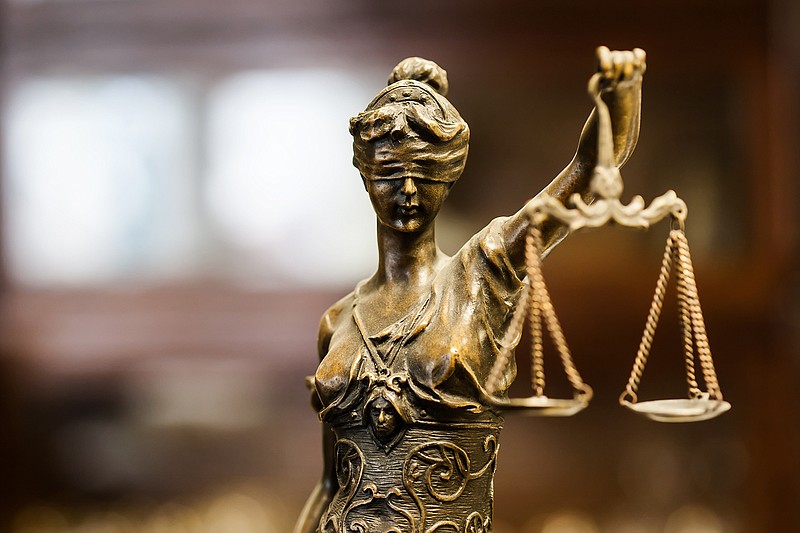 It took a federal jury less than two hours Thursday to convict a Missouri businessman of defrauding Mississippi County and the state by bribing a landfill director to let him dump demolition debris for free.
The jury, which began hearing the case Tuesday in a Little Rock courtroom, convicted James David Ross of two counts of aiding and abetting honest services mail fraud.
The charges stemmed from an FBI investigation into activities at the county landfill near Burdette in 2017 and 2018.
William Chester "Wil" Allen, the landfill director, pleaded guilty last month and is awaiting sentencing. A third man, Joe Harlon Hamlett, who drove some of Ross' trucks to the dump, is scheduled for a separate trial in November.
Assistant U.S. Attorneys Bart Dickinson and Erin O'Leary told jurors that the three men aided and abetted each other to deprive the county and the state of Allen's honest services as a public official. They said the scheme turned into mail fraud when the county mailed false quarterly reports about the amount of waste that had been dumped, and related checks, to the state Department of Environmental Quality.
The exact amount of money that the scheme prevented the county and the state from receiving, through dump fees and a surcharge the county pays to the department, isn't known because both amounts are based on the amount and type of material that is dumped, and Ross' trucks were allowed to bypass weight scales and avoid inspections.
However, Allen testified that each of Ross' loads would have cost $200 to $220 to dump, and prosecutors said that between April of 2017 and late August of 2018, Ross Farms/Trucking dumped at least 225 loads of waste at the county landfill, located about 45 miles from the company headquarters in Kennett, Mo, but only paid for 31 of them.
Dickinson told jurors that meanwhile, Ross charged his demolition customers $600 to $650 for each load he hauled to the dump, but he actually only paid $100 for each load, as a kickback to Allen. Allen testified that he made $18,000 to $20,000 through the scheme, and O'Leary told jurors that Ross "gained about five times as much as Wil Allen."
Two other drivers who worked for Ross or his son, Marc Ross, who operated Tri-State Excavating in Kennett, testified that they followed directions David Ross gave them for entering the landfill through its "back door" and unloading debris from demolition sites without first obtaining a ticket from the scale house indicating the truck had been weighed. Prosecutors said neither of them knew about the kickbacks that Ross paid to Allen to make the arrangement possible, and neither were charged.
Allen testified that he regularly met with Ross in Blytheville to be paid in cash, in $100 bills, after every 10 free dumps.
Defense attorney Bill Stanley of Jonesboro acknowledged that Ross, who didn't testify, gave a statement to the FBI admitting to his agreement with Allen. Given that, Stanley said, "I'm sure you've asked yourselves, why did David Ross go to trial?"
Stanley said the reason is that he and Ross maintained that "it was not, and is not, a federal crime."
Stanley said the scheme was simple: "Give me cash. Dump for free."
"That's it," he said. "It's over when Allen gets his cash."
He complained that Ross shouldn't have been charged with participating in a mail fraud scheme because he didn't mail payments to Allen, and he didn't cause the mail to be used in furtherance of the scheme.
Prosecutors said the scheme resulted in false quarterly checks being mailed from the county to the environmental department. The checks were supposed to represent a surcharge of about $2.50 per ton of waste that had been deposited at the landfill during the previous quarter, but prosecutors said they didn't include the full amount due, because of the uncounted loads.
One check, mailed April 13, 2018, was for $51,768. The other, mailed July 6, 2018, was for $64,818.
Ed Jernigan, a now-retired FBI agent based in Jonesboro, testified in 2018 and again Thursday that a federal investigation began in February 2018 after employees at the landfill contacted the FBI. He said an employee told him that for about a year, he had been seeing a distinctive yellow truck dumping demolition debris at the landfill without driving over the scales. Jernigan said the employee estimated he had seen the truck about 50 times.
Jernigan said he met Allen at a Blytheville truck stop in September 2018 and served him with a subpoena demanding landfill records. The agent said the employee later recalled going with Allen that same day to Kennett.
Jernigan said he followed the employee's directions and found Ross' shop in Kennett where he saw trucks and large yellow dumpsters that the trucks were capable of hauling.
Jernigan said a landfill customer from Waste Pro also complained that trucks carrying bright yellow dumpsters were avoiding the scales, and took pictures. The FBI then began conducting surveillance at the landfill.
After the surveillance showed one particular yellow truck visiting the landfill several times without being weighed, the FBI had a state trooper pull over the truck, enabling the FBI to identify the driver as Hamlett, of Blytheville.
After other drivers began complaining about the yellow trucks avoiding the scales, the scheme changed. Allen testified that he began having the drivers of the Ross trucks stop on the scales to be weighed, but when the drivers came inside to get their scale ticket, he merely gave them a "fist bump" and a scrap ticket, to make it appear to other drivers that they were being charged.
Sponsor Content