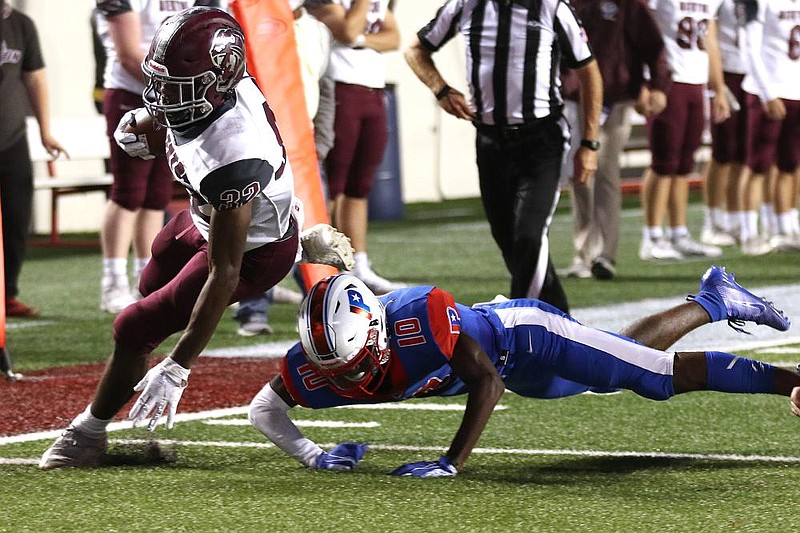 Benton running back Michael Jefferson (left) runs past Little Rock Parkview cornerback Tayvionn Haney for a 11-yard touchdown run during the fourth quarter of the Panthers' 30-20 victory over the Patriots on Friday at War Memorial Stadium in Little Rock. More photos at arkansasonline.com/1010bentonparkview/. (Arkansas Democrat-Gazette/Thomas Metthe)
Benton defeated Little Rock Parkview 30-20 in a matchup of two Class 6A Super Six teams Friday night at War Memorial Stadium in Little Rock.
Benton, the No. 4 team in Class 6A, led Parkview, the No. 3 team in the classification, 16-13 at halftime and never trailed in the second half of the 6A-West Conference game.
It was Parkview's first game since Sept. 18 after missing the past two weeks because of three positive covid-19 cases in its football program.
Panthers Coach Brad Harris said he knew how good of an opponent Parkview was going to be with senior quarterback Landon Rogers leading the way. But Benton (4-2, 3-0) was able to hand the Patriots (3-1, 0-1) their first loss of the season.
"We thought we would get a hungry team. They were rusty at times," Harris said. "But hopefully, we can stay healthy. So far, we've been very lucky with the covid situation. There's no playbook for covid. You have to roll with the punches and keep playing each week. Take one game at a time. That's what we've done.
"The guys are playing pretty well right now."
Gallery: HS football - Benton @ LR Parkview
[Gallery not loading above? Click here for more photos » arkansasonline.com/galleries/]
Parkview Coach Brad Bolding credited Benton for Friday's victory.
"They came ready to play," Bolding said. "No excuses for us. You could tell we hadn't played in a while. We have to regroup, finish this conference out and be in the playoffs."
Senior quarterback Garrett Brown passed for 176 yards and 2 touchdowns for the Panthers. Junior running back Casey Johnson had 128 yards and added a receiving touchdown.
Linebacker Beau Wright, a junior, returned a fumble 64 yards for another score for the Panthers.
Parkview was led by Rogers, a University of Arkansas commitment, who scored two rushing touchdowns, both from a yard out in the first half.
Junior running back James Jointer had a rushing touchdown for the Patriots.
Benton trailed 13-7 with 8:31 left in the second quarter after Rogers scored on a pair of 1-yard rushing touchdowns on the Patriots' previous two offensive drives.
The Panthers then went to work and took control.
Brown's 17-yard pass to senior wide receiver Jordan Parham set up his 13-yard touchdown pass to a wide-open Johnson near the right sideline with 3:30 remaining in the second quarter. But senior Brian Araujo's point-after attempt was no good to leave the score at a 13-13 tie.
Parkview went three-and-out to give the ball back to Benton with 1:59 left before halftime.
The Panthers drove to the Parkview 14, then Araujo nailed a 33-yard field goal with no time remaining in the first half to give Benton a 16-13 lead.
Benton's defense helped its offense once again with a three-and-out to start the second half. From there, the Panthers extended their lead to 23-13 with 9:27 left in the third quarter on Brown's 25-yard touchdown pass to Parham.
Harris said Benton's 16-point run was beneficial for his team.
"It was huge for us to keep their defense on the field," Harris said. "They're so explosive offensively. Landon does a heck of job keeping plays alive."
The Patriots cut the lead to 23-20 with 11:56 left in the fourth quarter when Jointer scored from 23 yards out.
With 1:47 left to play, senior running back Michael Jefferson scored on a 11-yard touchdown to stretch the Panthers' lead to 30-20. A holding penalty was called on the play for Benton, but Bolding declined the penalty, wanting to give the Patriots more time to work with.
Rogers, however, was stopped on a fourth-down run at the Parkview 23 allowing Benton to seal the victory.
Sponsor Content