FILE - In this Aug. 7, 2018 file photo, Colombia's former President and Senator Alvaro Uribe arrives to the inauguration ceremony for Colombia's new president Ivan Duque in Bogota, Colombia. Uribe has been ordered freed from house arrest while he is investigated for possible witness tampering. A judge ordered Uribe's release Saturday, Oct. 10, 2020, in a case that has divided the South American nation and exposed lingering tensions over Colombia's peace accord for ending a half-century conflict with leftist guerrillas. (AP Photo/Fernando Vergara, File)
Ruling frees ex-Colombian president
BOGOTA, Colombia -- Powerful ex-Colombia President Alvaro Uribe was ordered freed from house arrest Saturday while he is investigated for possible witness tampering.
The nation's Supreme Court had ordered Uribe detained in August during the probe, shocking Colombians and unleashing protests in favor and against the decision. He was the first president in Colombia's recent history to be ordered placed on house arrest.
But municipal Judge Clara Salcedo ruled Saturday during a virtual hearing that the previous ruling could not be upheld under a new legal framework under which Uribe is being investigated since resigning his Senate seat after his detention.
The decision can be appealed but Uribe was immediately ordered released.
The Supreme Court argued in its 1,554-page decision in August that there was ample evidence to show Uribe had engaged in trying to pressure former paramilitaries into retracting damaging statements against the ex-president. But the high court later relinquished control of the case when Uribe resigned his Senate seat, handing it to the chief prosecutor's office.
Magistrates have since ruled that Uribe should be tried under a different legal framework designed for ordinary citizens, paving the way for his release.
3 people dead in Middle East wildfires
BEIRUT -- Wildfires around the Middle East triggered by a heat wave hitting the region have killed three people, forced thousands of people to leave their homes and detonated land mines along the Lebanon-Israel border, state media and officials said Saturday.
The areas hit by the heat wave are Syria, Lebanon, Israel and the Palestinian territories.
Wildfires spread across different areas of Israel and the West Bank for a second day Saturday, forced thousands of people to evacuate their homes.
Israeli Police said in a statement firefighters and police forces evacuated 5,000 residents from the city of Nof Hagalil in northern Israel.
One of the hardest hit countries is war-torn Syria, where fires have killed three people and left dozens suffering from breathing problems. The wildfires also burned wide areas of forests.
9 people held in Hong Kong escape try
HONG KONG -- Hong Kong police said Saturday that they had arrested nine people accused of helping a group of protesters, who were later intercepted by mainland Chinese authorities, flee the city in August by speedboat.
The nine people arrested Saturday are accused of funding the protesters' planned escape to Taiwan and offering them shelter and a ride to a remote pier in Hong Kong, a police spokesman, Ho Chun-tung, said.
The 12 protesters who tried to escape were barred from leaving Hong Kong, the police said, and have been under investigation over their participation in the large-scale demonstrations that gripped the territory last year. Some are expected to face trial in the mainland for illegally crossing the border with Hong Kong.
Most of the four men and five women arrested Saturday were friends of the captured protesters, he said. Among the group were assistants to former lawmakers, an office worker, a chef and a music teacher. The police did not release their names but said their ages ranged from 27 to 72.
They each face up to 10 years in prison if convicted.
Last year's demonstrations evolved into the most serious challenge to the Communist Party's rule in decades. The protests targeted a proposed extradition law, since abandoned, that would have exposed the city's residents to trial on the mainland, where courts are controlled by the party.
China decries U.S. carrier in disputed sea
BEIJING -- China said it dispatched ships and planes to track the U.S. guided-missile destroyer USS John S. McCain as it passed near Chinese-held islands in the South China Sea.
The People's Liberation Army accused the U.S. warship of trespassing into Chinese territorial waters on Friday near the Paracel Islands -- called Xisha by China -- during the latest freedom-of-navigation missions by the U.S. Navy aimed at defying China's vast claims in the strategic waterway.
Col. Zhang Nandong, spokesperson for the People's Liberation Army's Southern Theater Command, said Beijing demanded the U.S. end such actions, calling them "blatant navigation hegemony and military provocation" that "seriously violated China's sovereignty and security interests, and gravely jeopardized peace and stability in the South China Sea."
"We urges the U.S. side to immediately stop such kind of provocative actions, strictly manage and control its maritime and air military operations so as not to cause any eventuality," Zhang was quoted as saying by the official Xinhua News Agency.
China has ignored a 2016 arbitration ruling that invalidated most of its territorial claims in the South China Sea, but has encountered persistent pushback from the U.S., its allies and China's Southeast Asian neighbors over the disputed area.
-- Compiled by Democrat-Gazette staff from wire reports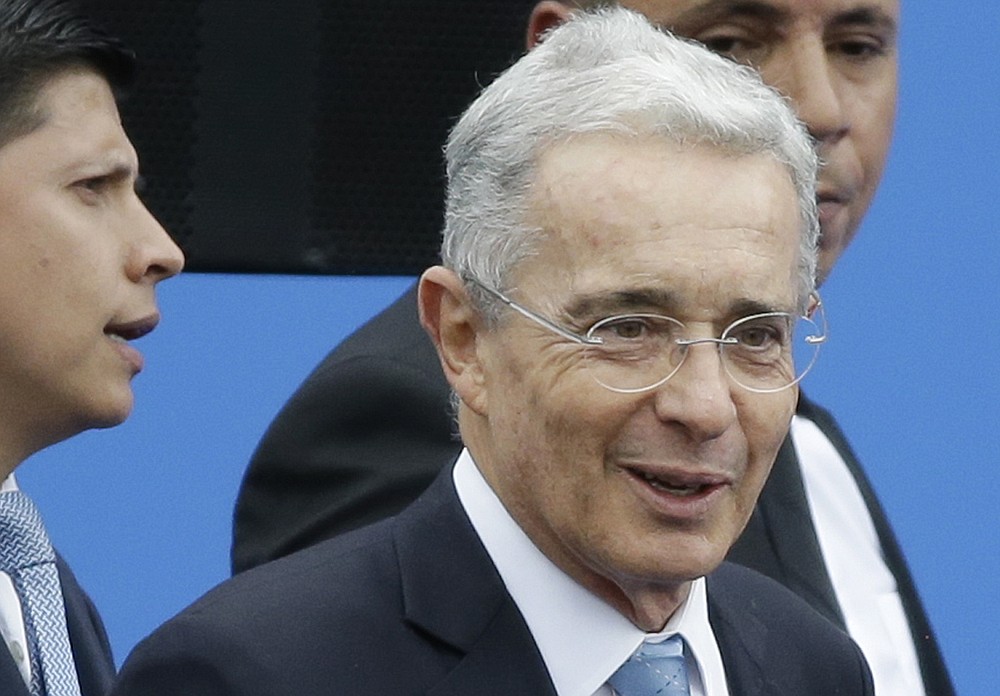 FILE - In this Aug. 7, 2018 file photo, Colombia's former President and Senator Alvaro Uribe arrives to the inauguration ceremony for Colombia's new president Ivan Duque in Bogota, Colombia. Uribe has been ordered freed from house arrest while he is investigated for possible witness tampering. A judge ordered Uribe's release Saturday, Oct. 10, 2020, in a case that has divided the South American nation and exposed lingering tensions over Colombia's peace accord for ending a half-century conflict with leftist guerrillas. (AP Photo/Fernando Vergara, File)
Print Headline: The World in Brief
Sponsor Content