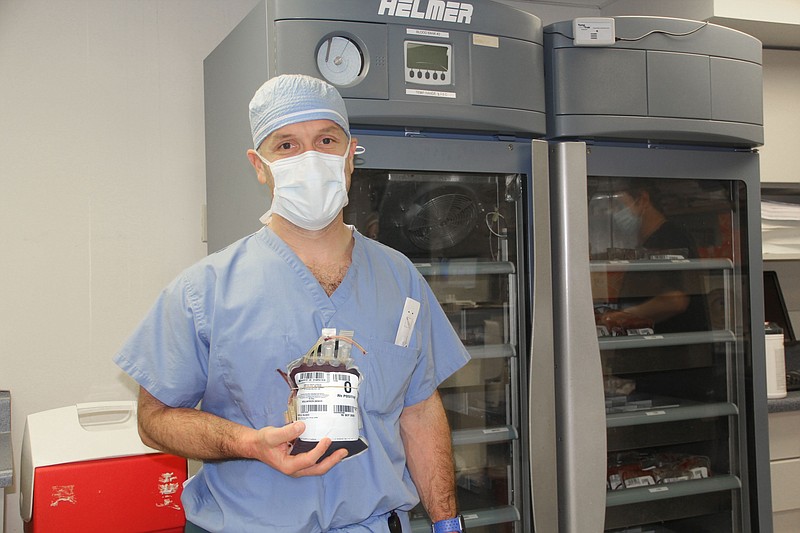 J.R. Taylor, M.D., a critical care surgeon at Jefferson Regional, displays a bag of whole blood. (Special to The Commercial)
Jefferson Regional Medical Center at Pine Bluff recently treated trauma patients using whole blood instead of separate components. The procedure makes the hospital the first in the state to successfully use this method, according to a news release.
Each patient had life-threatening bleeding.
"This represents the first use of whole blood in the state of Arkansas," said Michelle Eckert, a general surgeon and medical director of the Jefferson Regional Level III Trauma Center. "The patients have recovered and are doing well," she said.
For years, the use of whole blood was standard treatment for transfusions until blood banks discovered 50 years ago that it could be separated into various components that allowed for longer shelf-life.
Whole blood was all but forgotten. But during the war in Iraq, military doctors found that whole blood was better for treating combat soldiers who were injured and bleeding.
"By using whole blood first, rather than components, the military had shown that deaths from bleeding were reduced," said Charles Mabry, a general surgeon at Jefferson Regional and vice-chair of the Governor's Trauma Advisory Committee for Arkansas.
"Using that information, our trauma team started making plans last year to use whole blood for emergency transfusion," Mabry said.
Over the last two years, Jefferson Regional Trauma Center handled more than 1,200 major trauma cases including 107 that required blood transfusions. Although whole blood is used in some major medical centers, such as the Mayo Clinic, its use had not reached Arkansas until now, officials said.
"With whole blood being available, we now have a powerful tool to help us save lives," said J.R. Taylor, a critical care surgeon at Jefferson Regional.
Sponsor Content