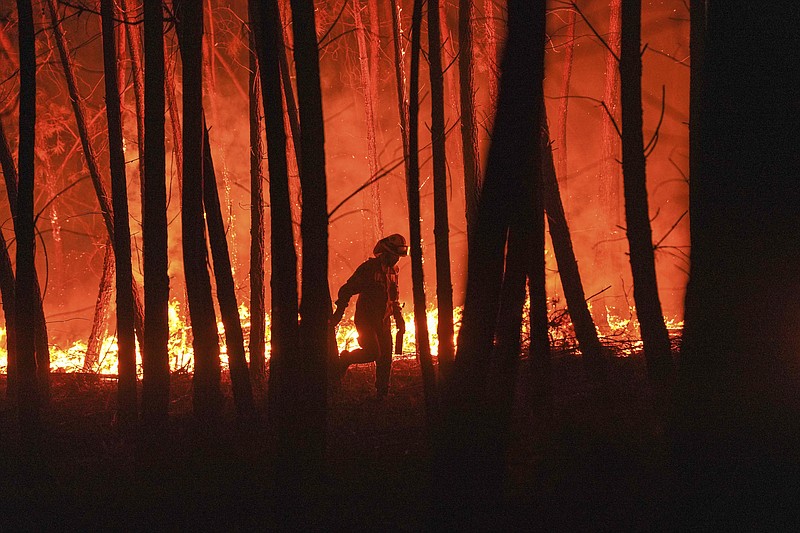 FILE - In this Monday, Sept. 14, 2020 file photo, a firefighter is silhouetted against a fire burning outside the village of Roqueiro, near Oleiros, Portugal. In the wake of heat waves, global warming, forest fires, storms, droughts and a rising number of hurricanes, the U.N. weather agency in a new report released Tuesday Oct. 13, 2020, is warning that the number of people who need international humanitarian help could rise 50% by 2030 compared to the 108 million who needed it in 2018 (AP Photo/Sergio Azenha, File)
Surge predicted
in climate crises
The Associated Press
GENEVA -- In the wake of heat waves, global warming, forest fires, storms, droughts and a rising number of hurricanes, the U.N. weather agency warned Tuesday that the number of people who need international humanitarian help could rise 50% by 2030 compared with the 108 million who needed it worldwide in 2018.
In a new report released with partners, the World Meteorological Agency says more disasters attributed to weather are taking place each year. It said over 11,000 disasters have been attributed to weather, climate and water-related phenomena such as tsunamis over the past 50 years -- causing 2 million deaths and racking up $3.6 trillion worth of economic costs.
In one hopeful development over that period, the average number of deaths from each separate weather disaster per year has dropped by one-third, even as the number of such events and the economic costs from them have both surged.
The 2020 State of Climate Services report, compiled by 16 international agencies and financing institutions, calls on governments to put more money into early-warning systems that can improve countries' ability to prepare for, respond to and mitigate the impact of such natural disasters.
"While covid-19 generated a large international health and economic crisis from which it will take years to recover, it is crucial to remember that climate change will continue to pose an ongoing and increasing threat to human lives, ecosystems, economies and societies for centuries to come," said WMO Secretary-General Petteri Taalas.
"Recovery from the covid-19 pandemic is an opportunity to move forward along a more sustainable path towards resilience and adaptation in the light of anthropogenic climate change," he said.
Taalas, responding to a question from China's CCTV network at a news conference, also hailed a "great" announcement from Chinese President Xi Jinping last month that his country plans to become carbon-neutral by 2060. Taalas noted investments in renewable energy programs like solar and wind in China, the source of one-fourth of global carbon emissions -- largely due to coal-fired power plants.
Kashmiri leader
released by India
The Associated Press
SRINAGAR, India -- Indian authorities on Tuesday released a top Kashmiri politician from detention more than a year after New Delhi scrapped Indian-controlled Kashmir's special status, a move that triggered widespread anger and economic ruin amid a harsh security clampdown.
Mehbooba Mufti had been held in detention since August 2019 alongside thousands of politicians and activists after Indian Prime Minister Narendra Modi's government passed legislation in Parliament that stripped Jammu and Kashmir's statehood, annulled its separate constitution and removed inherited protections on land and jobs. The decision also split the region into two federal territories -- Ladakh and Jammu-Kashmir.
Mufti, 61, was set free late Tuesday, an official order said.
In an audio message posted Tuesday on Twitter, Mufti called India's Aug. 5, 2019, action a "black decision on a black day."
"None among us can ever forget the political heist and insult on that day," Mufti said. "Now, we all will have to reiterate to take back what Delhi snatched from us unconstitutionally, illegally and undemocratically."
Her release from detention comes just before the deadline set by India's Supreme Court was set to expire.
Mufti was a coalition partner of Modi's Bharatiya Janata Party in the region for nearly two years after the 2016 state elections. Mufti headed the coalition government. She is considered pro-India and has never supported Muslim-majority Kashmir's independence from India or its merger with Pakistan.
The Indian government imposed overarching restrictions, ranging from curfews to communication blackouts, and enacted new laws after last year's decision, creating a climate of fear.
Sponsor Content