When the Broadway League -- the trade group that represents theater producers -- announced last week that Broadway would remain dark until May 2021, it was a bleak reminder that the theater world is still struggling to navigate life in the midst of a pandemic. Whether professional or amateur, performing on a Broadway stage or in a community theater on Main Street, theater artists all over the world are plumbing the depths of their creativity to figure out how a life that requires face masks, six feet of social distance and small crowds can still include the magic of live performance.
One of those theater artists is Coleman Ray Clark, a Fayetteville native who, until the pandemic, was working in New York City as the deputy director of the 24 Hour Plays as well as serving as producer and director on a wide variety of other projects. With those projects slowing to a crawl, he headed south to Fayetteville with fellow theater artist Bailey Lee, a graduate of the University of North Carolina School of the Arts who served as an artist-in-residence at The Aris Project, devising and performing original work; and Chris Holtkamp, an actor and theater maker originally from Saskatchewan, Canada, who is a founding member of The Aris Project, a theatrical summer residency in Maine. For about a month now, under the name The What Company, the trio has been working hard to create a theater piece that is both emblematic of the remarkable moment we're in -- and safe to perform in front of an audience. We talked to them about their current project, how covid-19 is affecting their lives as artists, and their thoughts on the where the theater world goes from here.
How has this pandemic changed professional plans and the course of your careers?
Lee: It's definitely changed the timeline of when I thought things would happen. This pandemic has been challenging in a number of ways. Before the pandemic hit, I was just about to round out my first year out of school living as an actor in New York City. I was building momentum establishing roots and community there -- feeling at home. Then everything changed. The decision to leave New York in the moment felt huge, although now I feel like it's really opened the scope of my career plans and timeline. I am beginning to ground my goals in myself instead of some industry model, which no longer exists.
Clark: Actor's Equity released a report a few weeks ago that said something like 99% of their members were out of work. I think whether you're a union member or not, that's a reflection of our entire industry. No matter where we were working, pretty much everything stopped. Organizations like The 24 Hour Plays adapted to online programming -- (which I'm extremely grateful for because it kept me in work -- while other theaters were forced to cancel the rest of their season. I'm struggling to find what the "new normal" for theater will be in 2021 and beyond. But I look forward to the possibility of thinking outside the box and meeting the moment with live performances that reflect what's going on in the world.
Holtkamp: Similar to Bailey and Coleman, I left when the pandemic shut New York City down in March. A group of artist friends and I went to Maine, and while quarantining made some work together. I'm from Canada originally, so I was on a work visa that I wasn't able to get renewed because of the pandemic. There's not much theater work right now, so it's next to impossible for me to get a work visa. I've moved back to Canada for the time being, and I am getting acquainted with the theater and film industry there. I still hope to work in America someday as an actor and creator, but in the meantime that goal has been moved a few years out.
Once the scope of the shutdown in the arts community as a result of covid-19 became clear, what ideas did you have as far as how to pivot? What actions did you take?
Clark: I'll say first that the scope of the shutdown is still very unclear. Every day we're learning more about how long this will affect our industry and in what ways our industry can respond. We are having to create a new theater architecture. Somebody told me recently that creating an online or socially distanced performance is literally like building a theater, not like renting one, because you're creating all of the rules. Things like how the audience views and interacts with it. So that was a big shift for me.
Holtkamp: I've been putting a lot more of my time and energy into creating my own work.
Clark: And that's not a new idea for us. In New York City, we were writing a lot of our own work while auditioning, acting and directing other work. We were even beginning to meet once a week to write together in the basement of a Greenwich Village church.
Holtkamp: We've got to make our own opportunities. When I was in Canada, I was looking at what projects I could make with the few resources I had there; not knowing many people, not having a lot of equipment, and not being able to gather audiences. I was looking at making a short film in which I would play all of the parts, and embrace the difficulty and humour in that. When Bailey and Coleman invited me to Arkansas, I really jumped at the opportunity to come and create something with my friends. This will be the biggest socially distant theater show that I've done since the pandemic hit. We'll hopefully have a number of different people and households coming each night that will be safely socially distanced outside. Additionally, as far as pivoting, I've been looking at other jobs I can get when I go back home. In NYC, I was working at a theater, but those jobs just don't exist right now. Luckily, I've been on government benefits, but those are starting to run out. I'm looking at other jobs I can have that will help fund my life but not take away too much from being a working artist.
Lee: I think the hopeful artist in me keeps putting a fake date on the calendar when I will go back to New York or when theater auditions will start coming in again, but of course, that keeps getting pushed back. So I think my biggest pivot is re-framing how to sustain. I've shifted much of my energy from preparing for auditions towards creating my own work. It is hard enough for a young artist to make a living in this profession, and this pandemic is a test on how to endure. For me, good friends, creating art, and making the world a better place is how I will endure.
Clark: I moved to Zoom theater pretty quickly. I directed a couple of short plays on Zoom, which I found difficult -- not because of anyone else, but because of how hard it is for me to feel connected to my collaborators on Zoom. So with that experience, Bailey and I had the idea of doing something outside and in-person, knowing that the climate here would allow us to be outside during this part of the year.
Lee: It became clear that Fayetteville would be the perfect place to create socially distanced theatre.
What did you think about the opportunity of doing a live performance during this time? What excited you about that?
Holtkamp: I love live theater so much. There is a certain kind of magic when a group of people experience a story together. There's a unique exchange that happens between the actors and audience. It's very special, and it's something that I've definitely been missing. Getting to be a part of that again is incredibly exciting. What would you say?
Clark: Right now, especially for artists, the world feels more distant. I feel incredibly grateful that we're able to come together in Fayetteville, where social-distancing is more possible than in New York City. I really believe that theater is vital and art is vital, especially in times like this. So to get to create something about right now and talk about where we are and how we're processing this pandemic-- I'm truly grateful for that experience.
Lee: I'm just so excited to be able to be in communion with people again. Where we get to really see, feel, and experience that we're not alone and that we are in something together. I believe there is magic and healing to be found in community.
What impact has the pandemic had on the subject matter, style of the show, means of production of this new project?
Clark: The project is a live socially distanced outdoor theater performance, that's also being livestreamed. We are a group of devisers, which basically means that we create theater performances as a collective. We use what we're experiencing and seeing in the world to impact what we create. Sometimes that's been through writing, improvising and exploration, and even by finding source material online through Facebook, Craigslist, news reports and TikToks. Our process is about bringing all of those elements into the room and mashing them together, turning them upside down, and looking at them from a new lens to hopefully illuminate something greater about the state of our world right now. That's what this performance is to me. It's about what it means to connect, and to be extremely distant and close at the same time.
Lee: The site of performance, outside of the B-Unlimited retail store on Center Street in Fayetteville, has been the center of our creation process. It's the site that allows us to safely perform, and as devisers that's where we started. Like Coleman said, the performance is being made collectively, and truthfully, it's still unveiling itself to us. It's through being engaged with the questions being presented to us in the world, the elements, places, people and things we are experiencing now that will keep this piece alive up to the very moment we perform.
Coleman: It currently looks like a bunch of moments strung together and connected in ways that we didn't expect -- which feels like what it means to be here in 2020. None of us expected to be where we are now. So we're really leaning into that aspect of what it means to be brought here for this reason and to be given this opportunity to create something about it.
Lee: We call ourselves "The What Company." This piece feels very of its spirit, in that we know that we know the who, the where, the why, but "the what" is unveiling itself to us. Theater, I believe, is created in the distance between the artist and the audience. I am so excited to see what is in that space between.
What long-term effect do you think the pandemic will have in the global theater community, if any?
Holtkamp: I don't know how knowledgeable I am about the global theater community, but I will say that it feels like I'm more connected to it than I have been in the past. When the pandemic shut down first hit, a lot of theaters around the world were doing livestreamed performances. It was really exciting to watch theater from around the globe.
Clark: I think it's changing theater-makers' view on livestreaming because, for better or for worse, that has been the most readily accessible option. It's opening the door for people to experience theater from more places and, for the most part, at lower ticket prices than ever before.
Holtkamp: Yeah, I will say that I don't think livestreaming a piece of theater is the same experience as going in-person to the theater and experiencing it with a community of people. That special part of it can never really be replaced. However, I do think if you're not able to go in-person, that livestreaming is a great alternative. Long term, it's difficult to predict all the effects that will come from the pandemic. I think that theater's relationship to technology will be changed moving forward.
Lee: I also feel there are changes happening throughout the country and globally concerning the institutions of theater, the staffing of those institutions and the models of funding and audience demographics that those institutions have been reaching. I think this is an important time of reflection in terms of the vitality of theater. I believe theater is an artform of and for all people. I am excited to see how institutions will adapt and shift and grow, and how young theater-makers in particular are going to help lead the way in that shift and change, and how communities are standing behind and supporting keeping art alive.
Holtkamp: I've also been noticing, particularly in America and Canada, that there has been a big call out of systemic racism and how the industry needs to change. From who is making theater behind the scenes, to who is on stage, and who is getting to see those stories as an audience. I sincerely hope that there will be big changes that come from this. We have had to pause, and can now reevaluate, and build back better. I'm actively looking for how I can be a part of those changes.
Clark: The theater has survived many a plague, and it will come back. It means that this is a shift, and together we can take this time of rest and healing to reflect on the systems that aren't working and make new ways moving forward.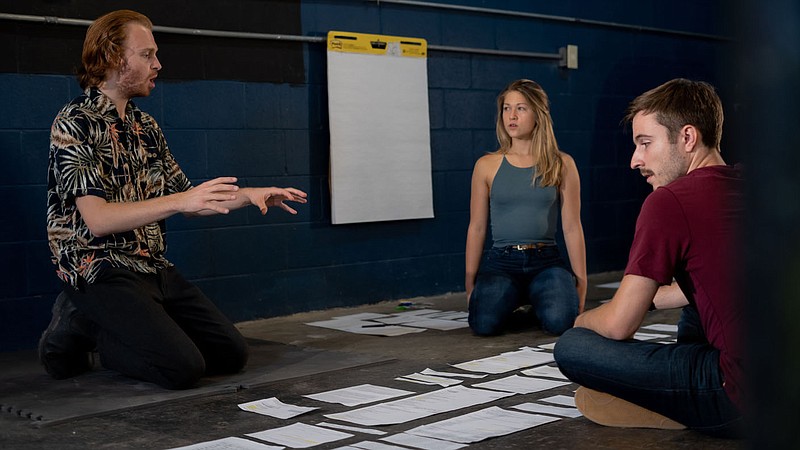 The What Company's Coleman Ray Clark, Bailey Lee and Chris Holtkamp are devising pandemic-era theater with the help of a grant Lee received from the University of North Carolina School of the Arts. "The Chancellor's Artpreneur Grant is a small grant awarded to graduating artists who are not defined by what is, but inspired by all that could be," Lee explains. (Courtesy Photo/Jet Gatewood)
More News
Learn More
The What Company
Join "The What Company" on select evenings Oct.r 24-30 for a socially distanced theater performance in Fayetteville. Directed by Coleman Ray Clark, it features Bailey Lee and Chris Holtkamp. Follow along and purchase tickets at www.thewhatco.org.
Lara Jo Hightower can be reached at lhightower@nwadg.com.