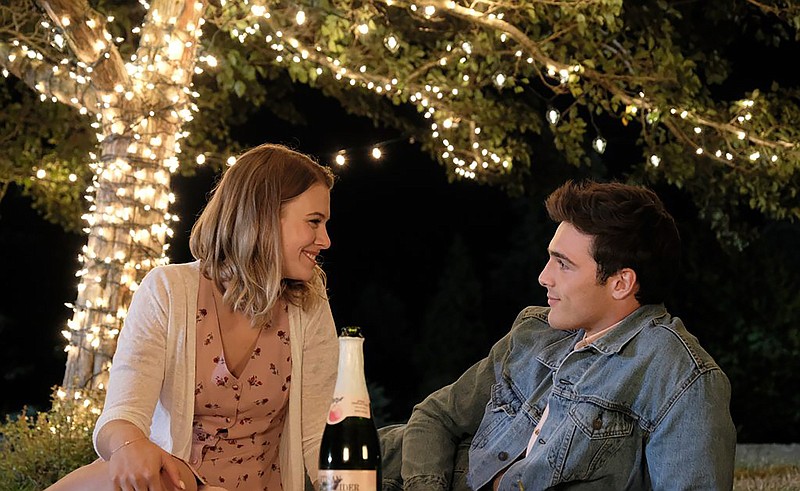 Jacob Elordi, right, and Tiera Skovbye in "2 Hearts." MUST CREDIT: Freestyle Releasing
The hospital gurney that shows up mere minutes into "2 Hearts," -- carrying one of its four protagonists and trailing a wake of weepy loved ones behind it -- telegraphs that the story we're about to see is a medical tear-jerker.
A voice-over delivered by that patient, a young man named Chris (Jacob Elordi), admits as much. "I'm getting ahead of myself," Chris tells us, before backing up to deliver two parallel love stories: his own, and that of another, much older man, Jorge (Adan Canto).
Based on a true story, "2 Hearts" jumps back and forth in time between Chris's meet-cute, as a dumb but hunky college freshman, with a fellow student named Sam (Tiera Skovbye), and the romance between Jorge, the wealthy scion of a Cuban distiller, and Leslie (Radha Mitchell), a flight attendant he sweeps off her feet. Neither of these relationship narratives is especially engaging.
Chris and Sam bond while serving on a collegiate safety patrol; Jorge and Leslie fall in love during a romantic weekend getaway to an expensive beachside hotel. Both stories feel pretty plastic, like TV commercials for breath-freshener or tooth-whitener. They're sweet and superficial.
But they're not meant to be the meat of the movie, whose two threads start to converge-- in expected ways-- pretty quickly.
Inspired by the life of Jorge Bacardi of the Cuban rum dynasty and what has been described as a "miracle" he experienced in 2008, the film. It's wholesome but starchy fare: that feels less like a movie than a marketing vehicle for the power of divine providence.
Adan Canto in "2 Hearts." MUST CREDIT: Freestyle Releasing
More News
'2 Hearts'
78
Cast: Jacob Elordi, Adan Canto, Tiera Skovbye, Radha Mitchell, Kari Matchett, Tahmoh Penikett
Director: Lance Hool
Rating: PG-13, for brief strong language
Running time: 1 hour, 40 minutes
Playing theatrically
Sponsor Content