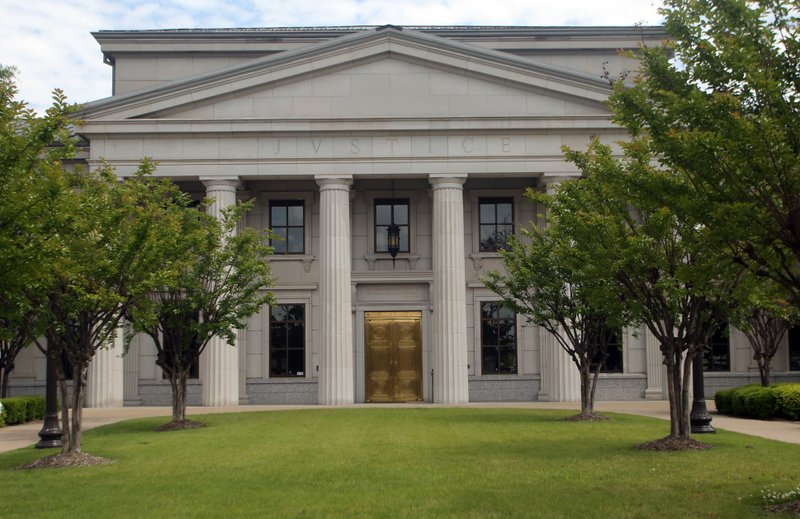 FILE - Arkansas State Supreme Court building
The Arkansas Supreme Court on Thursday allowed Democrat Jimmie Wilson to remain a candidate for an eastern Arkansas House district, while also granting Republicans another shot to challenge Wilson's eligibility before the Nov. 3 election.
In a unanimous ruling, the high court upheld Pulaski County Circuit Judge Alice Gray's decision to toss a lawsuit that claimed Wilson is ineligible for office because he has decades-old misdemeanor convictions for illegal use of farm loans and selling mortgaged crops.
Wilson, who served several terms in the state Legislature during the 1990s, was pardoned for his crimes by then-President Bill Clinton. Wilson claimed the pardon removed any legal barriers to returning to office.
Reached Thursday at his farm, Wilson said he had not read the Supreme Court's opinion, and declined to comment on the ruling.
[RELATED: Full coverage of elections in Arkansas » arkansasonline.com/elections/]
He did say, however, that the legal challenge against his candidacy, which began in July, had prevented him from raising money or actively campaigning, as he did not want to ask for support in the event that he would later be disqualified from the election.
"I have three weeks to go to start a campaign," Wilson said.
A state Republican Party spokesman said Thursday that the party would continue to aggressively pursue its efforts to disqualify Wilson.
"The Arkansas Supreme Court notably did not rule on the merits of Mr. Wilson's ineligibility, which are quite clear," the spokesman, Seth Mays, said in a statement. "We will be re-filing this matter for an expedited hearing and an unobstructed chance to point out how Mr. Wilson's criminal past makes him unfit for office."
The lawsuit against Wilson's candidacy was filed in July by Lisa Ramey, a Helena-West Helena woman who hired Caleb Baumgardner, an attorney with ties to Democratic politics, to represent her.
Wilson's Republican opponent, David Tollett, and the state Republican Party later attempted to intervene in the lawsuit, also claiming that Wilson's past convictions made him ineligible to run under a state law prohibiting anyone convicted of crimes involving "deceit, fraud, or false statement" from holding public office.
At a hearing in late July, Gray chastised both parties suing Wilson after finding repeated errors in their court filings, calling the case "a disaster."
Gray dismissed Ramey's lawsuit because her attorney had failed to specify in the lawsuit whether she was a voter in House District 12, where Wilson is running. She also dismissed Tollett's motion to intervene in the lawsuit, after his attorneys failed to properly serve Wilson.
Tollett appealed, but a majority opinion written by Justice Courtney Hudson found no error in Gray's decision to dismiss the case.
The opinion did, however, modify the dismissal to be without prejudice, meaning that attorneys for Tollett and the Republican Party can refile the lawsuit.
"Because the circuit court properly dismissed Tollett's complaint for a lack of service, we will not consider Wilson's eligibility to serve as a member of the General Assembly," Hudson wrote in the decision.
The ruling leaves Republicans less than three weeks to mount a challenge to Wilson's candidacy before the election.
Ballots began being printed weeks ago, according to the secretary of state's office. Rulings against a candidate or issues this late in the election cycle typically result in judges ordering that votes not be counted, and that the remaining candidate is declared the winner.
Michael John Gray, the chairman of the state Democratic Party, said Thursday that the party would continue to back Wilson.
"Jimmie Wilson was chosen by the people of the district," Gray said. "He's beat one lawsuit and if people want to file another one, we'll deal with it."
House District 12 is a traditionally Democratic district covering Phillips County and parts of Desha and Arkansas counties. The seat was made vacant earlier this year when former Rep. Chris Richey, D-Helena-West Helena, stepped down to take a job in another area of the state.
Sponsor Content