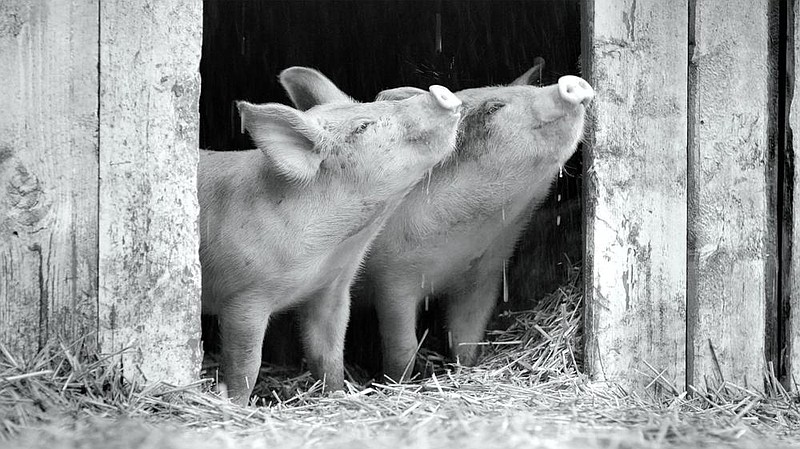 Viktor Kosakovskiy's documentary "Gunda," one of the highlights of this year's New York Film Festival, uses natural sound design and crisp, pastoral black-and-white cinematography to immerse the viewer in the compassionate tale of a sow who lives on a farm in Norway.
Concluding our round-up of New York Film Festival offerings from this year's virtual festival (last week's installment can be found on blooddirtangels.com), we have a fresh quartet of entries, ranging from another strong piece from Steve McQueen's "Small Axe," to a stunning ode to the life of farm animals, in peace and otherwise; to a new brilliant performance by a most-welcome actress, enjoying a later-career resurgence.
"I Carry You With Me": Heidi Ewing's film is a curious cross of narrative and documentary, telling the story of a loving Mexican couple, Ivan (Armando Espitia), a burgeoning chef; and Gerardo (Christian Vazquez), a schoolteacher, who eventually pack up and move to the States for a chance at a better life. They meet by chance one night in Pueblo, back in 1994, at a secret gay club. Quickly taking to each other, soon they are inseparable, even as Ivan's ex-partner, and the mother of their young son, discovers the truth and forbids him from seeing the boy.
With no chance at seeing his son, and no opportunity for him to advance in the restaurant business in his native country, Ivan makes the fraught decision to head north and cross the border illegally, in order to have a chance at a career, leaving Gerardo for "a year," as they plan their lives ahead.
After a difficult crossing, and a harder time still acclimating to his new adopted city of New York, Ivan remains struggling when Gerardo literally shows up at the doorstep of his apartment building one evening. The two hatch a plan to improve their lives, even as everything seems against them.
Ewing, a documentarian by trade, turns out to have based the film exactly on the love story of the real Ivan and Gerardo, who appear in the film as themselves in the present day, Ivan still trying to get to see his now-18-year-old son, but barred by his illegal status (essentially, if he returns to Mexico, he would never be allowed back in the U.S.). Stuck between the love of his son, whom he hasn't seen in more than a decade, and the thriving restaurant business he has built with Gerardo, the love of his life, along with their community of friends, Ivan is stuck at the inflection point for many such immigrants, forced to leave their families in order to have a chance at the sort of life they imagine for themselves.
There's nothing wrong with the men's love story itself, an often perilous account of what it takes to reinvent oneself in a land they never made, but some of Ewing's choices make for an odd mix. The blend of doc/narrative can be a powerful one, but here, positing the film first as a straight feature, complete with poetically composed shots, and rife with visual symbolism, before giving way to the tonally different documentary footage of the men today, opening their new restaurant, debating what Ivan should do, it somewhat spoils the effect of both conceptions. A shame, in particular, because of the strong work from Espitia, who infuses the "character" of Ivan with the right blend of courage and spirit to tackle such a monumental challenge with steely resolve.
"Red, White and Blue": During his police training in early '00s London, constable-in-training Leroy Logan (John Boyega) has occasion to quote Robert Peel to his training class: "The police are the public," he says, without irony, "and the public are the police." It's a sweet sentiment and should be foundational, though, as well proved in the era of #BLM, it's little more than a pipe dream in the U.S.
Logan, born and raised in the West Indies neighborhood of London that is the setting for each of Steve McQueen's "episodes" in the "Small Axe" anthology, was raised as an intellectual, and held a PhD. in science, before deciding to "join the force" (Boyega, featured in the last trio of "Star Wars" films, has to endure a good-natured poke at his famous background in McQueen's film). To his mind, the racism that his community has had to endure for generations can only be dealt with from the inside, a conviction his stern father, Kenneth (Steve Toussaint), having recently been savagely beaten by a pair of leering constables, strongly disavows, at least at first.
As Leroy makes his way through his training, where he is the strongest recruit in his class, the higher-ups decide he'll make a suitable poster boy for their recruitment efforts among people of color in the city, an "honor" (as Leroy says) that leaves several horribly racist fellow officers (Neil Maskell and Samuel Oatley) thoroughly unimpressed. They do their level best to dissuade Leroy from continuing on the force, adding racist graffiti on his locker, and refusing to back him up when he requests help tracking down a suspect.
If that weren't enough, Leroy also has to contend with his own community, where many of the young people he wants to build a "bridge" toward shun him as a traitor. Emotionally supported by his loving wife, Gretl (Antonia Thomas), Leroy pushes forward despite the extreme loneliness of his position, refusing to cower before a system whose enduring racism has caused his family and his neighborhood so much grief.
It's a fitting conclusion to McQueen's project, hitting the right tone of sober reflection, while not shutting the door entirely on the possibility of significant change. At a brisk 80 minutes, McQueen dispenses with many expected but unnecessary narrative bits, and allows his superior storytelling to relate to us the emotional fields the characters are enduring -- a tense dinner scene after Leroy has gone against his father's wishes to enlist, is a master class of smoldering emotion amid dinner table banter. He also employs a few telling symbologies -- a tree whose upper limbs have been cut down; a squall of birds looping back and forth in the sky -- less direct talismans than more ambiguous atmospheric shrouds.
"Gunda": Easily the film I was most anxious about: Any animal lover has to be concerned anytime a creature factors heavily in a film (depending on the genre, the pet is almost always sacrificed for dramatic effect), and especially so for a documentary, let alone one set on a farm.
But Russian director Viktor Kosakovskiy's extraordinary effort, shot on an idyllic seeming farm in Norway over the course of a single spring and summer, is something else entirely, although not without its heartbreak. Wordless, the only sound is that of the animals themselves, and the various ambient noise around them, from distant brooks to the breeze shaking in the leaves, and the buzzing whine of insects as they light on the creatures, only to be flicked off over and over.
Kosakovskiy's camera spends time with the cows (peeling out of the barn once the gate has been opened, they flood out and into the meadow-like anxious second-graders finally let out of school), but the clear star of the show is the titular sow, who, as the film begins, is giving birth to a dozen (or so) piglets. In long, exquisitely composed black and white shots, we watch the cute little buggers, about the size of hamsters, vie for prime position with their mother's belly, trying to suckle. They wriggle and snort, occasionally squeal as they stomp on each other, as Gunda looks on benevolently, later using her considerable snout to nudge various babies in the proper direction as they scurry around the field, chaotically. Kosakovskiy's camera, everywhere around his subjects, captures them in extreme detail, somehow without arousing their suspicion. But this is no handheld, jerky-jerk affair.
Kosakovskiy shoots as if the animals' motions were blocked out meticulously, the camera's moving about them in staggeringly beautiful compositions, often shifting from one element to another in a single shot with the perfect timing of a studio affair. Without humans onscreen (until the very end, the only signs of humankind are the worn wooden barn Gunda lives in, and the plastic hutches from which the hens emerge), we are allowed a precious, meditative sense of the pace and glory of the natural world. All of which makes the end, when a giant haybaler rolls up to Gunda's barn in order to snatch her now half-grown babies for their eventual slaughter, all the more startling and unwelcome. Man's interference, as always, breaks the idyll, leaving the poor Gunda alone, poking disconsolately around the now empty paddock, hoping to find her brood, before giving up and moving, at last, out of Kosakovskiy's frame, betrayed again.
"French Exit": The most welcome resurgence of actress Michelle Pfeiffer continues unabated in Azazel Jacobs' sardonic comedy, based on the novel by Patrick DeWitt (who also wrote the screenplay). In the last three years, Pfeiffer has graced the screen with several brilliant performances -- "Mother!" and "Where Is Kyra?" -- among smaller bits in Marvel Comic Universe flicks, but her turn as debauched and soon-to-be-penniless former New York socialite Frances Price might be the best of the bunch.
Frances learns of her forthcoming insolvency from her accountant and quickly hatches a plan to cross the Atlantic in a cruise ship with her devoted twentysomething son, Malcolm (Lucas Hedges), and her cat, Little Frank, in order to move into the empty Parisian apartment of her good friend Joan (Susan Coyne). There, she intends to spend the remainder of her days, and her money, living the life of the clichéd heiress gone to seed, before ending it all somewhere in Paris.
On the cruise, Malcolm hooks up with a disinterested psychic (whom Frances refers to, going forward, as "the witch"), who quickly discerns something unusual about Little Frank -- that is, that he's actually carrying the consciousness of actual Frank (voice of Tracy Letts), Frances' deceased, and hardly missed, husband.
Things get more whacked out from there, although, it's not, in the end, a film that trucks in chaos, exactly. It's more refined and pointed, even as the cast of characters upon arriving in Paris, gets more fanciful -- Mme. Reynard (Valerie Mahaffey), a woman of Frances' age, also a widow, who befriends them out of sheer loneliness; Julius (Isaach De Bankolé), a capable and kind private eye Frances hires when Little Frank disappears, and so forth. Frances is a brilliantly conceived character, full of venom and ferocity when called for (after being snubbed by a waiter, she lights the flowers on the table on fire), but also capable of extreme generosity, leaving 100-Euro notes around the local cafes as if they were singles.
She's "odd" as she describes it, but also open-minded and accepting, which allows the menagerie of characters to collect in her borrowed apartment. As the equally inscrutable and heavy-drinking Malcolm makes plain, being bossed around by Frances allows you to join in her grand journey, which turns out to be more fun and fascinating than anything one might have found on their own. The film has enough sediment to balance its more eccentric conceits, and, following the lead of Pfeiffer's rapacious performance, more grit and genuine edge to keep it from dragging into so much whimsical flotsam.
Sponsor Content