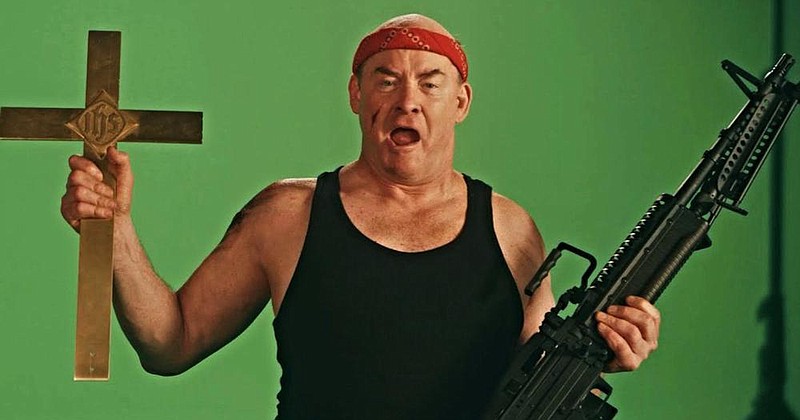 In the parody "Faith-Ba$ed," David Koechner stars as Butch Savage, an '80s action star who takes on the role of God in a cynical movie made by two 30-something Los Angelenos to cash in on the demand for Christian-theme films.
In "The Picture of Dorian Gray," Oscar Wilde declared, "There is only one thing in life worse than being talked about, and that is not being talked about."
The makers of the new comedy "Faith-Ba$ed" might agree. Their film received scorn from commenters on the Fox News and Breitbart websites before anyone had even seen their movie.
Contacted through Zoom, star and producer Tanner Thomason says, "You know the best thing that you can do if you're a little independent movie like us is get any press any way that you can, and we got sort of the lucky, unfortunate -- I don't want to say that it's lucky because it could have been an incredibly bad thing.
"But on day one of production, we got written up in Fox News and Breitbart about how some Hollywood hacks were making a movie that was going to make fun of Christians. And we knew that that wasn't the movie we were making but at the exact same time, oh my gosh, Fox News and Breitbart are gigantic outlets. Millions of people read these web pages, listen to the things they have to say and so from the very beginning there was like a little controversy, and we leaned into the press."
In the trailer for the film, the makers recall how Breitbart and Fox commenters warned that "Permanent darkness awaits you. May it be soon" and "Well, Jesus (sic) didn't die for everyone."
"It was interesting to see thousands of comments on our first week of shooting about what terrible Satanists we are, when we hadn't even shot a quarter of the movie," says star and screenwriter Luke Barnett. Both actors and director Vincent Masciale are veterans of the humor site "Funny or Die."
The actual plot of "Faith-Ba$ed" concerns a pair of 30-something Angelenos, pool cleaner and multi-level marketer Luke (Barnett) and bartender Tanner (Thomason) who try to make a Christian science fiction film ("Prayer in Space") to make a windfall that their current jobs can't provide.
If the fictional idea sounds like it doesn't have a prayer, think again. Edward D. Wood, Jr. found financing for his sci-fi disasterpiece "Plan 9 From Outer Space" from a Southern Baptist church. The hope was the returns on their investment in the more drive-in-friendly movie might lead to a series of Gospel films.
They didn't.
Unlike "Plan 9," several other Christian films have made sizable profits from modest investments. Much of the point of "Faith-Ba$ed" is that all filmmaking involves risk and dedication.
"One of the things that the Kendrick Brothers (the team behind 'Flywheel' and other movies) started off shooting movies that were made for no money. I give anybody credit who can make a movie for $50,000," Barnett says.
If the three filmmakers are in agreement on one thing, it's that religion can inspire worthwhile films and lead to discussions that help viewers better understand their own faith and the belief of others. That may be why Pope Francis invited Martin Scorsese to the Vatican to present "Silence," about Jesuits trying to maintain a Christian community in Japan even though the government forbids it. The welcome is surprising considering that Scorsese's "The Last Temptation of Christ" aroused many churches' ire.
Curiously, many films that capitalize on the Christian market shortchange themselves dramatically and even spiritually because they seem to be made to match a checklist instead of delivering a fresh take on how we see God.
"(Pure Flix founder David A.R. White) is giving his audience what they want. To a certain extent, it's equally on the audience as it is the filmmakers to step up this entire game. David A.R. White knows that he can follow this very cookie-cutter thing that confirms everyone's belief, they will make him millions of dollars. David A.R. White is not going to divert from that business model," Barnett says.
"One of my favorite scenes in the movie is the one with Margaret Cho where she breaks down the things you need for a faith-based film," Thomason says. "Any time we're watching a movie, and we're thinking it's not very good, sometimes it's a technical thing. And if it's not the technical skillset, sometimes it's something that they're not super passionate about. To piggyback off of what Luke is saying, 'You need this '90s actor -- Kirk Cameron, Kevin Sorbo or Dean Cain. You need this kind of message, and you need these people in peril. Once you get into that sort of paint-by-numbers filmmaking you pull a lot of passion and creativity out of it.
"Now, [the Kendrick Brothers'] 'Overcomer' had a budget of $6.5 million, which is the same as [the Oscar-nominated drama] 'Nightcrawler.' At a certain point with $6 million, you could hire one of the best writers in Hollywood and pay him six figures. They might not give you 'Nightcrawler,' but they might give you the best version of the story you're trying to tell," Barnett says.
To be fair, Hollywood movies have checklists of their own.
"Big studios do the same thing," Masciale says, "and they've got a lot more money to work with, but they can pump a lot more creativity to it."
Even "Faith-Ba$ed" sort of conforms to this template, with "Seinfeld" star Jason Alexander and David Koechner ("Anchorman: The Legend of Ron Burgundy") as an '80s action star in the cast.
On the other hand, "Faith-Ba$ed" doesn't sound like a faith-based movie. The dialogue is more in line with Scorsese's "Goodfellas."
"That was one of the things we were adamant about is that they can't have these characters talk like real people because then it would alienate that audience. Obviously based on the concept of our movie if we were only in this to make money, we would have just gone out and made 'A Prayer in Space' and we probably would be making a lot more money right now than we're going to make with 'Faith-Ba$ed,' but it was important for us to have these two guys in their 30s that live in a bachelor pad in Reseda, one of them works at a bar, to talk how we would talk or how those guys would talk."
Curiously, one of the plot strands of "Faith-Ba$ed" is that the previously irreligious Tanner becomes active in the church where Luke's adoptive father (Lance Reddick, "Bosch") serves as a pastor.
"We didn't want to cut anyone," Thomason says. "We didn't want to use comedy to hurt anyone, which can be a tricky line to balance. If this were a little more cookie-cutter approach, everyone would have joined the church, and there would have been a massive altar call, and that would have been how the movie ended."
"I wanted to make sure we were commenting on the lack of people's ability to have a dialogue," Masciale adds, "especially nowadays whether it's people they disagree with whether it's religiously or politically, so to have two characters who are best friends have a completely different perspective on the same series of events is, why can't they still be friends if one doesn't necessarily become a Christian if one starts going down that path a little and the other doesn't? We have a bar community and a church community that come together to make a faith-based movie. Why can't we all be more understanding of each other's backgrounds and perspectives and beliefs instead of screaming at each other and saying 'you're wrong!'?"
If anything does arouse the filmmakers' wrath it might be multilevel marketing. Alexander's multi-level marketing kingpin lives in a palatial home paid for by dubious ventures like weight loss tea. If Reddick's pastor is firm but consistently likable, Alexander's huckster is obviously a scam artist. George Costanza had higher moral development.
"That's a world that we find fascinating," Barnett says. "And that we have multiple high school friends who are all now selling something whether its CBD oil, weight loss tea or Christian leggings, which I learned are a real thing."
Sponsor Content