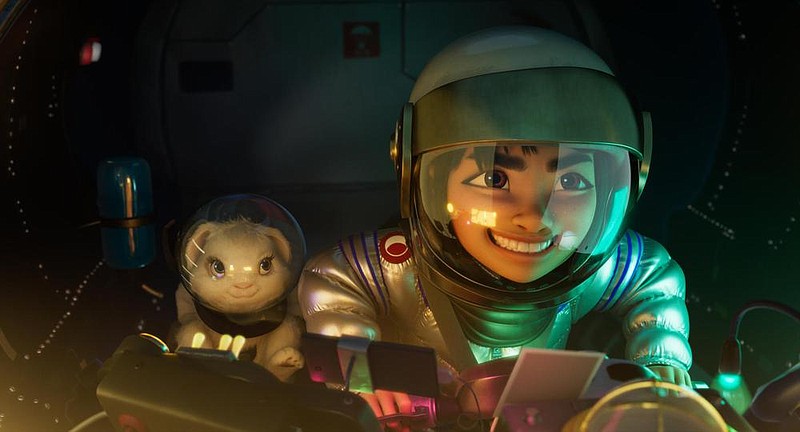 In "Over the Moon," a young Chinese girl named Fei Fei (voiced by Cathy Ang) builds her own rocket ship to travel to the moon in order to prove the existence of the legendary Moon goddess Chang'e.
As far as I can tell, "Sh%thouse" isn't opening in Arkansas this week.
This is fine, though the IFC comedy with the title designed to troll editors (a lot of its publicity material wallows in the fact that everybody thinks the vulgar name is a bad idea) is allegedly pretty good. Jake Coyle of the Associated Press writes that it is "one of the freshest college movies in years, a nano-budget breakthrough of rare sensitivity that announces more than one new talent."
And, though I thought SXSW was canceled this year, the film somehow came away with the festival's Grand Jury Prize, the one it gives out to the best narrative film.
If it doesn't get here theatrically, it will land on streaming venues soon, so we might have a chance to write about it in the future. Not that time seems to have any meaning whatsoever anymore.
Still, though movie production is still shut down in most places, a robust selection of films is arriving in theaters and on other platforms. This week we have "Honest Thief," which is like the two types of regular Liam Neeson movies -- the one where he plays the hyper-competent avenger and the one where he plays the sensitive romantic partner -- smashed together. It's not great, it's not bad; it's regular Liam Neeson squared. I was going to review it but ran into that meaningless thing we call "time" again. Suddenly it's Wednesday morning and I've got to screw together a New Movies column from my scribbled notes and cached email messages.
I also didn't get around to "Over the Moon," the animated Netflix film which, to further dither the lines between a movie made for theaters and one made for streaming platforms, is opening in theaters this week. (After the pandemic, or maybe even during it, look for Netflix to acquire its own chain of theaters.) And I meant to, for "Over the Moon" is a Pixar/Disney-level production co-directed by former Disney employee Glen Keane, who won an Oscar for his hand-drawn short "Dear Basketball" and written by Audrey Wells ("The Hate U Give"), who died of cancer in 2018. It features John Cho and Sandra Oh in its voice cast.
The film, like Disney's "Mulan," is based on a well-known (in China, anyway) legend, and its release is being timed to coincide with that country's annual Mid-Autumn Festival. (It's "mid-autumn" already? That time thing again.)
Meanwhile, in the Netflix queue at home is the documentary "Dolly Parton: Here I Am," a feature-length documentary that surveys the singer-songwriter's life and meaning. (If you want a deeper dive into Dolly, might I suggest the new Time-Life DVD boxed set "Dolly: The Ultimate Collection," an 11-DVD 23-hour compendium of TV highlights from her career. The list price is $199. Time-Life also offers "The Best of Cher," a similarly voluminous set with a similarly serious price tag.)
Enough reviewing of movies I have yet to see.
One I did see and immensely enjoyed was Rubika Shah's "White Riot," an acclaimed documentary about the rise of '70s grassroots group Rock Against Racism which sprung to life in the U.K. and Europe in response to the rise of far-right groups like the National Front. The history lesson is augmented by some great concert footage of The Clash and Steel Pulse.
Returning to movies with problematic titles, Evan Morgan's "The Kid Detective" sounds like something that ought to be playing on Nickelodeon but is actually a reasonably entertaining dramedy. It's about an alcoholic investigator (Adam Brody) who got some attention as a child but never lived up to his potential. Now, he's got a real grown-up case to work on.
It's pretty mild as possible entertainment options go, but it will hold your attention. And eat up some of that non-existent time stuff.
Email:
pmartin@adgnewsroom.com
www.blooddirtangels.com
Sponsor Content