A gardener's fall harvest, including squash, beets and turnips, is shown in this September 2009 file photo. (AP / Michael Conroy )
The best thing about fall is the beautiful vegetables that are being planted and are available at grocery stores or farmers markets, said Teresa Henson, extension specialist and nutrition outreach coordinator.
Henson is with the University of Arkansas at Pine Bluff's 1890 Cooperative Extension Program.
"Just think of the good taste of a garlic butternut squash soup or a bright red beet and kale salad around this time of year," Henson said. "These are just a few of the tasty fall vegetables that can enhance the pallet. This season is an excellent way for families to incorporate an array of healthy vegetables into their meals."
Low-cost fall vegetables that families can prepare include:
• Turnips and other root vegetables. "Root vegetables are a great source of fiber and minerals. Try a heart-healthy root vegetable salad: shredded turnips, radishes and add carrots for crunch," Henson said.
• Sweet potatoes. "Sweet potatoes are a great source of vitamin A to support eye and skin health. Sweet potatoes provide vitamins and nutritional health benefits. You can bake or mash sweet potatoes and make soup or a hummus dish."
• Red beets. "Colorful beets are rich in phytonutrients. They are low in calories, and high in fiber, vitamins and minerals. Beets can be pickled or used in soups and salads."
• Okra. "Okra is a staple for mouth-watering gumbo. Okra can be pickled, sauteed, baked or stewed. Just try sauteing black-eyed peas, okra and greens together for a great vegetable combination."
• Cabbage. "Cabbage is very budget-friendly, and you can make several meals from a single head. Cabbage can be added to soups or served as a large grilled wedge on the side."
For those interested in squash, they should try a recipe for stew:
Curried Squash Stew
4 Servings.
Ingredients
• 1 tablespoon vegetable oil;
• 1 yellow onion (peeled and chopped);
• 2 cloves garlic (peeled and minced);
• 1 celery stalk (including leaves, chopped);
• ½ teaspoon ground cinnamon;
• 1 large zucchini (or 2 small);
• 2 tablespoons curry powder;
• 3 cups butternut squash;
• 1 can 14.5 ounce low-sodium diced tomatoes (including liquid);
• 1 can 15.5 ounce low-sodium white beans or chickpeas (drained and rinsed.)
Directions
Heat a large pot on the stove over medium heat and add oil. Add the onion, garlic and celery and cook about 10 minutes, until the onion is tender. Add zucchini and curry powder and cook for 10 minutes, stirring occasionally. Add the butternut squash, tomatoes and chickpeas. Cover and continue cooking about 10 minutes. Serve with cooked brown rice. For additional flavor, add ½ cup raisins.
Source: Choose MyPlate. www.choosemyplate.gov/recipes/myplate-cnpp/curried-squash-stew.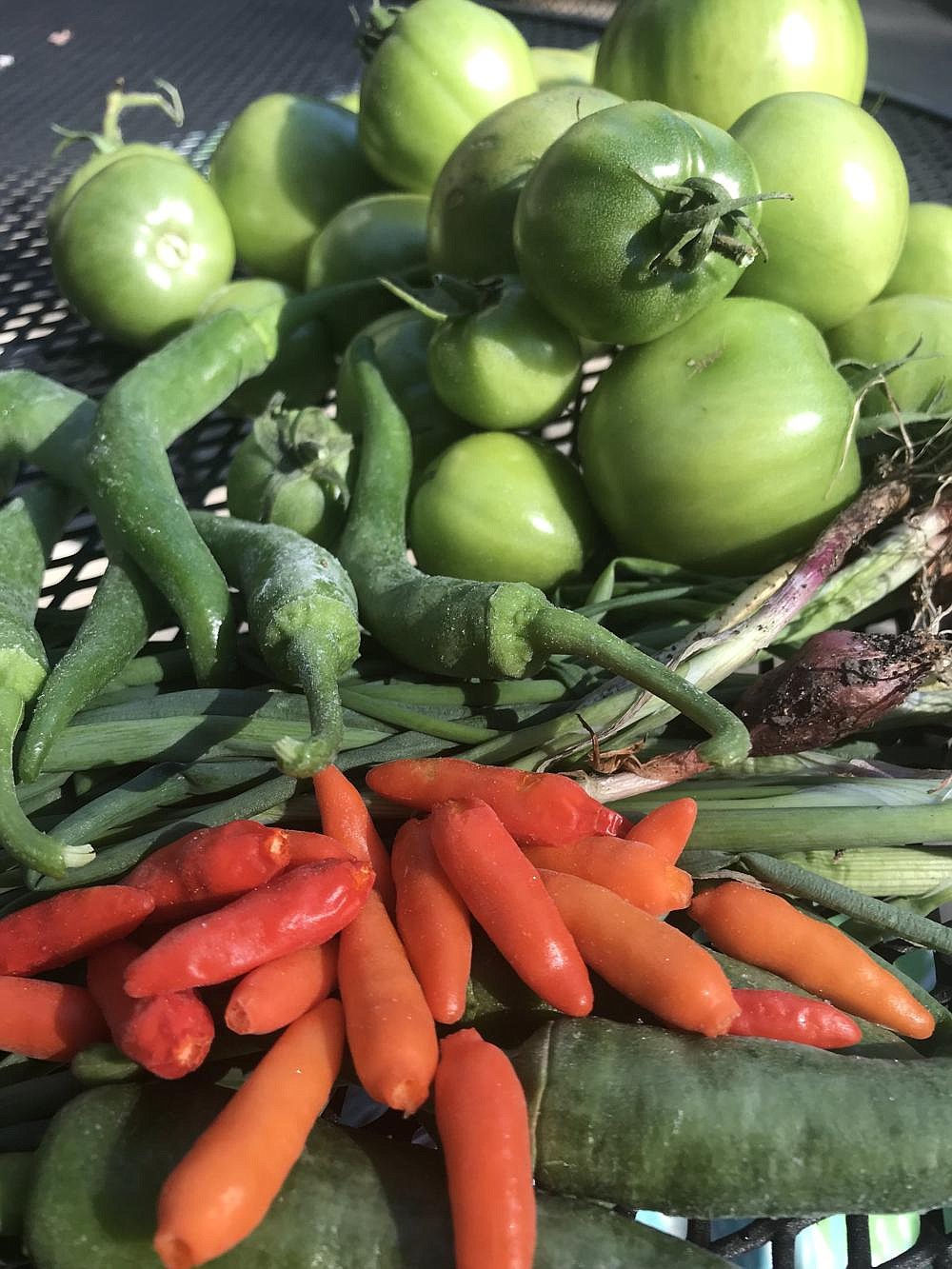 Fall vegetables can brighten up any meal, says the University of Arkansas at Pine Bluff's 1890 Cooperative Extension Program. (Pine Bluff Commercial/Dale Ellis)
Sponsor Content