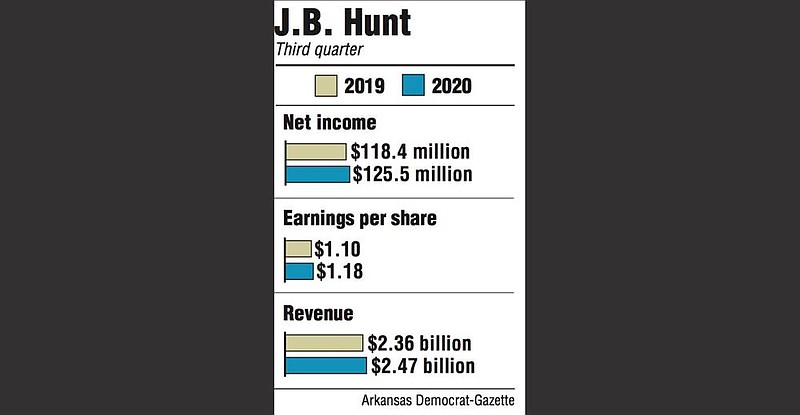 Graphs showing J.B. Hunt third quarter information.
J.B. Hunt Transport Services Inc. on Friday reported third quarter 2020 revenue growth while dealing with difficulties brought by the pandemic.
But earnings results missed expectations and Hunt shares tumbled.
The Lowell-based trucking and logistics firm posted earnings of $125.5 million, up 6% from the same quarter a year ago, when millions in arbitration fees weighed on results.
Revenue rose 5% to $2.47 billion during the three months that ended Sept. 30.
In a conference call with analysts, J.B. Hunt executives indicated recent ups and downs with their businesses, including final-mile delivery profits driven by record demand as well as pressure and congestion on the supply side and delays from labor shortages in trucking and intermodal.
"We are all learning to live with the challenges presented by the pandemic," said John Roberts, president and chief executive officer.
Revenue, including fuel surcharges, rose because of a 28% increase in brokerage results. Final-mile, trucking and logistics results also grew. Intermodal, which accounts for about half of the company business, declined more than 2%.
Operating income grew more than 4% to $175.5 million compared with the same quarter last year. Broken out -- 62% came from intermodal, 46% came from logistics and a collective 3% came from final mile and trucking. Total income was offset by an $18 million loss from the brokerage business.
Earnings per share of $1.18 fell short of Wall Street estimates of $1.30. Stephens Inc. expected $1.27 per share.
Stephens analyst Justin Long noted the miss came from J.B. Hunt's intermodal, or railway, business, which had extra costs from congestion and repositioning.
"[It] was a well known headwind (but hard to quantify)," Long said in a research brief.
The company said volumes in the quarter were "heavily constrained by rail congestion and service issues" that came from a "large and sudden increase in demand and intermittent labor challenges."
"We are not satisfied with these results," said Darren Field, executive vice president and president of intermodal.
The logistics business -- J.B. Hunt calls it Dedicated Contract Services -- saw increased productivity, reduced driver turnover and fewer startup costs, resulting in revenue of $553 million and income of $80.4 million, up from last year.
Final Mile Services, which does home delivery of big and bulky items such as furniture and appliances, posted record revenue of $182 million, up 22%. It also reported a profit of $2.1 million.
The brokerage business, called Integrated Capacity Solutions, had higher contractual and spot rates compared with last year and customer freight mix changes that led to revenue of $431 million, up 28%.
Trucking revenue increased 16% to $109 million with more load counts this year. At the end of the period, J.B. Hunt operated 1,713 tractors and 8,245 trailers compared with 1,896 and 6,826 a year ago, respectively.
Trucking income fell 55% to $2.9 million, however, as the company continues to invest in technology for the expansion of J.B. Hunt's 360box program.
J.B. Hunt was carrying $1.3 billion in debt at the end of the quarter, similar to last year. Its net capital expenditures are $449 million for the year so far, down from $587 million. The company had $319 million in cash and equivalents as of Sept. 30.
The company made no stock repurchases in the third quarter. J.B. Hunt had $520 million left under its share repurchase authorization and 105.7 million shares outstanding.
Overall, the executives said they were pleased with their workers and their commitment to customer service during one of the toughest transportation environments on record.
Shares fell more than 9%, or $13.80, to close Friday at $128.04.
Sponsor Content