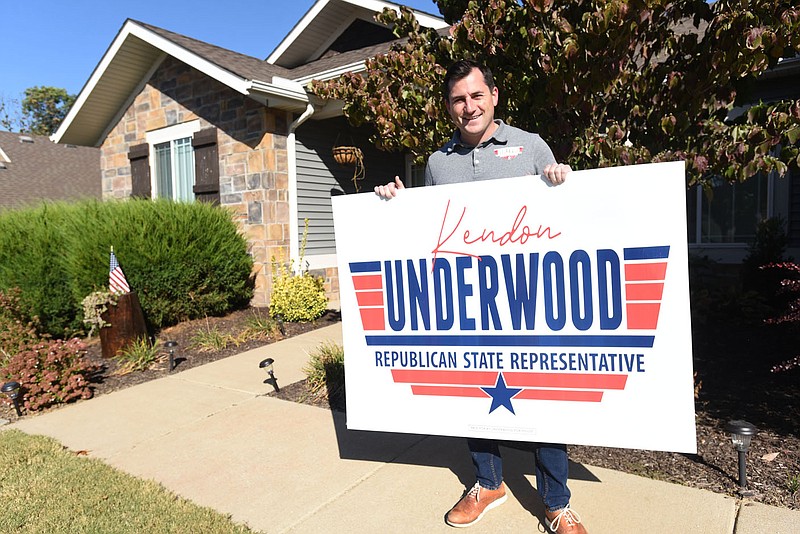 Kendon Underwood of Cave Springs is running as a Republicn for state representative. (NWA Democrat-Gazette/Flip Putthoff)
FAYETTEVILLE -- The covid-19 pandemic will change how candidates campaign long after the pandemic ends, candidates and campaign officials said.
Lessons learned have improved their methods, they said.
"I think the biggest lesson learned is that you can both leverage new and old techniques," five-term Republican congressional incumbent Steve Womack said in a statement Friday. "We have used technology as a force multiplier to the grassroots campaigning we normally do. While we have certainly had to adjust certain processes, that hasn't stopped us from delivering lawn signs, engaging supporters and safely mobilizing efforts throughout the district."
Womack's Democratic rival, Celeste Williams of Bella Vista, made the same findings, only more so, said spokeswoman Stephannie Baker. When you challenge a longtime opponent in a district covering a large geographic district, an online approach is vital in finding supporters including small donors, she said.
Womack and Baker's remarks echoed those of Carly Squyres, who this year is managing three campaigns of Democratic candidates for the state Legislature. Squyres spoke in a telephone interview Wednesday.
"One of the real silver linings is having to be creative," Squyres said.
For example, campaigns she manages wanted to contact voters individually and resorted to text messages by cellphone by necessity. This proved to be a direct and very effective way of contacting voters, she said, judging by the number of voters responding to the texts with both questions and issues they want to raise.
Another unforeseen benefit is a whole new source of campaign volunteers to send those text messages, volunteers who were not inclined to knock doors or talk to people on the phone. Those volunteers can send messages while at home whenever convenient.
On the receiving end, text messages don't interrupt people at dinner like campaign calls by phone sometimes do or knocking on their door can, Squyres said.
Campaigns discovered how effective direct texts can be at getting a response from voters after they used them when covid concerns practically banned the usual political events, she said. But how effective this communication is in getting those people to vote for the campaign's candidates remains to be seen, she said.
"Not everyone could go to traditional campaign events like forums or meet-and-greets," Squyres said, a common way to reach voters before the pandemic. "Not everyone could arrange for child care so they can go to such events, for instance."
But the voter can respond at a convenient time and place to a text asking what issues interest him.
"It's all about meeting people where they are," Squyres said.
Also, one group of people who express appreciation to the campaign for texting are those with difficulty hearing, she said.
Such direct communication is possible now because so many people have moved to cellular devices from landline phones in recent years, Squyres said. Their cellphone numbers are what they write down in their voter registrations. That leads to the other advantage of sending both questions and reminders directly to voters in short text messages, she said.
"You know the person getting the message is a voter in your district," she said. That is not true of other internet-based avenues such as Facebook and Twitter, she said.
Old-fashioned door-to-door campaigning is valuable -- with some very important changes, said Kendon Underwood. Underwood is the Republican in the District 90 state House race in Rogers. His Democratic opponent is Kelly Krout, one of the more active candidates in online campaigning in the state.
Underwood cut back his door-knocking earlier this year during his Republican primary runoff campaign, but decided to step up with more for the general election. In the earlier campaign, people weren't sure what safety measures worked when covid started to spread, he said. Now, he is knocking doors again but only in a highly modified way, he said.
"I stay 8 to 10 feet away and, if they want any of my campaign materials, I will set them down wherever they want me to for them to pick up after I'm gone," he said. "So, I keep a safe distance, but keep a mask in my pocket at all times." He puts the mask on whenever asked to, whatever the distance, he said.
"What I've found is that people appreciate both me being willing to go door to door and the precautions I take doing it," Underwood said.
He's had some good conversations, Underwood said, with constituents who talked to him from an open window as he stood on their front porch while they stayed a good distance away.
Being cooped up for months makes a visit by anyone, even a door-knocking candidate, more appreciated, Underwood said.
Krout does door-to-door campaigning too, but she and her family also produce a range of TikTok, YouTube, Facebook and other content. To her surprise, she said, viewers of such content from other states bring her campaign to the attention of people who can vote for her.
"Old college friend from North Carolina will call up someone who lives here now and say, 'Hey, I saw someone running to be your state representative on TikTok,'" Krout said. "Sometimes, that's the first the person living here has heard of me. I've had 30 or 40 people tell me that's how they found out I was running.
"Being online helps people find down-ballot races they can support," she said. "That helps raise the money needed for advertising and billboards" and other such traditional methods of getting voter attention. The modes of communication reinforce each other, she said.
Fundraising is the biggest advantage of being online, she said. Krout's campaign raised $45,599 as of the end of September, her campaign finance reports show. This is still less than Underwood's $84,349, but Underwood had a three-candidate primary and a runoff election costing him a total of $46,123 of what he's raised, campaign finance records show.
Krout is also a first-time candidate running in a traditionally Republican district. Underwood ran in 2018, narrowly losing to incumbent Rep. Jana Della Rosa, R-Rogers.
Online campaigning can also save a great deal of money, Baker said of Williams' campaign.
"Our gas, hotel rooms and other travel expenses dropped a great deal," she said.
Williams' campaign resorted to Facebook video conferences, Baker said. These allowed Williams to take questions from and talk directly to voters without having to travel. Anyone with a Facebook account could sign in and have the chance to ask a question or bring an issue to Williams' attention in those forums. The sessions were announced online without an invitation being required. The method also made it much easier to interact with Williams than attending an in-person event, Baker said. Also small donors reached online have become a vital source of campaign money, she said.
Williams closed her campaign headquarters in Bella Vista on March 13 although that was primarily out of health concern. Williams is a nurse and didn't want her campaign staff to be vulnerable in a crowded office. Baker said she understood the decision, but misses the camaraderie of a headquarters.
Doug Thompson can be reached by email at dthompson@nwadg.com or on Twitter @NWADoug.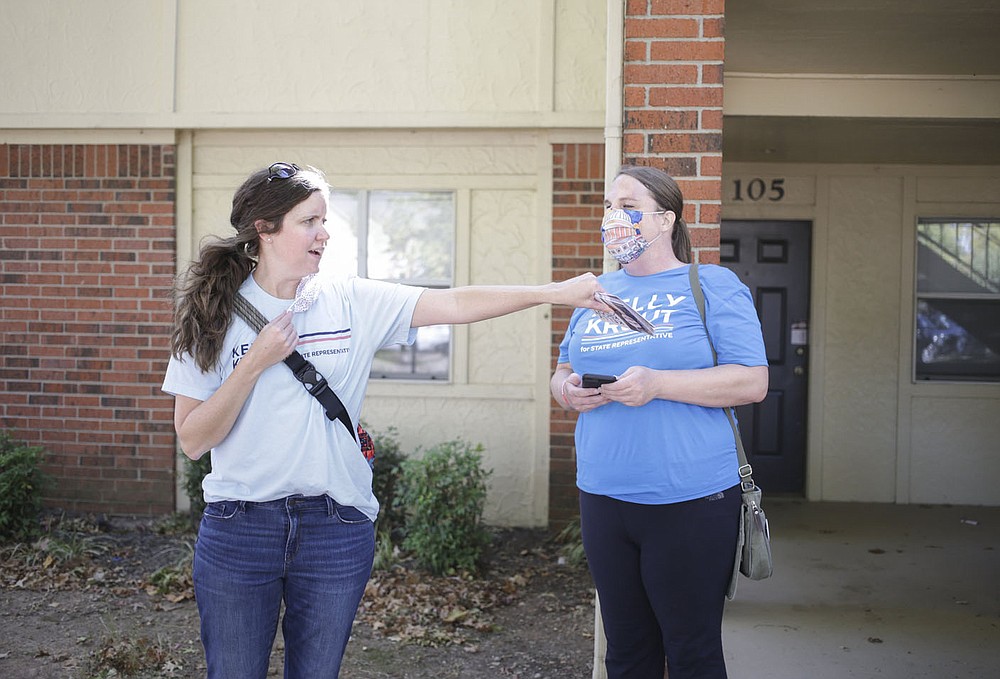 Kelly Krout (from left) and friend Sofie Dill drip off info cards as she campaigns, Friday, October 16, 2020 at The Links apartment complex in Lowell. Krout is running in the House district 90 race in Rogers/Lowell. Check out nwaonline.com/2010018Daily/ for today's photo gallery. (NWA Democrat-Gazette/Charlie Kaijo)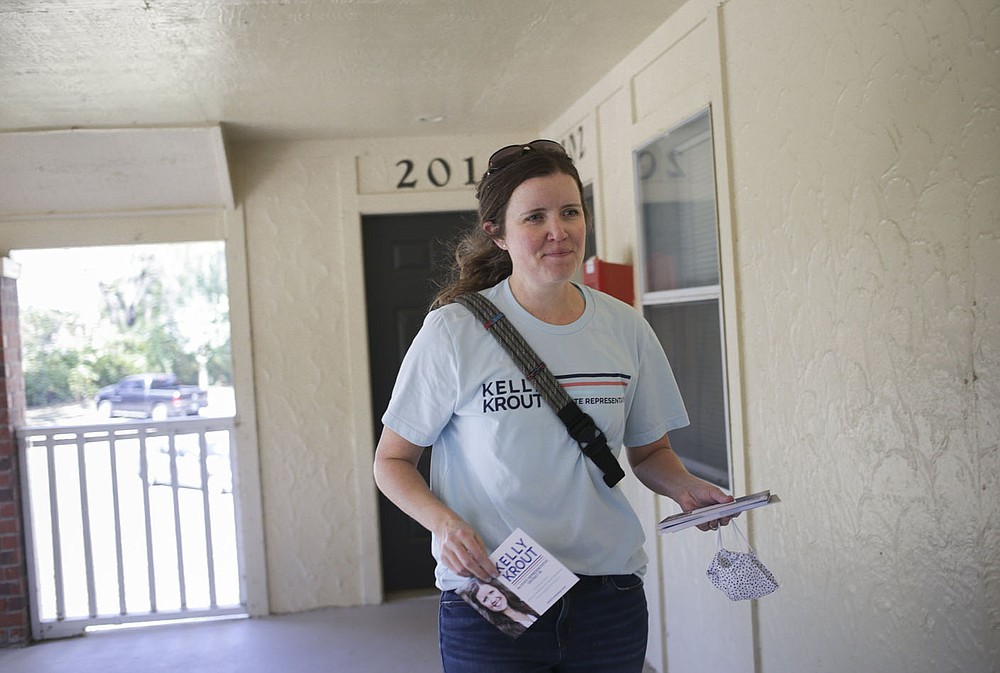 Kelly Krout drops off info cards as she campaigns, Friday, October 16, 2020 at The Links apartment complex in Lowell. Krout is running in the House district 90 race in Rogers/Lowell. Check out nwaonline.com/2010018Daily/ for today's photo gallery. (NWA Democrat-Gazette/Charlie Kaijo)
More News
Early voting
Early voting begins Monday at the county clerks' offices in Benton and in Washington counties. Election Day is Nov. 3.
Source: Arkanasas
Doug Thompson can be reached by email at dthompson@nwadg.com or on Twitter @NWADoug.
Sponsor Content