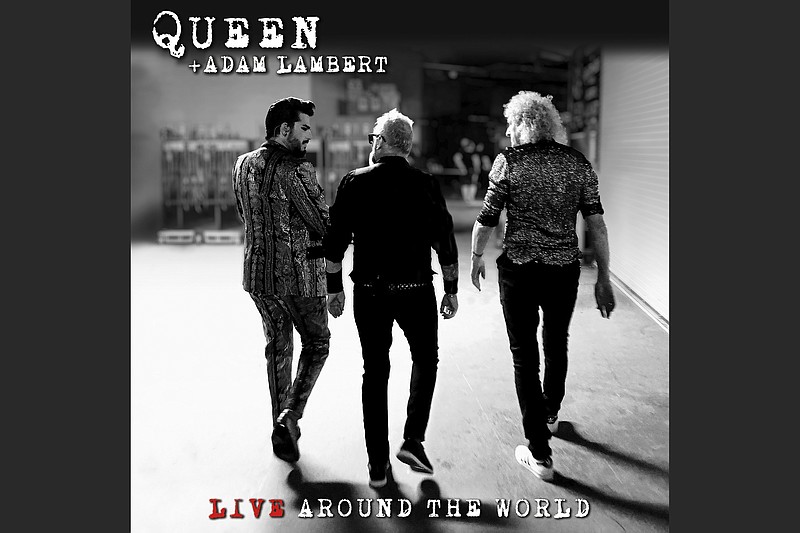 This album cover image released by Hollywood Records shows "Live Around the World" by Queen + Adam Lambert, releasing Friday, Oct. 2. (Hollywood Records via AP)
A- Queen and Adam Lambert
"Live Around the World"
Hollywood
Adam Lambert is not Freddie Mercury. Nor does he try to be. He is, though, the perfect successor to the iconic Queen vocalist, seemingly predestined to revive the supergroup with his own impossible vocals and over-the-top showmanship.
"Live Around the World," culled from every tour they've done over the last six years, shows the "American Idol" runner-up breathing new life into some of the greatest rock songs ever written, and putting them across just as boldly and fabulously as Mercury did.
But Lambert is no human photocopier; on song after song, he brings his own sensibility and finely-calibrated vocals, unlocking possibilities that had lain hidden for decades. "Don't Stop Me Now," which was a minor hit for Queen in the '70s but has exponentially grown in popularity since then, helped by its use in TV commercials, finds Lambert teasing the audience by comedically stretching out a note as the audience is ready to charge ahead. But it all comes with a wink and a nod.
Campiness aside, Lambert may just have the best voice in rock music today, and yes, let's just say it: There are times he hits notes Mercury dared not, at least not onstage, where Mercury often relied on drummer Roger Taylor as a stunt vocalist to hit the highest notes to help preserve his own voice for the grueling year-long tours the band did.
"Who Wants to Live Forever" is the vocal and dramatic high point of a Queen show these days, and the version here is particularly emotional, dedicated to victims of the Orlando gay club mass shooting.
Taylor is exquisite in the David Bowie role on the "Under Pressure" duet, and guitarist Brian May provides the unmistakable Queen sound with every note and power chord.
They also do two Mercury solo tracks, "Love Kills" and "I Was Born to Love You," adding a new element to the show and keeping Mr. Mercury front and center even in absentia.
— WAYNE PARRY
The Associated Press
■ ■ ■
A- Bettye LaVette
"Blackbirds"
Verve
Bettye LaVette got her start as a young soul singer who scored an R&B hit with her debut single, "My Man — He's a Lovin' Man," as a 16-year-old in 1962.
But the late-career renaissance she has enjoyed since the mid-'00s has mostly found her interpreting rock songwriters, from Fiona Apple on 2005's "I've Got My Own Hell to Raise" to The Who's "Love Reign O'er Me" at the 2008 Kennedy Center Honors to her 2018 set of Bob Dylan covers, "Things Have Changed."
"Blackbirds," which was produced by Steve Jordan, the master drummer and bandleader who's worked with Keith Richards and Robert Cray, again finds LaVette reshaping songs, finding new shades of meaning and depth of feeling in compositions treasured and obscure.
This time, the material — with the exception of the Beatles' song that gives the album its name — comes from another source: Black women. The selections are songs either written by or closely associated with female Black vocalists including Nancy Wilson's "Save Your Love for Me," Nina Simone's "I Hold No Grudge," Della Reese's "Blues for the Weepers" and Billie Holiday's sorrowful "Strange Fruit," which she gives a characteristically imaginative reading without sacrificing any of the anti-lynching lament's searing power.
Johnny Mercer and Doris Tauber's torch song "Drinking Again" is included as a tribute to the dynamic song stylist Dinah Washington, who recorded it 1962. LaVette's intimate, conversational take more closely resembles that of Frank Sinatra, who cut the song in 1967.
Like Sinatra, LaVette specializes in cracking open songs she didn't write and turning them into wrenching personal statements. On "Blackbirds," she does that by inhabiting laments and songs of resilience sung by her forebears, and making them her own.
— DAN DELUCA
The Philadelphia Inquirer (TNS)
Sponsor Content