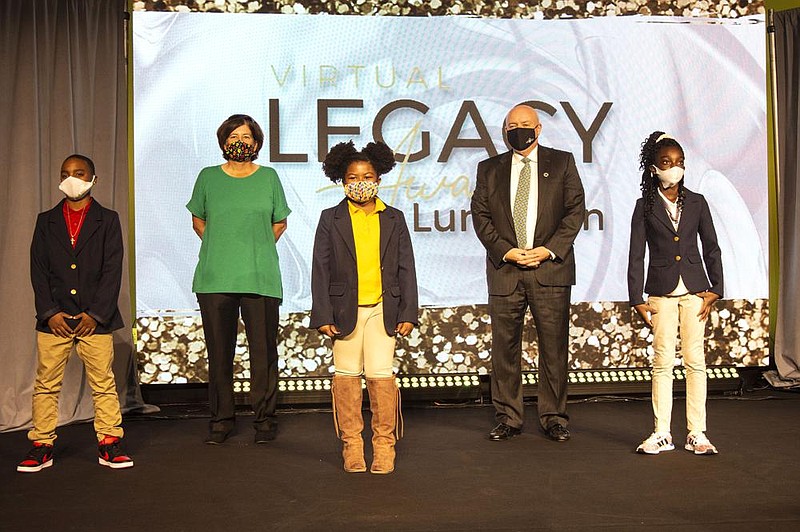 Students Dy'lan Brim, Mya Newton and Addison Newton with (in back) their principal, Karen Carter, and Superintendent Michael Poore ( Cary Jenkins)
The Legacy Award Business Luncheon was held virtually on Sept. 22, but honorees and Junior Achievement board members gathered in the studios of CWP Productions to watch the event.
Legacy Awards winners were Attorney General Leslie Rutledge and AT&T Arkansas President Ronnie Dedman. An educator award was presented to Little Rock School Superintendent Michael Poore and a Nelson Summit Award was given to Bank of America.
Gallery: Legacy Awards
[Gallery not loading above? Click here for more photos » arkansasonline.com/1018jr/]
Lisa Fischer served as emcee for the event and Heather Baker was an honorary chairwoman. In addition to the live portions of the event, there were also recorded messages from Gov. Asa Hutchinson, Miss Arkansas 2019 Darynne Dahlem and the organization's founder, Sheffield Nelson.
The Legacy Award is given by Junior Achievement to individuals who have displayed exceptional leadership in supporting academic excellence in Arkansas. The Nelson Summit Award is given to a company that has shown a deep commitment to educating Arkansas' youth.
This yearly event is the largest fundraiser for Junior Achievement which, according to its website, is committed to "giving young people the knowledge and skills they need to own their economic success, plan for their futures and make smart academic and economic choices."
-- Story and photos by Cary Jenkins
Sponsor Content