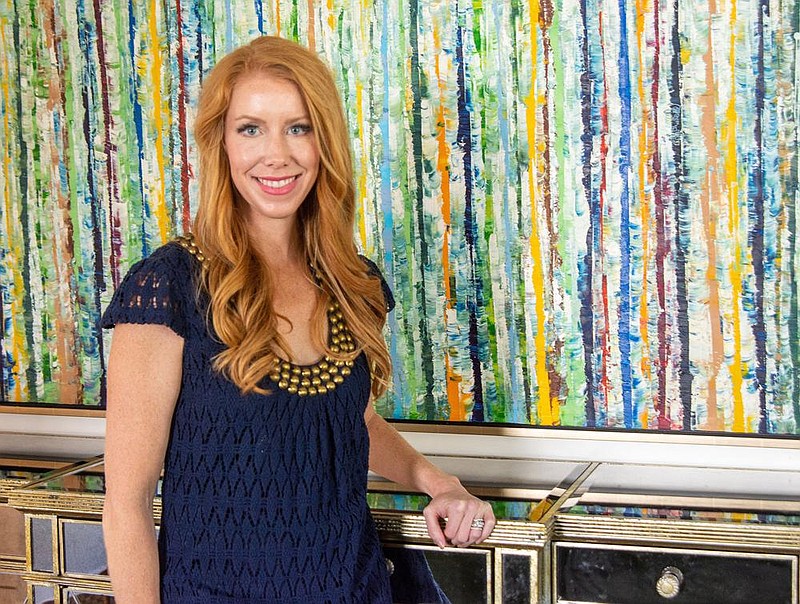 Kristen Saffa is chairing Arkansas Children's Hospital's Race for a Healthier Tomorrow — this year a virtual 5K — on Nov. 7. An avid runner, Saffa began volunteering at the hospital after her infant son was treated there for a virus.
(Arkansas Democrat-Gazette/Cary Jenkins) ( Cary Jenkins)
While Kristen Saffa hopes runners and families will take to the streets of the Natural State to participate in Arkansas Children's Hospital's 5K virtual race on Nov. 7, she will be running the race in Alaska -- perhaps even under the northern lights.
Saffa and her husband, Carlton, are planning a trip to the Last Frontier state in November to fulfill a bucket list item -- seeing the northern lights. Their trip coincides with the hospital's Race for a Healthier Tomorrow, which because of covid-19 is now a virtual event. She is the chairwoman of the race.
"I will be doing the race in the snow," Saffa says. "I can't decide if I want to do it at night during the northern lights or during the day. I will have to figure that one out."
A devoted runner, Saffa has participated in many races, including the Boston Marathon. She became an advocate for Children's Hospital when her son Charlie was diagnosed with respiratory syncytial virus (RSV) when he was 6 months old. RSV is a contagious virus that infects the respiratory tract of most children before their second birthday.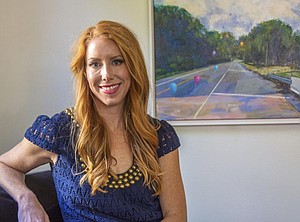 Photo by Cary Jenkins
Kristen Saffa plans to run this year's Race for a Healthier Tomorrow during a trip to Alaska with her husband, Carlton. Saffa is the chairwoman of the Nov. 7 virtual foot race that raises money for Arkansas Children's Hospital. (Arkansas Democrat-Gazette/Cary Jenkins)
"You are always scared when you have a baby in the hospital and watching the staff -- from the janitorial staff to the doctors. They were so caring and not just to my child but to me. ... They wanted to make sure that if I was OK then my child is going to be OK," Saffa says.
"I thought that was just a fascinating experience compared to sometimes how we get health care provided to us as adults," she says. "I wanted to give my time back."
Charlie, now 5, is a healthy kindergartner. His older sister Stella, 9, is in the third grade. Both attend Forest Park Elementary.
When Charlie was in the hospital, Saffa was able to stay by his side, taking advantage of paid time off from her job as an accountant.
"There are parents that can't do that. And there were children there that had no one in their room. There might be a volunteer that would rock the child or it was the nursing staff but that was the only people who could be there with that child.
"I thought that was so sad but people have to go back to work. So if there was any way that I could give back money to allow the children of Arkansas to have the greatest care that could be provided, I wanted to be able to do that for them," Saffa says.
Saffa is a member of the Arkansas Children's Hospital Auxiliary, an all-female organization founded in 1967 to support the work of the hospital and Arkansas Children's Research Institute. More than 500 women have been involved with the organization.
The auxiliary undertakes five major projects each year on behalf of the hospital including the Race for a Healthier Tomorrow, which is now in its second year. Through those projects, the auxiliary has contributed more than $14 million to the hospital over the last 10 years, according to the hospital's website.
This year's race originally was scheduled for April but the event was postponed until November because of concerns about covid-19.
The auxiliary hoped the November event could go forward as an in-person race but ultimately decided the risks were too great. Instead, runners and families are encouraged to register for the virtual race and put in the miles on their own time.
"This allows people to get out with their families and run it whenever they want to during the week leading up to Nov. 7," Saffa says. "You can do it however you want to whether it is back and forth down your driveway or whatever you want to do."
Saffa encouraged all Arkansans to participate in the race even if they are not experienced runners.
"We've all been cooped up inside. We've all had to be creative with being active with our families and not just watch TV all day or just stay inside. Covid is everywhere but you can still get outside and you can be with your families.
"Get outside and be active as a family. If you have a little baby, get out the stroller and just walk up and down your street. This is a great experience for someone who wants to do the couch to 5K. Do it over the course of four days. Get excited to make a change. Do something healthy with your family and promote a healthy lifestyle as a family."
More information about the Race for a Healthier Tomorrow is available at tinyurl.com/y5c5gm66.
Sponsor Content