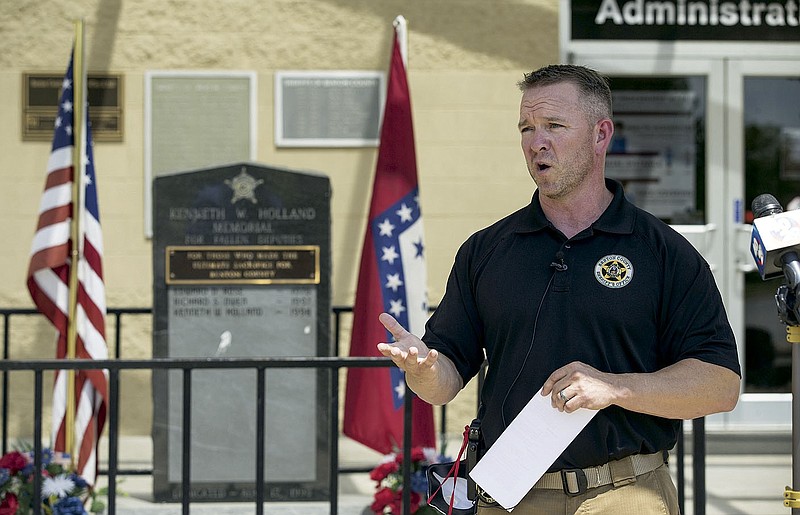 Benton County Sheriff Shawn Holloway speaks Thursday, June 18, 2020, during a press conference about positive covid-19 cases among the jail population at the Benton County Jail in Bentonville. Go to nwaonline.com/200619Daily/ to see more photos. (NWA Democrat-Gazette/Ben Goff)
BENTONVILLE -- An on-again, off-again breakout of covid-19 at the Benton County Jail continues to delay an already slowed court system.
Sheriff Shawn Holloway told justices of the peace last Monday there are no active covid-19 cases in the jail.
The jail reported its first virus outbreak in June when 189 inmates and 14 employees tested positive. Holloway said one inmate had to be hospitalized, while the other inmates and employees were asymptomatic.
The jail tested about 600 people last month. Fifty inmates and five jail employees tested positive for the virus, he said.
Danyelle McNeill, a spokeswoman for the Arkansas Department of Health, said cases are considered recovered after individuals are symptom-free for a full 22 days with no fever. She said asymptomatic individuals are considered recovered if they are still asymptomatic after 21 days.
Lt. Shannon Jenkins, a spokeswoman for the Sheriff's Office, said the state Department of Health provides the covid-19 tests while the company in charge of medical care at the jail administers the tests. The tests are sent to the Health Department for results.
The medical staff determines whether an inmate needs to be tested, Jenkins said.
Two criminal trials have been rescheduled because one inmate tested positive for the virus and another jury trial was postponed because the inmate's attorneys inadvertently had contact with a covid-positive individual, and the attorneys quarantined for 14 days.
Walter William Dill, 33, of Welling, Okla., is charged as a habitual offender with residential burglary, criminal mischief and theft of property. His jury trial was scheduled to begin last month. Benton County Circuit Judge Brad Karren canceled the trial after learning Dill, who is being held in the jail, had tested positive for the virus.
Zachary Harlan, 35, of Springdale is accused of killing a Springdale man. Harlan is charged as a habitual offender with capital murder, aggravated residential burglary and theft of property. His jury trial was scheduled to begin Friday.
Chris Nebben, one of Harlan's attorneys, filed a motion asking Benton County Circuit Judge Robin Green to postpone the trial. Nebben's motion says multiple parties were exposed to the virus while preparing for the trial, and Harlan's attorneys had to quarantine, hampering trial preparation. Green rescheduled jury selection to begin Oct. 28.
Karren already has ordered Logan Morrison, 31, of Rogers be tested for the virus as a precaution. Morrison is charged with rape. His jury trial is scheduled to begin Oct. 28. The judge ordered Morrison be tested again 48 hours before deputies transport him from the jail to the courtroom. Karren also ordered Morrison be individually quarantined in a cell 48 hours prior to the trial and to be held isolated throughout the trial.
Attorneys, jurors and Morrison will be required to wear masks at trial. Karren had a plastic barrier put around his witness stand and a portion of the jury box. He will limit the number of jurors who sit in the jury box and spread others out in the courtroom.
Green and Karren have been using video conferencing to hold pretrial proceedings. There have been no jury trials since the start of the pandemic this spring.
The jail was housing all the covid-positive inmates in the same pod to prevent the spread of the virus, Holloway said.
Jenkins said the jail staff is continuing to try to prevent another covid outbreak by checking an individual's temperature before being booked into the jail. She said each inmate's temperature is taken twice daily.
The Sheriff's Office also is trying to reduce the jail population by not holding people in misdemeanor cases and working with prosecutors and judges to release some individuals, Holloway said.
Maj. Bob Bersi with the Sheriff's Office told the justices Monday the jail is cleaned and sanitized throughout each week with a Clorox360 sanitizing machine. Holloway said inmates wear bandanas when they move from one area of the jail to the other. Inmates aren't required to wear the bandanas while in their pods, he said.
Inmates have soap to wash their hands, but the jail can't provide hand sanitizer because some inmates may drink it for the alcohol it contains, Holloway said.
Christopher Conduff, 44, of Bella Vista was one of the inmates who tested positive in June for covid-19 while in jail. Conduff said he never had a fever, but felt fatigued for several days.
He believes he may have contracted the virus from a jail deputy because he was held in the jail for more than a year with limited exposure to people.
He was told he was one of the first people who contracted the virus at the jail, Conduff said. The positive inmates were moved into one pod. He said he spent three days in an isolation cell and no one explained to him the reason why.
Conduff, who said he has asthma and a history of lung problems, said he got out of jail in July and went to a local hospital and again tested positive for the virus.
"I went through a phase that I really was fatigued," he said. "I haven't had any other health issues."
Tracy M. Neal can be reached by email at tneal@nwaonline.com or Twitter @NWATracy.
Sponsor Content