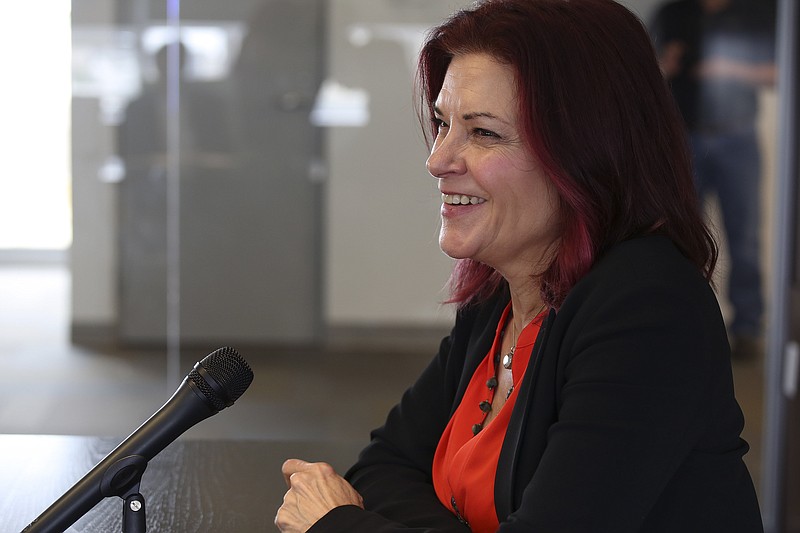 FILE - Rosanne Cash, daughter of the late Johnny Cash, speaks to reporters April 11, 2019 in Little Rock.
Proceeds from a new single by four-time Grammy winner Rosanne Cash will benefit an Arkansas memorial to victims of lynching.
"Crawl into the Promised Land," released today, is a country-inflected track written by Cash and husband John Leventhal. It is described in a news release as "a scathing yet hopeful new single that transforms all the emotions of this unprecedented year into a powerful ode to the resilience of the human spirit."
[Video not showing up above? Click here to view » https://www.youtube.com/watch?v=0p7B2mP4g8U]
Cash, the daughter of Arkansas native Johnny Cash, is donating money raised by the single to the Arkansas Peace & Justice Memorial Movement, an educational online memorial to commemorate the victims of lynchings in the state of Arkansas in collaboration with the Equal Justice Initiative and Coming To The Table.
Leventhal, who played all instruments on the song, produced the track, with Sarah Sarah Jarosz and Jakob Leventhal contributing background vocals.
In an essay accompanying the single, Cash writes:
"The pandemic and the protests were a perfect storm of isolation, inspiration, outrage, longing, fear, and hope. Living in New York City was a pressure cooker, particularly in April and May, when the deaths were spiking and the city sealed itself off, and utterly changed. But strangely, there was also a sense of transformation just around the curve, a sense of unity and community, and the potential for transcendence. I kept thinking of the model in physics, where things have to fall apart in order to re-assemble themselves in a more refined, evolved state."
There's also a video, directed by Phyllis Housen and Eric Baker.
"The song required a visual corollary," Cash writes. "I wanted to connect the past and the present: the Voting Rights Act, and the Women's March of 2017, the Civil Rights movement and the Black Lives Matter protesters, Harriet Tubman and Ruth Bader Ginsburg, the workers in the cotton fields and the lives of those of us who live in privilege because of them, and the necessary gratitude for the humanity we share. There are photos of my mother, of my husband, of my spiritual and cultural ancestors, of my country at war, and my kinfolk in unity."
Sponsor Content