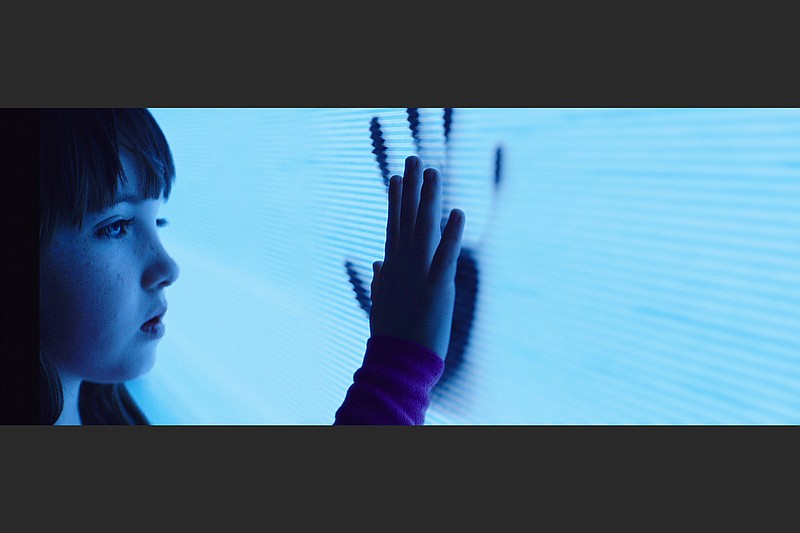 Madison Bowen (Kennedi Clements) reaches out to contact the apparitions that have invaded her family's home in "Poltergeist." (Associated Press file photo)
Elsewhere in entertainment, events and the arts:
Fair talent finals
Although most of the Arkansas State Fair canceled for 2020, it has been holding its annual talent competition online. The finals will take place at 1:30 p.m. Saturday in the Arkansas Building at the State Fairgrounds, 2600 Howard St., Little Rock, to "air" via Facebook Live (facebook.com/asfpageantsandtalent). Competition has been taking place virtually in the Fuller Family Junior and Coleman Family Senior talent divisions; winners have also won at the county level and will be vying for Grand Champion status and an associated cash prize.
Stay-at-home 'Clue'
The Arts & Science Center will stage — virtually — "Clue: Stay-At-Home Version," adapted by Sandy Rustin from Jonathan Lynn's screenplay for the 1985 Paramount movie (based on the board game of the same name), 7 p.m. Friday and Saturday through Broadway on Demand, broadwayondemand.com. The farce-meets-murder mystery involves six guests at a dinner party at a remote mansion where murder is on the menu. Tickets are $15, plus a $4.95 processing fee; visit asc701.org/clue. Sponsors are Simmons Bank and public radio stations KUAR- FM, 89.1, and KLRE-FM, 90.5.
'Chapter Morocco'
"Chapter Morocco," recent paintings and prints on paper and canvas by Eleanor Dickinson, opens Saturday, the first exhibition at Boswell Mourot Fine Art, which recently moved to 1501 Main St., Little Rock. Patrons will be admitted in limited numbers in half-hour increments, starting at 6 p.m. and ending at 9. Masks are required. The exhibition will remain up through Nov. 14. Call (501) 454-6969 or visit boswellmourot.com.
Black stories
Storytelling cooperative The Yarn teams up with the Washitaw Foothills Youth Media Arts and Literacy Collective for "Black Stories Matter: True Stories from Black Arkansans," 7 p.m. Friday via Facebook Live — tinyurl.com/yyy9up8u. The performance will be recorded live and shared virtually. Watching is free. A recording will be available after the show via YouTube.
'Cryptic' Ales
East Sixth Brewing Co. and Stone's Throw Brewing jointly present "Ales From the Crypt," a socially-distanced beer festival in conjunction with a Halloween film double feature, Saturday on the field at War Memorial Stadium, West Markham Street and Fair Park Boulevard, Little Rock. Gates open at 5:30 p.m.
The event includes outdoor screenings of "Beetlejuice" and "Poltergeist." You must be 21 with a valid ID to enter. Tickets, $40 ($45 if bought online), include entrance to the stadium and beers. Food truck Tren el Sur will sell food and the stadium will also sell snacks (popcorn, candy and soft drinks). Come in costume and take blankets and lawn chairs, but don't take dogs, ice chests or anybody under 21. Visit pintsandfrights.square.site. For more information, email becca@eastsixthbrewingcompany.com.
Dance and poetry
Atlanta-based Core Dance and Little Rock Central High School's The Writeous Poets will perform at 7 and 8:30 p.m. today outside in Alumni Circle at the University of Central Arkansas, 201 Donaghey Ave., Conway. (In the event of inclement weather, the performances move into UCA's Reynolds Performance Hall.) The dance company will perform "Nevertheless, She Persists" with spoken word performances by The Writeous Poets and "Transparent Fashions" by UCA theater student Jillian Gregory. It's part of the university's Suffrage Centennial celebration. Admission is free; the performances will also stream live on the Facebook page, facebook.com/cahssuca.
River Rhapsodies
The Arkansas Symphony Orchestra's River Rhapsodies chamber series will livestream a concert titled "Great Romantics: Dvorak & Faure," 7 p.m. Tuesday from St. Luke's Episcopal Church in North Little Rock at ArkansasSymphony.org/great-romantics. The program: violinists Kiril Laskarov and Sandra McDonald and violist Katherine Reynolds playing the "Terzetto" in C major, op.74, by Antonin Dvorak, and pianist Julie Cheek joins Andrew Irvin, violin; Tatiana Kotcherguina, viola; and Stephen Feldman, cello, for the "Piano Quartet No. 1" in c minor, op.15, by Gabriel Faure. The concert is "pay what you can."
Opera by alumni
Tenor Joel Burcham and soprano Sara Kennedy, Opera in the Ozarks alumni, will perform arias by composers including Giuseppe Verdi, Georges Bizet and Giacomo Puccini, with pianist Louis Menendez at 2 p.m. Sunday at Inspiration Point, 16311 U.S. 62 West, Eureka Springs. It kicks off the opera festival's new Alumni Recital Series. The venue is outdoors; masks are required and social distancing will be in place. Tickets are $20; visit opera.org. The recital will also stream via a web link, available at ticket purchase, that will remain active for 14 days. Call (479) 253-8595.
Appraising art
The University of Arkansas at Little Rock art and design department hosts an online lecture "For What It's Worth: A Conversation with Art Appraiser Jennifer Carman," 6-7 p.m. Friday. Carman, a graduate of Hendrix College with a master's degree in art history from the University of Glasgow, will discuss what practicing artists should know about art appraising and show some examples of her appraisal process. It's part of the 2020-21 artWORKS Workshop Series, funded by a grant from the Windgate Foundation. Register at tinyurl.com/yxz45oj2.
'Gospel Side of Elvis'
Covid-19 concerns have forced the cancellation of "The Gospel Side of Elvis" featuring the Blackwood Quartet on Saturday at the El Dorado Municipal Auditorium. Ticketholders can obtain a refund through itickets.com. Call (870) 665-9315 or email boomtownopry@outlook.com.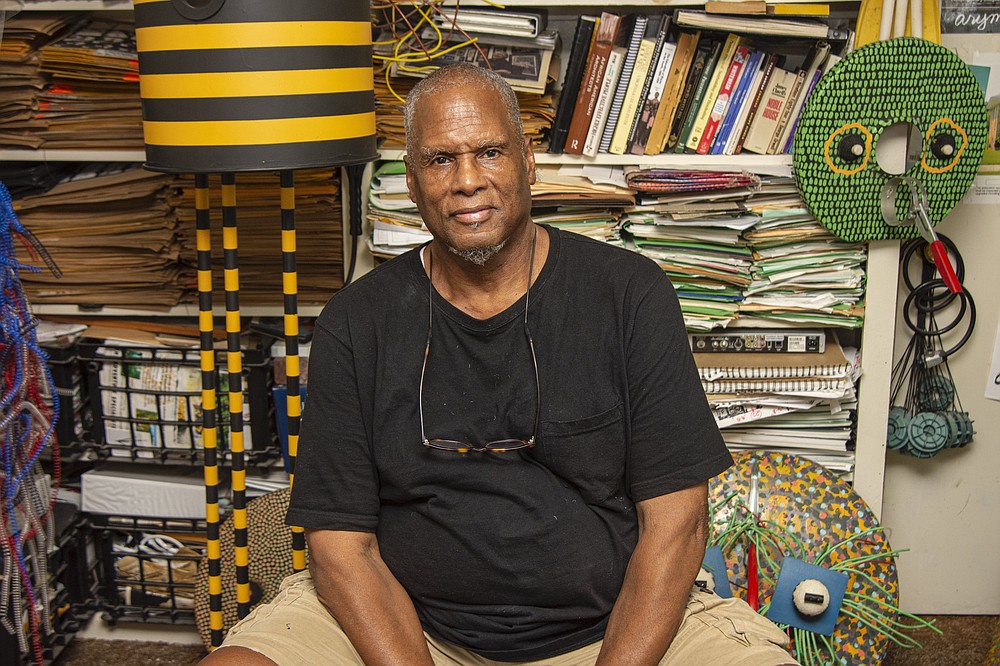 Little Rock architect Kwendeche heads up a virtual session, "Kwendeche: Humnoke to Ubud to Asmara Back to Humnoke," Oct. 29. (Arkansas Democrat-Gazette/Cary Jenkins)
Architecture lecture
Little Rock architect Kwendeche will head up a virtual session, titled "Kwendeche: Humnoke to Ubud to Asmara Back to Humnoke," 3:30 p.m. Oct. 29 via GoTo Webinar. Kwendeche will discuss the effects climate, culture, language, politics, religion and geophysics have on diversity building sites and how people survive. It's part of the Architecture & Design Network's June Freeman Lecture Series. To register, visit tinyurl.com/yxreqepu. Registrants will receive a confirmation email containing additional information.
Pending public art
OZ Art, a Northwest Arkansas-based art support group, is partnering with Justkids, a platform specializing in public art, and The Unexpected, which brings free and accessible art, education and programs to Arkansas and Fort Smith, for a statewide initiative called ARkanvas that will place 12 public artworks by a variety of artists across the state, including installations in Bentonville, Springdale, Rogers, Fort Smith, Pine Bluff, Conway, Hot Springs, Little Rock and Stuttgart.
The common theme will be an interpretation of the theme "Unite," according to the website, arkanvas.com, where all 12 images will eventually be available. "You'll see them on buildings and walls, a basketball court, silo, pump house and water tower," the website explains. In Conway, for example, painter and muralist Alexis Diaz has a commission to install a mural on the large barrel facade of the former Conway Black Plant Silo, College Avenue and Front Street.
Sponsor Content