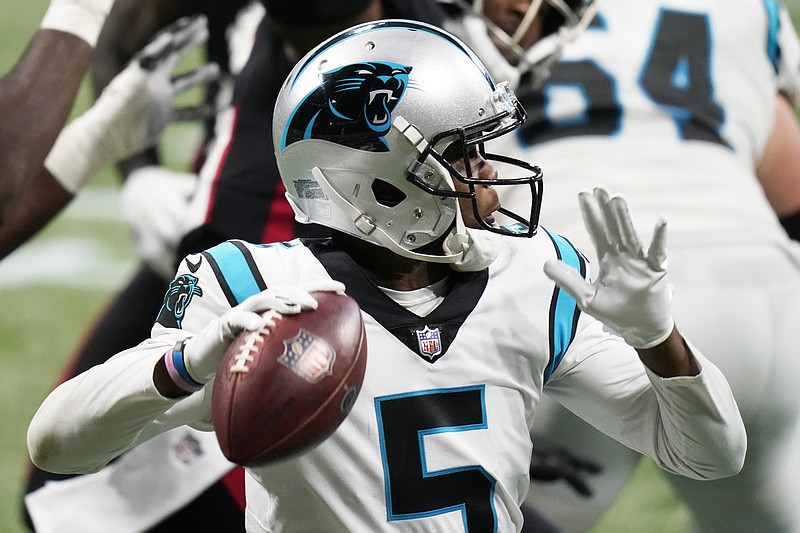 Carolina Panthers quarterback Teddy Bridgewater (5) works against the Atlanta Falcons during the first half of an NFL football game, Sunday, Oct. 11, 2020, in Atlanta. (AP Photo/Brynn Anderson)
NEW ORLEANS -- The time has come for Teddy Bridgewater to return to the place where he rehabilitated his NFL career and try to beat the team that helped him do it.
Bridgewater made two starts in the Superdome last year during his 5-0 run as a fill-in starter for then-injured Saints quarterback Drew Brees.
If he can win Sunday with his new team, it'll move the Carolina Panthers (3-3) ahead of New Orleans (3-2) in the NFC South.
"I hated to see him leave the building and now he's over there. Now he's the enemy. He's a frenemy," Saints defensive end Cameron Jordan said playfully. "He's an enemy, but he's a friend. And I can't wait to hit him."
The Saints tend to be effusive in their praise of Bridgewater, who was attempting to come back from a major knee injury that sidelined him nearly two full seasons when New Orleans made a trade with the New York Jets in 2018 to bring him in as Brees' backup.
"I really appreciated that time with Teddy, and I'm extremely happy for him and the opportunity that he has there in Carolina," Brees said. "He's going to be a franchise quarterback there for a very long time, and have a ton of success -- and he deserves it."
Saints Coach Sean Payton, who designs and calls New Orleans' offense, figured Bridgewater would be a good fit in his scheme and wasn't disappointed.
"He has an outstanding skillset. He moves. He's got good arm strength. He's accurate," Payton said. "He's a fantastic leader, and players play hard when they're with him."
Likewise, Bridgewater is grateful for his time with Payton and Brees.
"I remember talking to Sean Payton, and he said he had a vision for me and I just trusted everything he told. And his vision that he had for me has actually come to life," recalled Bridgewater, alluding to Payton's pledge to help him eventually work his way back to starter status in the NFL. "I am just glad I had a chance to cross paths and learn so much."
When the 41-year-old Brees, after pondering retirement, decided to keep playing in 2020, Bridgewater entered free agency and was quickly lured to Carolina, where former Saints offensive assistant Joe Brady was the new offensive coordinator.
"Once I heard Carolina offered and heard Joe Brady was here, a lot of it made sense to me," Bridgewater said. "I'm thankful I have a chance to be here right now."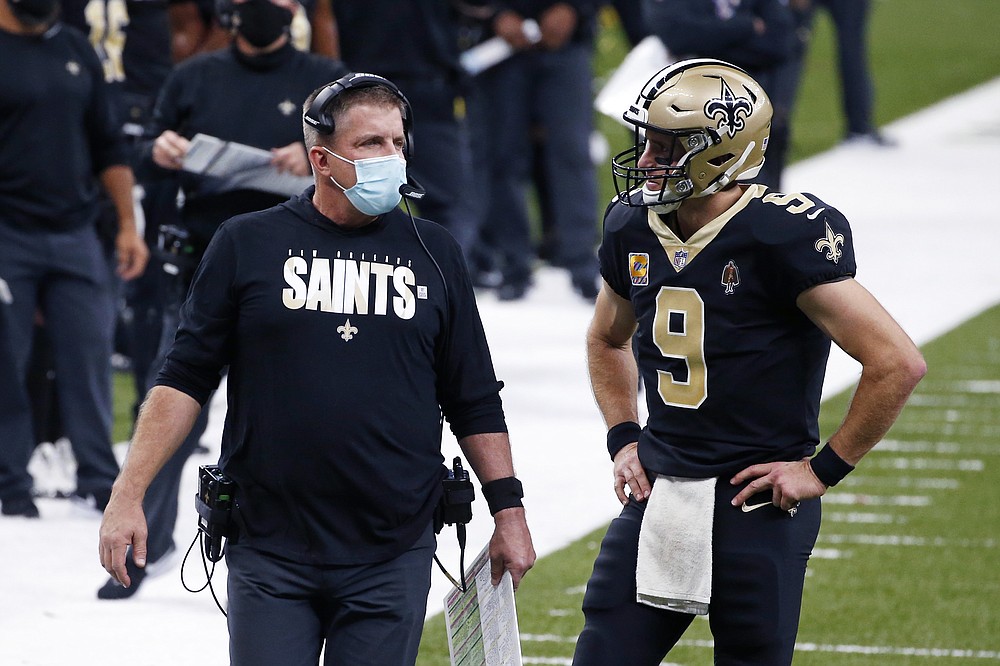 New Orleans Saints head coach Sean Payton talks with quarterback Drew Brees (9) in the first half of an NFL football game against the Los Angeles Chargers in New Orleans, Monday, Oct. 12, 2020. (AP Photo/Butch Dill)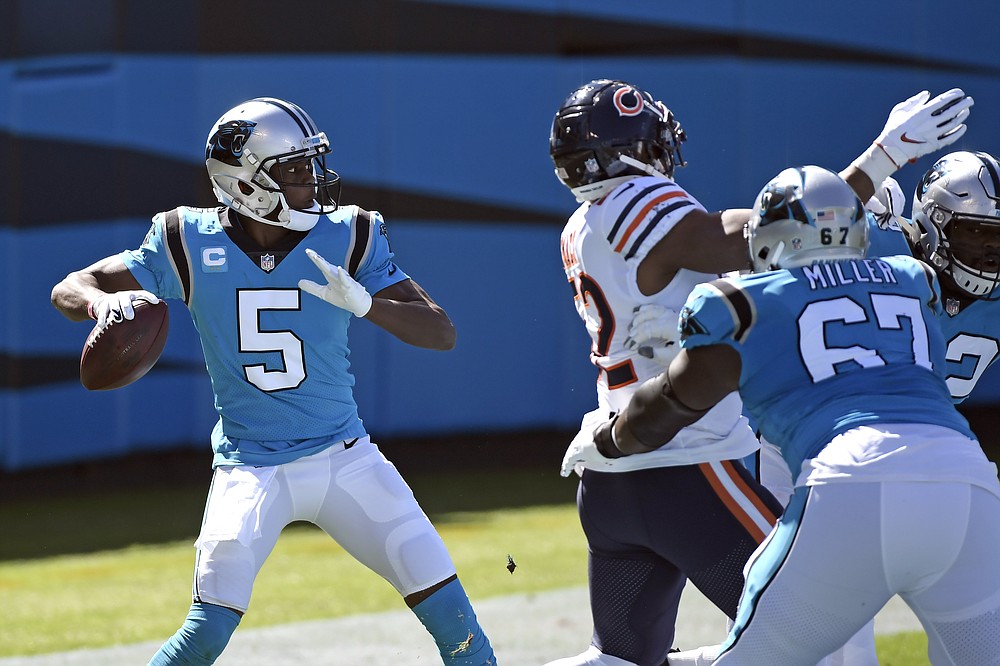 Carolina Panthers quarterback Teddy Bridgewater (5) looks to pass against the Chicago Bears during the first half of an NFL football game in Charlotte, N.C., Sunday, Oct. 18, 2020. (AP Photo/Mike McCarn)
Sponsor Content