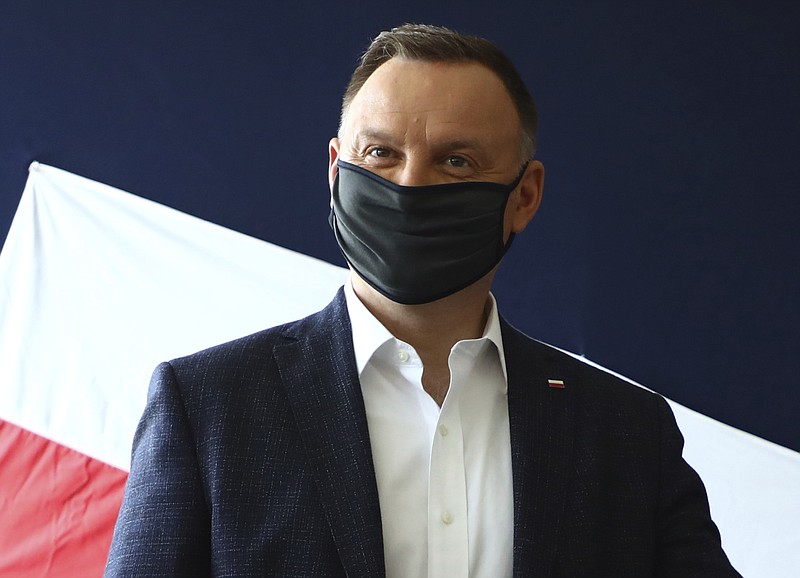 File—File picture taken June 28, 2020 shows Poland's President Andrzej Duda casting his vote during presidential election in Krakow, Poland. Duda was tested positive on Corona. (AP Photo/Beata Zawrzal, file)
WARSAW, Poland -- Polish President Andrzej Duda says he feels well despite testing positive for the coronavirus, and he apologized Saturday to everyone who must quarantine because they had contact with him.
Duda, 48, said in a recording published on Twitter that he was experiencing no covid-19 symptoms "but unfortunately, the test result is absolutely unambiguous."
"I would like to apologize to all those who are exposed to quarantine procedures because of meeting me in recent days," he said. "If I had had any symptoms of coronavirus, please believe me, all meetings would have been canceled."
Duda's diagnosis comes amid a surge in confirmed new cases of covid-19 and virus-related deaths in Poland, a nation of 38 million that saw very low infection rates in the spring.
[CORONAVIRUS: Click here for our complete coverage » arkansasonline.com/coronavirus]
The president's key constitutional roles include guiding foreign policy and signing legislation. But many of his duties are ceremonial, and most of the responsibility for running the country lies with Prime Minister Mateusz Morawiecki's government.
Poland on Saturday reported 13,628 new confirmed cases and a record daily number of covid-19 deaths, 179. The daily case count was the nation's second-highest of the pandemic after a record number set Friday.
Social tensions are also growing in the country.
Police used pepper spray Saturday on protesters angry over new virus restrictions, a group that includes entrepreneurs, far-right politicians, football fans, virus deniers and vaccine opponents. The protesters, many wearing no masks, violated a limit on public gatherings.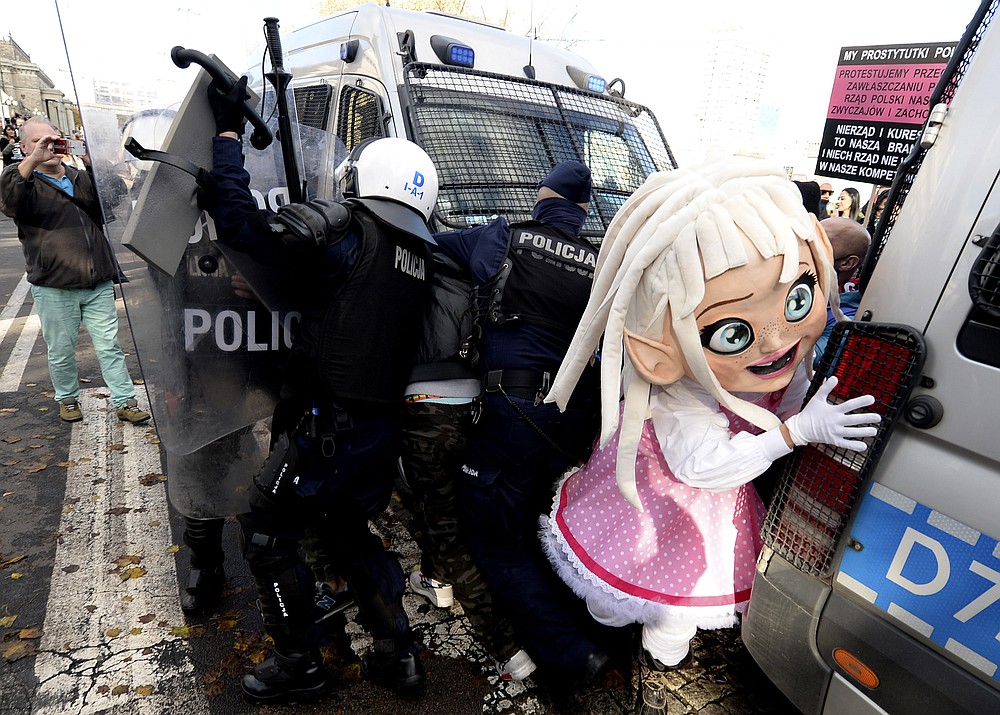 Polish police in riot gear detain protesters, angry over new restrictions aimed at fighting the coronavirus pandemic, in Warsaw, Poland, Saturday, Oct. 24, 2020. The protesters included entrepreneurs, far-right politicians, football fans and vaccine opponents. The clashes come amid rising social tensions and as new restrictions just short of a full lockdown took effect Saturday. (AP Photo/Czarek Sokolowski)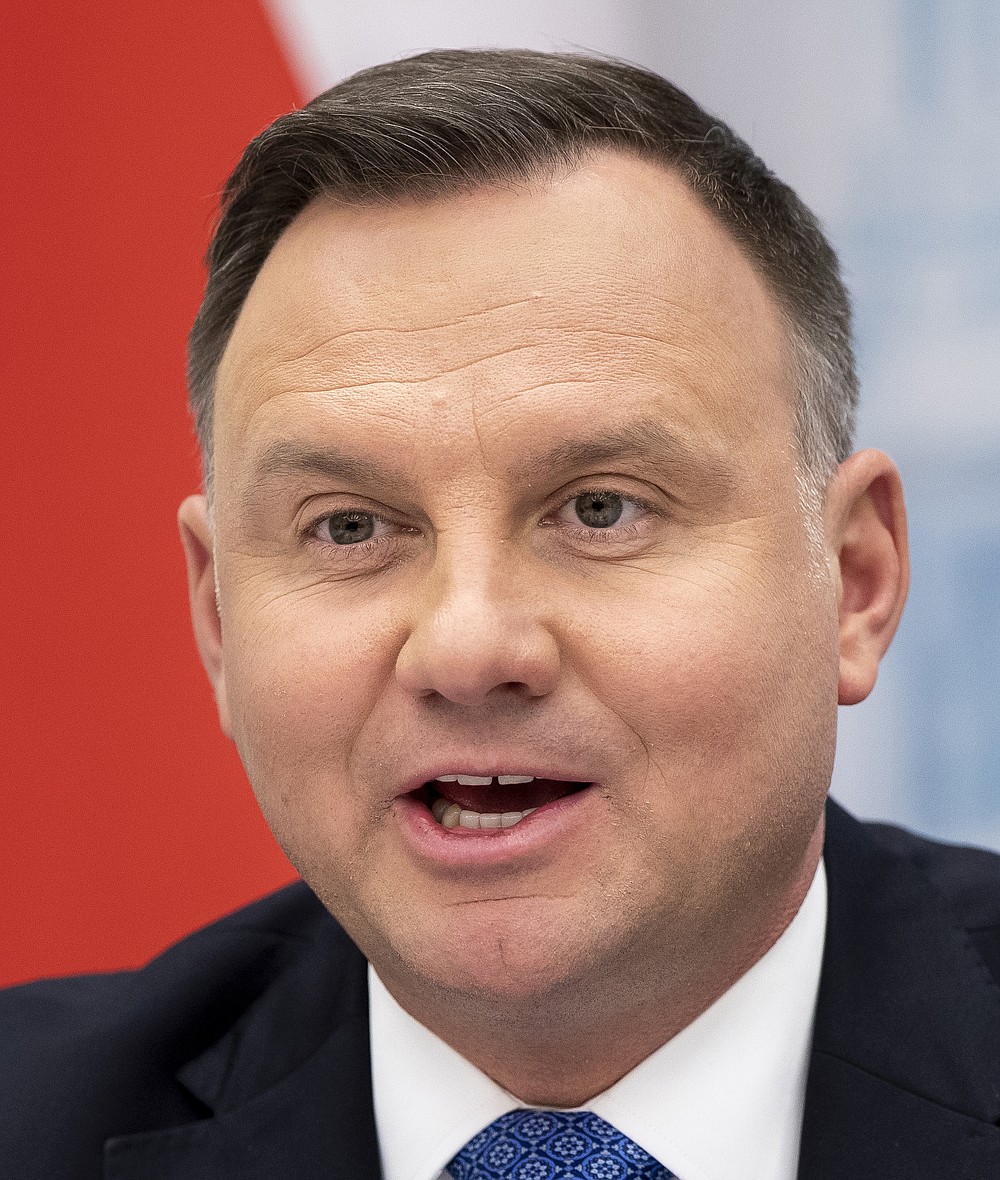 File-File picture taken Nov.21, 2019 shows Poland's President Andrzej Duda speaking during a news conference at the Presidential Palace in Vilnius, Lithuania. (AP Photo/Mindaugas Kulbis, file)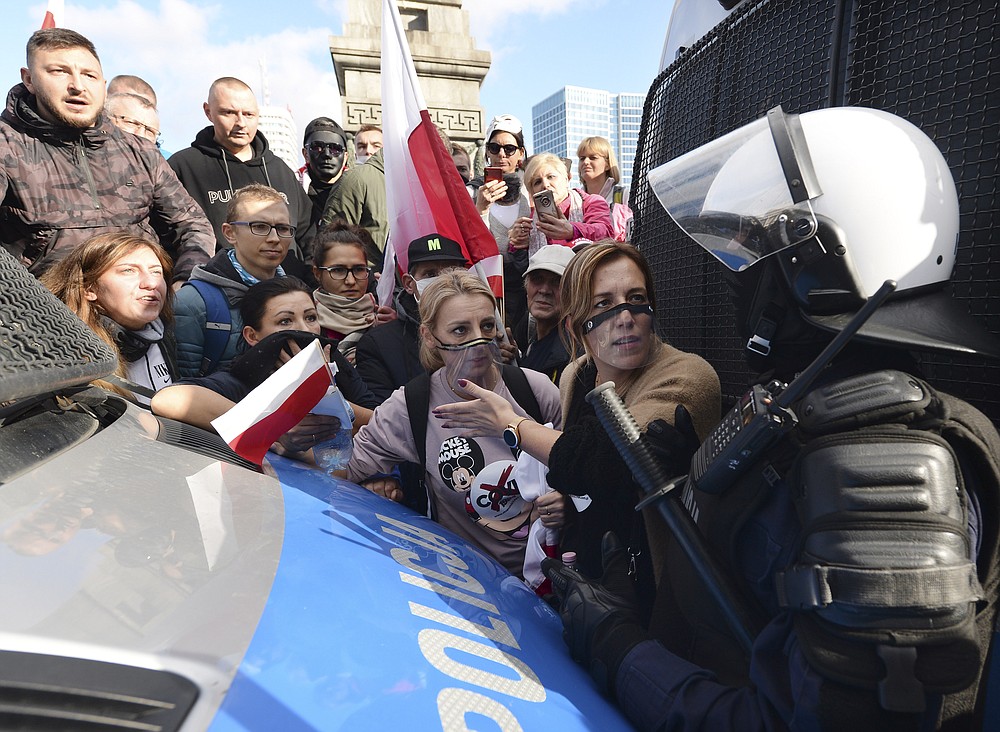 Polish police face protesters, angry over new restrictions aimed at fighting the coronavirus pandemic, in Warsaw, Poland, Saturday, Oct. 24, 2020. The protesters included entrepreneurs, far-right politicians, football fans and vaccine opponents. The clashes come amid rising social tensions and as new restrictions just short of a full lockdown took effect Saturday. (AP Photo/Czarek Sokolowski)
Polish police aim tear gas cannisters at protesters angry over new restrictions aimed at fighting the coronavirus pandemic, in Warsaw, Poland, Saturday, Oct. 24, 2020. The protesters included entrepreneurs, far-right politicians, football fans and vaccine opponents. The protesters, many wearing no protective masks, violated a new restriction on gatherings of more people. The clashes come amid rising social tensions and as new restrictions just short of a full lockdown took effect Saturday. (AP Photo/Czarek Sokolowski)
Polish police aim tear gas cannisters at protesters angry over new restrictions aimed at fighting the coronavirus pandemic, in Warsaw, Poland, Saturday, Oct. 24, 2020. The protesters included entrepreneurs, far-right politicians, football fans and vaccine opponents. The protesters, many wearing no protective masks, violated a new restriction on gatherings of more people. The clashes come amid rising social tensions and as new restrictions just short of a full lockdown took effect Saturday. (AP Photo/Czarek Sokolowski)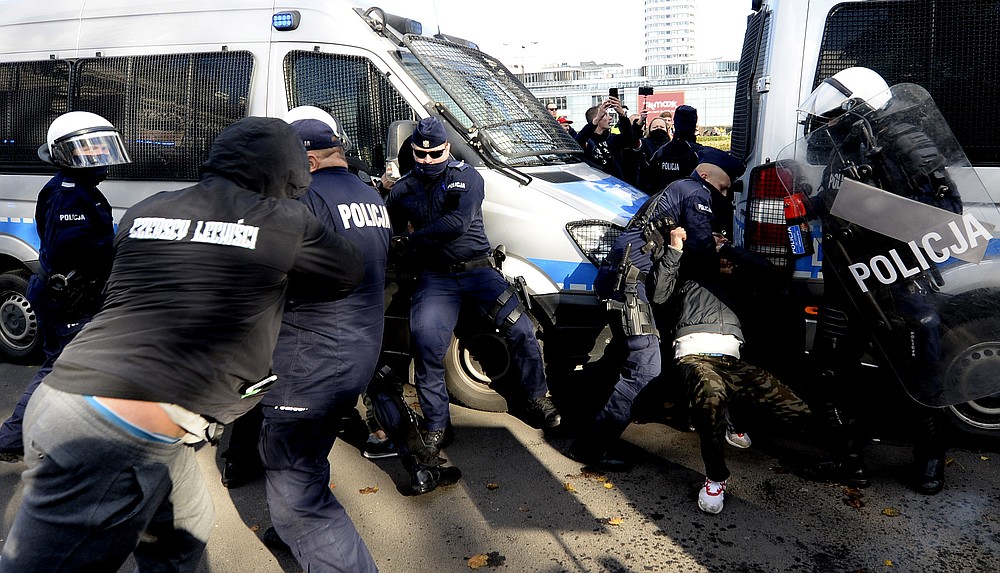 Polish police aim tear gas cannisters at protesters angry over new restrictions aimed at fighting the coronavirus pandemic, in Warsaw, Poland, Saturday, Oct. 24, 2020. The protesters included entrepreneurs, far-right politicians, football fans and vaccine opponents. The protesters, many wearing no protective masks, violated a new restriction on gatherings of more people. The clashes come amid rising social tensions and as new restrictions just short of a full lockdown took effect Saturday. (AP Photo/Czarek Sokolowski)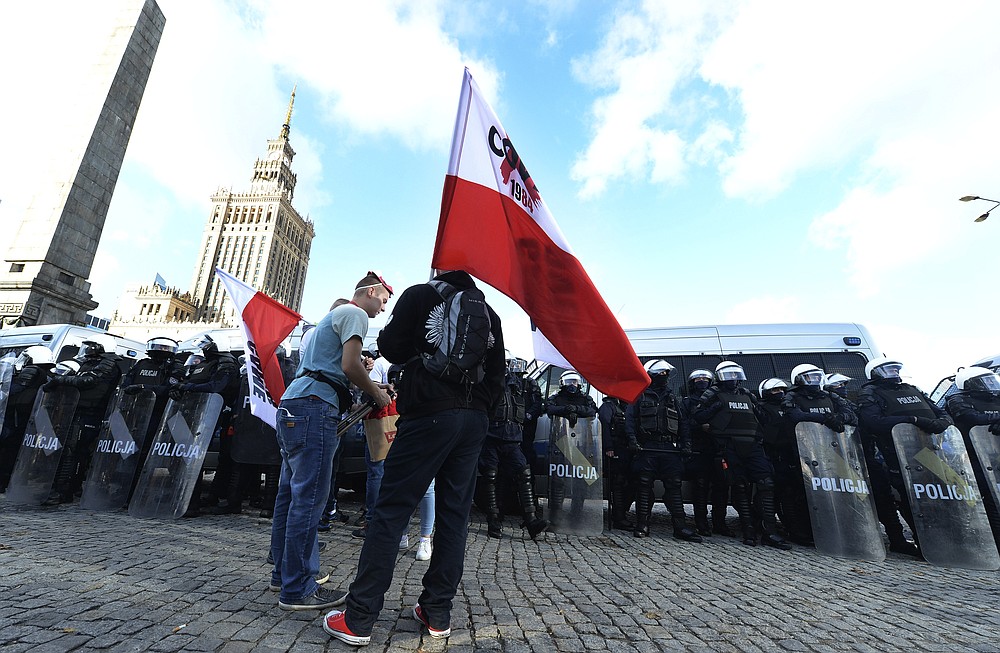 Polish police face protesters angry over new restrictions aimed at fighting the coronavirus pandemic, in Warsaw, Poland, Saturday, Oct. 24, 2020. The protesters included entrepreneurs, far-right politicians, football fans and vaccine opponents. The protesters, many wearing no protective masks, violated a new restriction on gatherings of more people. The clashes come amid rising social tensions and as new restrictions just short of a full lockdown took effect Saturday.(AP Photo/Czarek Sokolowski)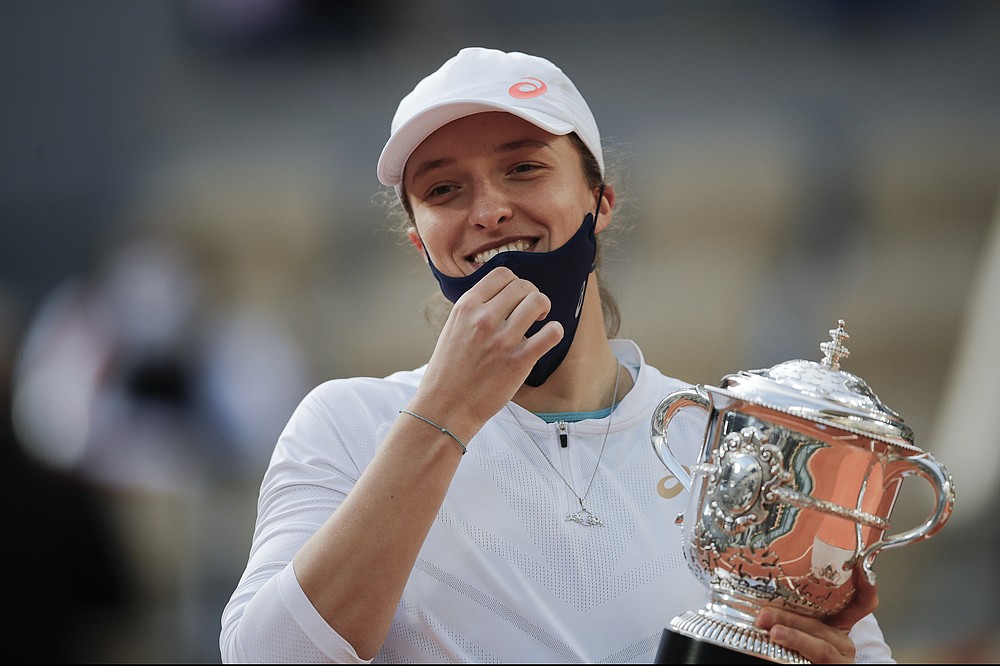 FILE - In this Saturday, Oct. 10, 2020 file photo, Poland's Iga Swiatek holds the trophy after winning the final match of the French Open tennis tournament against Sofia Kenin of the U.S. in two sets 6-4, 6-1, at the Roland Garros stadium in Paris, France. French Open champion Iga Swiatek said she will quarantine after meeting with Poland President Andrzej Duda. Duda's office announced Saturday, Oct. 24, 2020 that he tested positive for coronavirus. The 19-year-old Swiatek met with Duda on Friday. (AP Photo/Christophe Ena, File)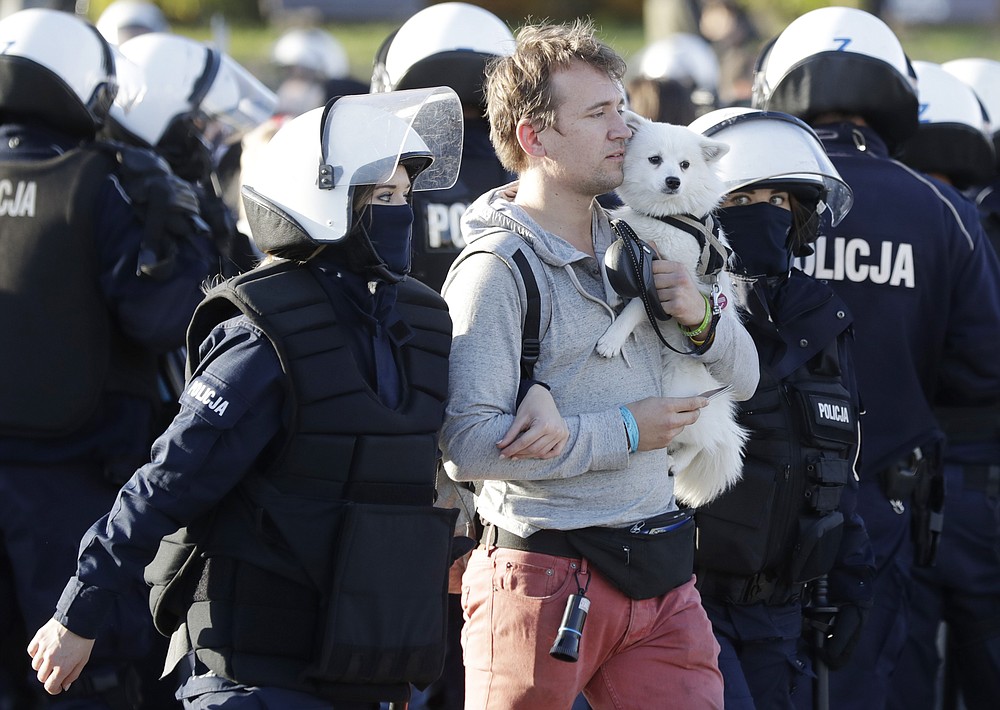 Police detain a man with a dog, in Warsaw, Poland, Saturday, Oct. 24, 2020. The man was among protesters angry at new restrictions aimed at fighting the coronavirus pandemic. The clashes come amid rising social tensions and as new restrictions just short of a full lockdown took effect Saturday.(AP Photo/Czarek Sokolowski)
Sponsor Content