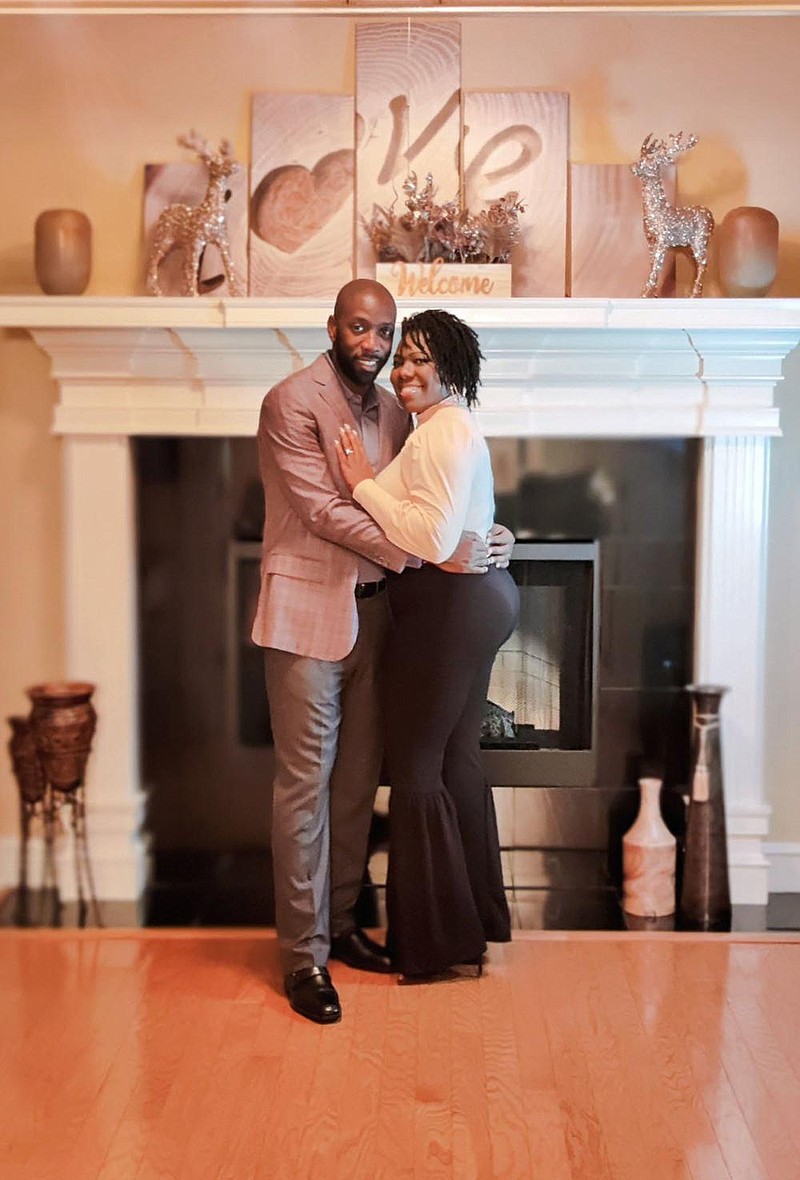 Cedric and Arleshia Jones have been together since high school. They kept their relationship secret from her brother, Cedric's best friend, for a while. "We would just hang out together, all of us, and then after I would go home, we would just talk on the phone late into the night," he says. (Special to the Democrat-Gazette/Artina Blackmon, ABeYou&Create Design Co.)
Arleshia Blackmon was the tag-along little sister, and then Cedric Jones realized he wanted to tag along with her.
Cedric and Arleshia's older brother were best friends in high school, and because of that Cedric spent a lot of time at the Blackmon's house.
"I always tease him and tell him you were only trying to get close to my brother so you could come hang out in my house," Arleshia says.
Her mother was old-fashioned, she says, and would never have agreed to allow Cedric to come over just to see her, but she was happy to welcome him to their home as a friend of her son.
Cedric says that's not exactly true. He was in middle school the first time he walked to her house with another friend, she says. In high school, he and her brother started hanging out more and he started spending more time with the Blackmon family. They were all students at McClellan High School in Little Rock back then, and he didn't think of her as anything more than his friend's little sister in the beginning.
"All of us were into sports," Cedric says. "With sports being a common interest, we all just kind of gathered around in different rooms and watched games. We went to go play sports, too. We all played school ball for McClellan, as well, and so we were always kind of around each other."
Arleshia says after spending time doing that Cedric started to like her.
He points out that their affection was mutual.
They played it cool around Arleshia's brother, though.
"They were best friends," Arleshia says. "Most guys don't want their best friends, or any friends, dating their sister."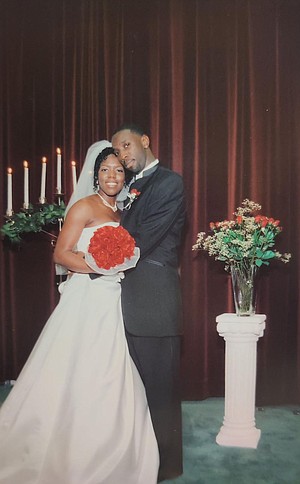 Arleshia Blackmon and Cedric Jones were married on Jan. 23, 2004. Cedric was Arleshia's big brother's best friend in high school, and he got to know her while they all watched sports. "We were high school sweethearts and we've been doing life together this whole time," Arleshia says. (Special to the Democrat-Gazette)
Even as their feelings toward each other evolved, they gave nary a clue of their romantic feelings during those group gatherings.
"It was more or less just being in the same room, in the same vicinity, hearing the same conversations and then after I would leave and go home, we would just resume on the phone, talking late into the night," Cedric says.
Cedric thinks Arleshia's brother probably picked up on their flirtations, no matter how subtle they thought they were being, but that he chose to ignore it. Still, he didn't take the news of their romance well when he first heard it, Arleshia says.
She was a junior and Cedric was a senior in 1998 when they went on what they consider to be their first date, a group outing to the Arkansas State Fair.
"It wasn't really just a one-on-one. It was one of those things where everybody went, but I won a bear and I gave it to her," Cedric says.
After graduation, Cedric went to the University of Arkansas at Monticello. A year later, Arleshia started classes at the University of Arkansas at Pine Bluff. Both later transferred to the University of Arkansas at Little Rock. During college, Arleshia did two summer internships at Stanford University in Stanford, Calif.
They broke up briefly, the result of his being unsure about the co-ed living arrangements at Stanford the first time she went for the summer. When she returned home, though, they quickly repaired and resumed their relationship.
Cedric proposed over dinner at 1620 Savoy in Little Rock on his birthday, Jan. 23, 2003, with one year of college left for them both.
"It took me by surprise," Arleshia says. "We joke about his birthday -- he's the type that always says no one else can get anything on his birthday because it's his birthday."
While she was surprised by the timing; she wasn't surprised by the proposal.
"I did not expect it to be that day, for sure," she says. "But we had talked about it and he knew my stance on certain things."
They exchanged their vows on Jan. 3, 2004, in Full Counsel Metro Church in North Little Rock. Their reception followed at the Doubletree Hotel in downtown Little Rock.
"I would say it was probably one of the best days of my life. We had a really good time," Arleshia says. "We went to Cancun for a honeymoon."
Arleshia's brother took a few weeks to come around to accepting their relationship back in high school.
"Now these guys are best friends. They are super close," she says. "At every family function, they're very competitive with one another [and] they [are] just a lot of fun to be around."
In 2011 and Cedric and Arleshia started an insurance and investment company, Altruistic Group Inc., which gives them a bit more flexibility to raise their children -- Cedric Jr., 14, Ceth, 10, and Addison, 7.
"God is so good at things ... in a major way. I mean, we are not going to tell you everything has been, of course, easy. When you start a business, you do have to sacrifice but the most important thing is that we were able to do what we wanted, what we set out to do with our little ones, we can make the schedules," Arleshia says. "We were high school sweethearts and we've been doing life together this whole time."
If you have an interesting how-we-met story or if you know someone who does, please call (501) 425-7228 or email:
kimdishongh@gmail.com
More News
The first time I saw my future spouse:
She says: "He walked over with another friend to see my brother when they were in about the eighth grade. I don't think I had any reaction."
He says: "She was my friend's kid sister."
On our wedding day:
She says: "It was a bittersweet day for me. I was marrying my best friend but I was leaving my parents and everything was going to be different."
He says: "I really felt like we were a power couple that day like we were superstars because there were so many people there to celebrate what we were doing."
My advice for a long happy marriage:
She says: "Talk about everything. And pray, because I've learned over the years that even communicating, if that person is not ready to receive what you're trying to communicate, there is absolutely nothing you're going to be able to do but pray you get your point across."
He says: "Communication. And we never sleep in separate rooms."
Sponsor Content