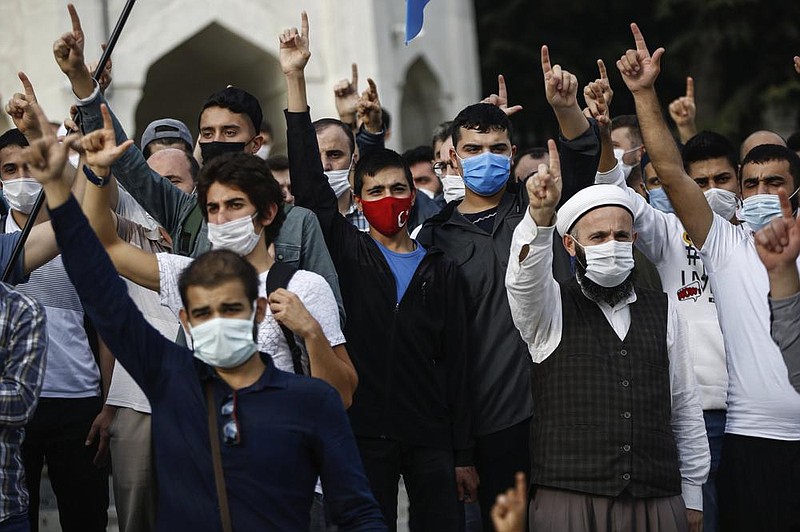 Turkish demonstrators chant slogans Sunday during an an- ti-France protest in Istanbul.
(AP/Emrah Gurel)
France recalls ambassador to Turkey
PARIS -- The French Foreign Ministry said Sunday that it was recalling its ambassador to Turkey, a day after Turkish President Recep Tayyip Erdogan sharply criticized French President Emmanuel Macron's response to the beheading of a teacher who had shown students pictures of the Prophet Muhammad, strictly prohibited by the Muslim faith.
French Foreign Minister Jean-Yves Le Drian said the country was withdrawing Ambassador Herve Magro from its NATO ally because of a "hateful and slanderous propaganda against France, testifying to a desire to stir up hatred against us and our heart" as well as "direct insults against the President of the Republic, expressed at the highest level of the Turkish state."
In the week since the attack in the Paris suburb of Conflans-Sainte-Honorine, Macron's government has ordered a crackdown on Muslim organizations it accuses of spreading hatred, and defended the caricatures of Muhammad as emblematic of the French values of secularism and free expression, even if they're deeply offensive to many of France's own Muslim citizens, among its largest minority populations.
History teacher Samuel Paty, 47, was teaching a lesson on free speech when he shared the images with his class. As France mourned his death, it projected the caricatures onto government buildings in cities including Toulouse and Montpellier.
The government's response has emerged as a flash point in France's increasingly troubled strategic relationship with Turkey. Over the past year, the two governments have sparred over the civil war in Libya and Turkish claims to energy deposits in the eastern Mediterranean.
Leader of opposition flees Venezuela
MEDELLIN, Colombia -- After more than six years in confinement, Venezuelan opposition leader Leopoldo Lopez is a free man and has been reunited with his family in Madrid.
Lopez arrived Sunday in the Spanish capital after what aides described as a whirlwind escape from the Spanish ambassador's residence in Caracas where he had been holed up since leading a failed U.S.-backed military putsch against President Nicolas Maduro in April 2019.
Two people close to Lopez said he fled Venezuela by sea, arriving in the nearby Caribbean island of Aruba on Friday. They spoke on condition of anonymity because they weren't authorized to discuss the details of the getaway, which followed months of planning.
Aides insisted the departure wasn't the result of negotiations with the government, as many supporters and even opponents of the socialist government have speculated.
Maduro's government had yet to comment. But members of the SEBIN intelligence police have detained several people working at the diplomatic mission, including a woman who served meals to Lopez and private security guards, according to Lopez's allies.
Armenia, Azerbaijan try again for truce
YEREVAN, Armenia -- Armenia and Azerbaijan have announced a third attempt to establish a cease-fire in their conflict over Nagorno-Karabakh starting today.
The announcement comes after two earlier Russia-brokered cease-fire agreements frayed immediately after starting, with both sides accusing each other of violations.
The new agreement was announced Sunday night in a joint statement by the governments of the United States, Armenia and Azerbaijan.
The statement said the agreement came after a meeting between Armenian Foreign Minister Zohrab Mnatsakanyan, Azerbaijani Foreign Minister Jeyhun Bayramov and U.S. Deputy Secretary of State Stephen Biegun. The two ministers "reaffirmed their countries' commitment to implement and abide by the humanitarian ceasefire" agreed upon earlier this month, the statement said.
Nagorno-Karabakh lies within Azerbaijan but has been under the control of ethnic Armenian forces backed by Armenia since a war there ended in 1994. The latest fighting that began on Sept. 27 has involved heavy artillery, rockets and drones, killing hundreds in the largest escalation of hostilities between the South Caucasus neighbors in more than a quarter-century.
U.K. seizes tanker in English Channel
LONDON -- The U.K. military seized control of an oil tanker that laid anchor in the English Channel after reporting it had seven stowaways on board who had become violent.
Tobias Ellwood, chair of the House of Commons' Defense Committee, confirmed the action in a BBC interview and said no one was hurt. The stowaways are in custody.
The incident began about 10 a.m. on the Libyan-registered tanker Nave Andromeda. The coast guard scrambled two helicopters to the scene, and authorities imposed a 3-mile exclusion zone around the vessel.
The Nave Andromeda left Lagos, Nigeria, on Oct. 6 and had been expected to dock in Southampton, England, at 10.30 a.m. Sunday, according to ship tracking website MarineTraffic.com. The tanker had been circling an area about 5 miles southeast of Sandown on the Isle of Wight since about 10 a.m., tracking data shows.
-- Compiled by Democrat-Gazette staff from wire reports
Print Headline: The World in Brief 1064515
Sponsor Content