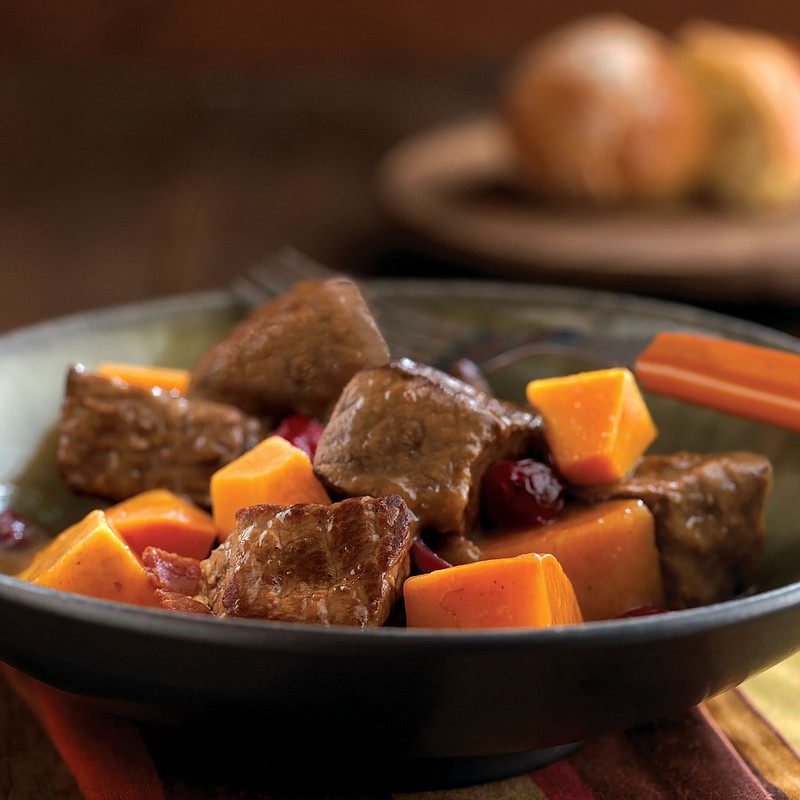 Autumn Beef and Cider Stew (Courtesy of Cattlemen's Beef Board)
A week's worth of quick, healthful meals for budget-minded families
SUNDAY: Autumn Beef and Cider Stew (see recipe) is great for a family day. Add some mixed greens and whole-grain rolls. Buy or make a cherry pie for dessert.
Plan ahead: Save enough stew for Monday.
MONDAY: Brighten the leftover stew by adding some frozen green peas when you reheat it. Serve with salad greens and crusty bread. For dessert, pears are perfect.
Plan ahead: Make Tuesday's casserole today if time permits.
TUESDAY: You won't mind saving a few greenbacks with delicious New Mexico-Style Chile-Chicken Casserole (see recipe). Serve with a sliced avocado salad. Sliced kiwi is a simple dessert.
WEDNESDAY: You can make Turkey Philly Sandwiches for a quick dinner. Heat oven to 375 degrees. In a large skillet, melt 2 teaspoons butter on medium and cook 1 cup chopped onion and green bell pepper mix (frozen or refrigerated) for 5 minutes or until softened; drain. Divide vegetable mixture and 12 ounces deli-sliced turkey breast evenly among bottom halves of 4 split sandwich rolls; top each with 1 slice mozzarella cheese and the other halves of rolls. Place on baking sheet and bake 5 minutes or until cheese melts. Serve with veggie chips and dill pickles. Chunky applesauce is a good dessert.
THURSDAY: Enjoy easy Red Pepper-Spinach Lasagna for a no-meat dinner. Coat a 4-quart or larger slow cooker with cooking spray. Spread ¾ cup (from 26- to 28-ounce jar) tomato pasta sauce in cooker. In a large bowl, mix 2 chopped medium red bell peppers, 1 chopped small onion and 2 (9-ounce) boxes frozen chopped spinach (thawed and squeezed dry); stir in remaining pasta sauce and 1 (8-ounce) can no-salt-added tomato sauce. Layer 3 (of 9 total) (broken to fit) uncooked lasagna noodles in slow cooker. Top with a third (of 16-ounce) jar Alfredo sauce over noodles, spreading to cover. Top with 5 (of 15 total) provolone cheese slices, overlapping if necessary. Top with a third of the vegetable mixture (about 2 cups), spreading evenly. Repeat layers twice. Sprinkle ¼ cup parmesan cheese on top. Cover; cook on low 5 to 6 hours. Add a lettuce wedge and some garlic bread. Enjoy vanilla ice cream for dessert.
Plan ahead: Buy enough Alfredo sauce for Friday. Save enough ice cream for Saturday.
FRIDAY: Treat the kids to Ravioli With Alfredo Sauce tonight. Cook refrigerated ravioli according to package directions and top with jarred Alfredo sauce. Serve with red and orange bell pepper rings and soft bread sticks. Let the kids make cookies-and-cream instant pudding for dessert.
SATURDAY: Serve your lucky family Grilled Salmon With Dill Sauce (mix ½ cup sour cream, 2 tablespoons fresh lemon juice, 2 tablespoons chopped fresh dill and 1 tablespoon capers). Serve with fettuccine tossed with pesto, steamed fresh broccoli and a baguette. Finish with our favorite, Honey-Rum Peach Galette (see recipe) topped with leftover ice cream.
THE RECIPES
Autumn Beef and Cider Stew
2 slices bacon, cut into ½-inch pieces
2 pounds beef stew meat, cut into 1-inch pieces
1 teaspoon coarse salt
½ teaspoon pepper
1 (10 ½-ounce) can condensed French onion soup
1 cup apple cider
1 pound sweet potatoes, peeled, cut into 1-inch pieces (about 3 cups)
5 tablespoons unsweetened dried cranberries
In a stockpot on medium, cook bacon until crisp; remove with a slotted spoon to paper towel-lined plate. Brown half of the stew meat in the bacon drippings on medium heat; remove beef from stockpot. Repeat with remaining beef. Return beef and bacon to stockpot; season with salt and pepper. Add soup and cider; bring to a boil. Reduce heat; cover tightly and simmer 1 ½ hours. Add sweet potatoes and cranberries to stockpot; bring to a boil. Reduce heat; continue simmering, covered, 20 to 30 minutes or until beef and potatoes are fork-tender.
Makes 6 servings.
Nutrition information: Each serving contains approximately 367 calories, 32 g protein, 15 g fat, 25 g carbohydrate, 102 mg cholesterol, 745 mg sodium and 4 g fiber.
Carbohydrate choices: 1.5.
New Mexico-Style Chile-Chicken Casserole
1 cup chopped onion
1 (14-ounce) can unsalted chicken broth
2 (4-ounce) cans chopped green chiles, drained
1 cup sour cream
¾ teaspoon coarse salt
½ teaspoon cumin
½ teaspoon ground black pepper
2 (10 ½-ounce) cans condensed cream of chicken soup
1 clove garlic, minced
18 (6-inch) corn tortillas
1 pound cooked chicken breast, shredded
2 cups finely shredded cheddar cheese
Heat oven to 350 degrees. Coat a 9-by-13-inch baking dish with cooking spray.
Microwave onion 3 ½ minutes on 100% power; drain.
In a large bowl, combine cooked onion, broth, chiles, sour cream, salt, cumin, pepper, soup and garlic; mix well. Spread 1 cup soup mixture in dish. Arrange 6 tortillas over soup mixture (tearing to fit dish) and top with a third of chicken and ½ cup cheese. Repeat layers twice, ending with the cheese. Spread remaining soup mixture over cheese. Bake 45 to 60 minutes or until bubbly.
Makes 8 servings.
Nutrition information: Each serving (prepared with reduced-fat sour cream, reduced-fat soup and reduced-fat cheese) contains approximately 376 calories, 34 g protein, 14 g fat, 28 g carbohydrate, 93 mg cholesterol, 851 mg sodium and 3 g fiber.
Carbohydrate choices: 2.
Honey-Rum Peach Galette
1 refrigerated pie crust (from 15-ounce package), at room temperature
2 to 4 tablespoons sugar
½ teaspoon nutmeg
2 cups sliced peaches
1 ½ tablespoons honey
½ teaspoon rum extract
Heat oven to 425 degrees.
Place room-temperature pie crust on a lightly floured surface; roll into a 12-inch circle and place on a 12-inch pizza pan. Combine sugar and nutmeg. Sprinkle 1 tablespoon sugar mixture over dough. Arrange peaches in a single layer on top of dough starting 1 inch from edge, working from outside edge to center. Sprinkle peaches with remaining sugar mixture. Fold edges of dough over peaches and crimp to fit; coat dough with cooking spray. Bake 30 minutes. Combine honey with rum extract and microwave on high 20 to 40 seconds. Brush mixture over warm tart.
Makes 10 servings.
Nutrition information: Each serving contains approximately 120 calories, 1 g protein, 6 g fat, 18 g carbohydrate, 2 mg cholesterol, 110 mg sodium and 1 g fiber.
Carbohydrate choices: 1.
Susan Nicholson is an Atlanta-based cookbook author and registered dietitian. She can be reached by email: susan@7daymenu.com
Sponsor Content