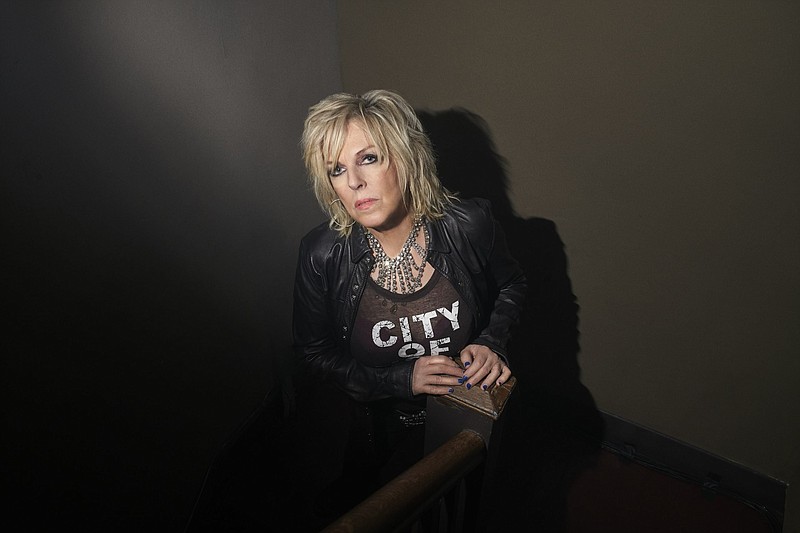 Singer-songwriter Lucinda Williams is kicking off a six-episode series, Lu's Jukebox, at 7 p.m. today, with a celebration of the late Tom Petty. She's calling it "Running Down a Dream: A Tribute to Tom Petty." The event will benefit a select list of struggling independent venues, which include several in neighboring states: The Pageant in St. Louis, ACL Live in Austin, Texas, and Tipitina's in New Orleans. Future episodes, to be announced on Williams' social media (Facebook, Instagram, Twitter) will take place on Nov. 12 and 19, and Dec. 3, 17 and 31. Link to the show and get tickets at lucindawilliams.com. (Special to the Democrat-Gazette)
Jaymes Brass will perform at 6:30 p.m. Friday at the SoMa Outdoor Dining Room, on the parking lot at 13th and Main streets, Little Rock. Admission is free.
◼️ Opal Agafia and the Sweet Nothings will perform at 7:30 p.m. today and the Cons of Formant will perform at 7 p.m. Friday outside the Argenta branch of the Laman Library, 420 Main St., North Little Rock, in shows sponsored by the nearby Four Quarter Bar. (The library was originally the main North Little Rock post office.)
The Opal Agafia show is a benefit for the Acansa organization, and prices include food and beer. A table for two is $100; a table for four is $200; a tented table for eight is $400, and a VIP tented table for eight is $500. Gates open at 6:30 p.m.; food is served at 7 p.m., and the show begins at 7:30 p.m. (Admission to the Cons of Formant show is free.)
◼️ The Crumbs will perform The Rocky Horror Pickin' Show (bluegrass versions of the music in "The Rocky Horror Picture Show") from 6 to 10 p.m. Saturday at Four Quarter Bar, Main St., North Little Rock. Admission is $100. See centralarkansastickets.com
◼️ "Music Madness" will be held from 5 p.m. to midnight Saturday at The Library Kitchen & Lounge, 313 President Clinton Ave., Little Rock. Admission is free.
◼️ SYNRG Band (LES Trio) will perform from 8 to 11:30 p.m. Friday, and Bree Ogden & Darren Barry will perform from 8 to 11:30 p.m. Saturday at Cannibal and Craft, 307 President Clinton Ave., Little Rock.
◼️ Dawson Hollow will perform from 8:30 p.m. to 11 p.m. Friday at Stickyz Rock 'n' Roll Chicken Shack, 107 River Market Ave., Little Rock. Admission is $12, with tickets sold in sets of two or four. Masks and social distancing will be required.
◼️ Percussionists of all levels and skills are invited to a Drum Circle that continues Saturdays through Nov. 21, at Bernice Garden, 1401 Main St., in Little Rock. Searcy Ewell will facilitate. Donations are encouraged, masks are required and physical distancing will be practiced. Drums, chairs and hand sanitizer will be supplied. No musical experience is needed.
BENTON
A program titled "Women and Jazz" by Flute Juice (lecturer and flutist Galen Abdur-Razzaq), is from 7 to 8 p.m. today at the Saline County Library, 1800 Smithers Drive, Benton. Admission is free.
HOT SPRINGS
Mister Lucky will perform at 9 p.m. Friday and Saturday at The Big Chill, 910 Higdon Ferry Road, Hot Springs. Admission is $5.
◼️ The Lil' Skinny Band will perform at 8 p.m. Saturday at The Trough Bar and Grill, 833 Central Ave., Hot Springs. Admission is free.
HOT SPRINGS VILLAGE
Cassie Lea Ford will perform at 7 p.m. Friday and Kenny Mann and The Danger Zone will perform at 7 p.m. Saturday, at The Beehive Neighborhood Bar & Grill, 220 Minorca Road, Hot Springs Village. Admission is free.
CONWAY
Trey Johnson will perform at 8 p.m. Friday at Kings Live Music, 1020 Front St., Conway. Admission is free.
STAY TUNED
Lyle Lovett and Chris Isaak will perform a livestream show at 8 p.m. Friday on lylelovett.com. It's $10 to watch.
◼️ Christmas music is slowly emerging from the swirling autumn leaves, and Fort Smith native and singer Jonathan Karrant has released a jazzy version of "All I Want for Christmas Is You." Karrant has an actual show set for Las Vegas on Nov. 29. Preview and download the song here: arkansasonline.com/1029karrant/. For more information about the forthcoming show, see jonathankarrant.com.
◼️ Trey Anastasio of Phish is hosting "The Beacon Jams," an eight-week virtual residency, live from New York City's historic Beacon Theatre, every Friday at 8 p.m. through Nov. 27. The events will be streamed free exclusively on twitch.tv.
◼️ Fans of Jerry Jeff Walker, who died last Friday at age 78, could find comfort in Todd Snider's salute to his pal, which was on Snider's purplebuildinglive.com a day later. Snider had songs and stories that enlivened the life and times of Walker, who occasionally performed in Arkansas, most memorably for some at War Memorial Stadium in the historically extra-hot summer of 1980, when some of us stayed away in droves because we could not abide the thought of broiling in the sun, even for the sake of live music.
Tim Jones, a renowned Arkansas musical expert, recalled the name of that festival — the Wild Hog Boogie — and supplied his memory of it: "I was 17 and starved for concerts, and this was one of the worst. All I can recall is shadeless misery, a boomy blast furnace."
◼️ Jason Lee Hale, one of our favorite local rock stars, has an interesting presence on Facebook, where he noted (way back on April 9, even) a timely change in the name of his band: Jason Lee Hale and the Personal Space Invaders marked through their name, replacing it with Jason Lee Hale and the Keep the Hell Away-ers.
It reminds us of a similar late 1980s name change when a fine band from Minneapolis that sometimes played in central Arkansas, PJ and the Zen Terrorists became PJ and the Magic Bus.
Maybe Hale and his bandmates have worked up a version of Richard Thompson's stirring anthem, "Keep Your Distance"?
To offer a live music or livestreaming show for this column, or to share music news, email jackwaynehill@gmail.com
Sponsor Content