On Oct. 20, Rosanne Cash released a new song.
"Crawl Into the Promised Land" is a hopeful, country-tinged protest anthem that finds the Grammy-winning singer-songwriter yearning to be delivered from "tweets and lies" as she searches for the strength to "crawl back to the promised land."
Proceeds from the single, which was inspired in part by the Black Lives Matter movement, are being donated to the Arkansas Peace & Justice Memorial Movement, a project aimed to commemorate the hundreds of victims of lynching in Arkansas and to educate students about racial, political and religious violence in the state's past.
Kwami Abdul-Bey and his wife, Clarice, founded the Little Rock-based group in 2018. They got a call from Cash's manager a few weeks ago who told them about the singer's plans for the song.
"We called and spoke with her for about an hour and a half," Abdul-Bey says.
At first, he thought Cash simply wanted to include a link to the Arkansas Peace & Justice Memorial Movement website — https://apjmm.org — in information accompanying her single.
"Two days later, we found out she was going to donate 100% of the proceeds to Arkansas Peace & Justice Memorial Movement," he says. "We were speechless."
Cash and her husband, musician and producer John Leventhal, were sheltering in place in their New York City home when they recorded the song in their home studio. Leventhal played all the instruments and produced the track, which features background vocals by Sarah Jarosz and Jakob Leventhal.
[RELATED: Watch the video for "Crawl Into The Promised Land" by Rosanne Cash]
"The lyrics came really quickly and the music, which was written by John, also came really quickly," Cash says last week from Nashville, Tenn., where she was visiting her daughter, who was about to give birth. "I was telling someone the other day that I don't even remember how it happened. It was just so sudden."
Cash, who has released 14 studio albums, is also the author of a collection of short stories, "Bodies of Water" and "Composed: A Memoir." She has contributed writing to the Oxford American, The New York Times, The Atlantic, New York Magazine and others.
In an essay accompanying "Crawl Into the Promised Land," she writes:
"I'm angry and bewildered that our leaders consider me and many others 'the enemy.' I am a patriot. Every generation of my family has served this country, back to the 18th century. Both sides of my family fought in the Revolutionary War in order to 'form a more perfect union.' I want to form a more perfect union than they wanted. One that acknowledges that Black and indigenous people were fighting in the War of Independence on the American side and that they deserve full enfranchisement that they also earned three centuries back and have yet to be fully given."
Talking about the song and essay last week, the 65-year-old mother of five says: "I was raised to have the courage of my convictions, no matter what the blowback was. I'm old enough that the blowback doesn't scare me anymore. It's important to make a stand."
[Video not showing up above? Click here to watch » https://www.youtube.com/watch?v=0p7B2mP4g8U]
Cash is the eldest daughter of music legend Johnny Cash — who was born in Kingsland and grew up in Dyess — and his first wife, Vivian Liberto Cash Distin (a photo of her mother appears in the video for "Crawl Into the Promised Land"). Rosanne Cash was instrumental in raising money to establish the Johnny Cash Boyhood Home in Dyess, a New Deal-era agricultural settlement, and organized and performed at the annual Johnny Cash Heritage Festival in Dyess.
Last week she participated in a Zoom class with fifth- and sixth-graders at Health, Wellness, and Environmental Studies Magnet School in Jonesboro, where she spoke about Dyess and her father.
"We go back a long way in Arkansas," she says. "I feel a connection, ancestrally and in my DNA, to Arkansas."
Along with Black Lives Matter protests, Cash was influenced by a trip last year to the Equal Justice Initiative's Legacy Museum: From Enslavement to Mass Incarceration and the National Memorial for Peace and Justice in Montgomery, Ala.
"It was this fulcrum of the veil being lifted on white privilege," she says. "I had a sense that I wanted to give the proceeds ... back to Arkansas in a way of making my own reconciliation with the suffering of Black people in Arkansas in the past."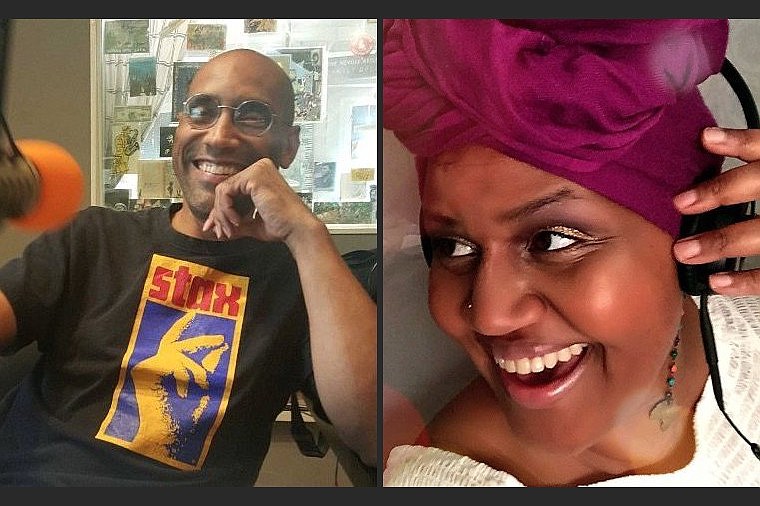 Kwami and Clarice Abdul-Bey are founders of the Arkansas Peace & Justice Memorial Movement. (Special to the Democrat-Gazette)
A little research led her to the Arkansas Peace & Justice Memorial Movement, which Kwami and Clarice Abdul-Bey started after their own visit with their daughter in 2018 to the museums in Montgomery, Ala., and which is part of their nonprofit Washitaw Foothills Youth Media Arts and Literacy Collective and a partnership with Just Communities of Arkansas.
The Arkansas Peace & Justice Memorial Movement is affiliated with the Equal Justice Initiative, which was founded in 1989 and is "committed to ending mass incarceration and excessive punishment in the United States, to challenging racial and economic injustice, and to protecting basic human rights for the most vulnerable people in American society," according to its website. The Arkansas group is also a collaboration with Coming to the Table, an organization working to heal racial wounds of the past.
"Our main goal is to bring public awareness to the existence of the 400-plus victims of racialized terror — lynchings — in Arkansas' history," Kwami Abdul-Bey says.
The Arkansas group wants to establish Community Remembrance Projects in the state's 75 counties, Abdul-Bey says, adding that two are already up and running in Pulaski and Washington counties and others are being formed in Craighead, Sebastian, Jefferson, Garland, Hot Spring, Phillips, Pope, and Faulkner counties. Each Community Remembrance Project will function as a local chapter of Coming to the Table, he says.
The Arkansas Peace & Justice Memorial Movement also plans to place memorials at lynching sites in the state.
The first plaque will be unveiled at the entrance of the Haven of Rest Cemetery in Little Rock at 12th Street and Kanis Road in May 2021, commemorating the 1927 lynching of John Carter by a white mob, Abdul-Bey says. In October 2021, a plaque commemorating the 1906 lynching of Homer G. Blackman, a Black restaurateur, will be placed at 6th and Main Streets in North Little Rock.
Just under a week after "Crawl Into the Promised Land" had been released, Abdul-Bey says the group had gotten over 5,000 views of the video on its Facebook page.
"The beautiful thing is that the song and video are so good," he adds. "That makes it even better."
Another track from Cash, "The Killing Fields," is also set for release and will form a double A-side vinyl single which she says will be available in January.
"'Killing Fields' is a very dark song about my own Southern ancestry, my complicated relationship with the South and breaking the chains of racism," she says.
Listening to "Crawl Into the Promised Land," it's hard not to sense a battered but lingering sense of hope. It's right there in the title, actually. The promised land is in sight, even if one has to crawl there.
"I still believe in the American ideal," Cash says. "There's so much tribalism and division right now, but there is a common ground that I know all of us want. We want a better future for our children. We believe in peace and justice. For most of us, our instincts are not toward violence and hatred ... I'm a mother, and I think one of the responsibilities of parenthood is to be optimistic. You cannot steal your child's future with pessimism ... I am diligent about my optimism."