Little Rock police have arrested a man in connection with the July 9 vandalism of a Confederate burial area inside of Oakland and Fraternal Historic Cemetery in Little Rock, according to Lt. Casey Clark.
Mujera Benjamin Lungaho, 30, of North Little Rock was arrested as a primary suspect in the investigation. He is charged with felony criminal mischief and felony desecration of a grave marker for damages exceeding the dollar limit set by the city code to charge him under the new hate crime ordinance.
Pulaski County court records show Lungaho faced an assortment of misdemeanor charges, including third-degree assault and possession of a controlled substance, in 2019.
In July, vandals broke into the cemetery in the early morning and spray painted "Black Lives Matter," and other phrases on an obelisk signifying the burial of 900 unidentified Confederate soldiers, and damaged other smaller stones and plaques in the area.
Video from a game camera set up in the cemetery showed two people at the obelisk attempting to tear down the monument with a rope before noticing the cameras.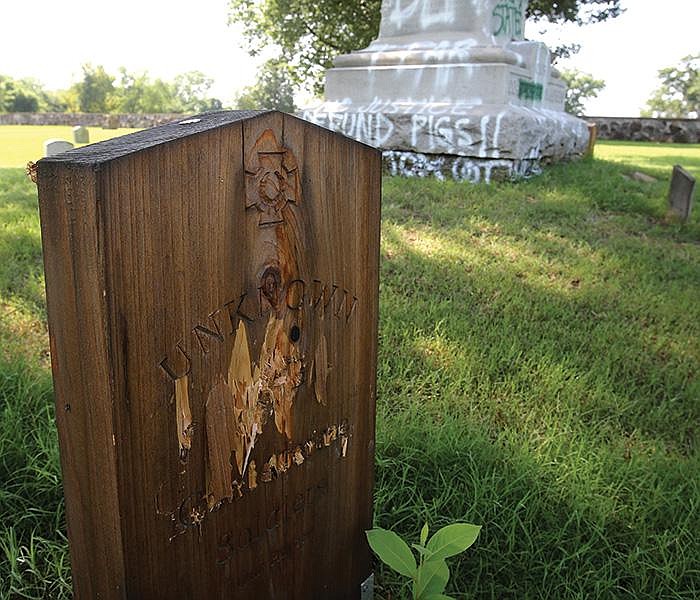 A defaced headstone sits Saturday in front of the Confederate monument at the Oakland Cemetery in Little Rock. The marker on the mass grave, said to contain 900 Confederate soldiers, was vandalized Thursday. (Arkansas Democrat-Gazette/Thomas Metthe)