U.S. sailor disappears in Arabian Sea
DUBAI, United Arab Emirates -- The U.S. Navy searched through the night into Monday morning for a sailor who disappeared from the aircraft carrier USS Nimitz during its patrol of the northern Arabian Sea amid tensions with Iran.
The crew sounded a "man overboard" alert at 6:47 p.m. Sunday after being unable to find the sailor aboard the nuclear-powered aircraft carrier, said Cmdr. Rebecca Rebarich, a spokeswoman for the Navy's Bahrain-based 5th Fleet. That was after an extensive search of the Nimitz, America's oldest carrier in active service that carries some 5,000 sailors and Marines.
The Nimitz, the guided-missile cruiser USS Princeton and other 5th Fleet personnel continued their search Monday, Rebarich said. She declined to identify the missing sailor, citing Navy policy.
The Nimitz, whose homeport is Bremerton, Wash., has been in the Arabian Sea since late July. It replaced the aircraft carrier USS Dwight D. Eisenhower, which had spent months in the Arabian Sea on a deployment that saw the carrier break the Navy's at-sea record. Navy officials have limited port calls due to the coronavirus pandemic.
Man arrested in stabbings in England
LONDON -- British police arrested a 27-year-old man early Monday on suspicion of murder and seven counts of attempted murder following a string of stabbings in a busy nightlife district in the central England city of Birmingham over the weekend.
West Midlands Police said the suspect remains in custody after being arrested about 4 a.m.
The arrest follows a large-scale police manhunt in the wake of the stabbings early Sunday morning. Police released CCTV footage of the man they said was wanted on suspicion of murder.
A 23-year-old man was killed in the attacks and a man and a woman, ages 19 and 32, remain critically ill after suffering stab wounds.
Following the arrest, Birmingham Police Chief Superintendent Steve Graham said one line of inquiry "ultimately led us to an address in the Selly Oak area this morning where a man was arrested."
"Clearly this is a crucial development, but our investigation continues," he added.
West Midlands Mayor Andy Street has urged people to avoid speculating over any motives behind the attacks and to "remain calm but vigilant."
Sri Lanka to study toll of oil-tanker fire
COLOMBO, Sri Lanka -- Sri Lanka's government is sending scientists to determine whether a three-day fire on a giant oil tanker off its coast damaged the marine environment, an official said Monday.
Ships and helicopters from Sri Lanka and neighboring India extinguished the fire on the MT New Diamond -- carrying nearly 2 million barrels of crude oil -- on Sunday. The fire killed one Filipino crew member and injured another.
Navy spokesman Indika de Silva said although the main fire has been extinguished, "occasional small-scale fires are taking place from time to time." Firefighters have doused them as they continue spraying water to cool the ship.
The general manager of Sri Lanka's Marine Environment Protection Authority, Terney Pradeep, said the scientists from state agencies and universities will prepare a risk assessment. The authority has said it plans to take legal action over the fire.
On Sunday, Attorney General Dappula de Livera directed officials to prepare cost and environmental damage assessments.
With its engines shut down, the tanker drifted to within 20 nautical miles of Sri Lanka's eastern coast Friday before a tugboat towed it farther out to sea.
Typhoon lashes S. Korea, then weakens
SEOUL, South Korea -- A powerful typhoon damaged buildings, flooded roads and knocked out power to thousands of homes in South Korea on Monday after battering islands in southern Japan, killing one person and injuring dozens before weakening as it passed North Korea.
The Korea Meteorological Administration downgraded Typhoon Haishen to a tropical storm Monday night as it made landfall near the North Korean coastal city of Hamhung. During its period as a typhoon, Haishen packed maximum winds of about 80 mph as it barreled through South Korea's southern and eastern regions in the morning.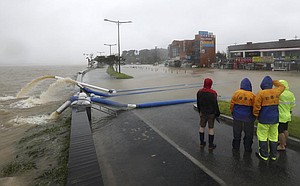 Photo by YONHAP
Officials pump out water Monday from a flooded area in Gang- neung, South Korea.
(AP/Yonhap/Yang Ji-woong)
Japanese disaster management officials in Kagoshima said a woman in her 70s died of a head injury after falling into a roadside ditch while evacuating from a coastal town. Japan's Fire and Disaster Management Agency said at least 38 people were injured, five of them seriously.
Damage was less than feared because the storm took a path farther from the coast and weakened more quickly than expected, officials said.
In South Korea, at least two people were missing -- one after getting swept away by water in a drainage channel at a limestone mine in the eastern town of Samcheok and the other while trying to cross a small river on a tractor in the southeastern town of Uljin.
-- Compiled by Democrat-Gazette staff from wire reports