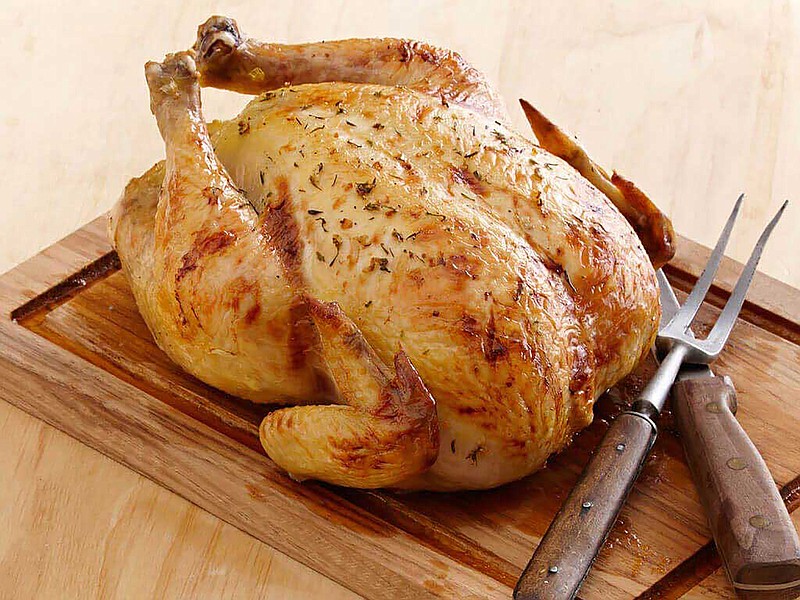 Roast Chicken Courtesy of Perdue
A week's worth of quick, healthful meals for budget-minded families
SUNDAY: Prepare an oven-ready Roast Chicken (such as Perdue) and follow the directions on the package. Pair it with Baked Squash and Rice au Gratin (see recipe). Serve with a spinach salad and crusty bread. Drizzle chocolate sauce over pound cake for dessert.
Plan ahead: Save enough chicken and chocolate sauce for Monday, baked squash for Tuesday and pound cake for Saturday (can be frozen).
MONDAY: Use the leftover chicken in Couscous With Chicken and Artichokes (see recipe) for a delicious dinner. Serve with tomato broth (heat tomato juice with unsalted chicken broth and season to taste). Add sourdough bread. For dessert, top vanilla ice cream with leftover chocolate sauce.
Plan ahead: Save enough ice cream for Saturday.
TUESDAY: With school starting, saving a few bucks serving Stuffed Peppers will make everyone happy. Core and halve red or green bell peppers; place in a baking dish cut-side down, cover and microwave on 100% power for 1 minute per pepper half; drain. Heat the leftover baked squash separately (microwave about 1 minute per cup on high). Heat broiler. Stuff peppers with squash mixture, sprinkle with parmesan cheese and broil until cheese melts. Serve with o'brien potatoes (from frozen), a lettuce wedge with hard-cooked egg slices and whole-grain rolls. Peaches are an easy dessert.
WEDNESDAY: You can get Tortellini With Spinach on the table in a hurry. Cook 1 (9-ounce) package refrigerated three-cheese tortellini according to package directions. Meanwhile, heat 2 teaspoons canola oil in a large skillet on medium-high. Add 4 minced garlic cloves and ½ teaspoon crushed red pepper; cook 30 seconds. Add 2 cups grape tomatoes (halved), ¼ cup unsalted chicken broth, 1 tablespoon chopped fresh basil, ¼ teaspoon coarse salt and 1 (6-ounce) package fresh baby spinach. Cook 2 minutes or until spinach wilts. Stir in tortellini; cook 1 minute. Serve and sprinkle with 2 tablespoons toasted pine nuts if desired. Add a packaged green salad, Italian bread and fresh plums for dessert.
Tip: Toast pine nuts on a baking sheet for 4 to 6 minutes at 350 degrees.
THURSDAY: Make the kids happy with Barbecue Turkey Cheeseburgers. Just brush their favorite barbecue sauce on the burgers, top with sliced cheese and serve on whole-grain hamburger buns. Add oven fries and baby carrots to munch on. Teach them math while they help you prepare Triple-Berry Banana Smoothies: In blender, cover and blend ¾ cup frozen mixed berries (from a 10-ounce bag), 1 cup sliced banana, ½ cup milk and 1 (6-ounce) container vanilla yogurt on high 1 minute or until smooth (for 2 servings).
FRIDAY: Make no-meat night a favorite with Polenta With Grilled Vegetable Sauce: Prepare your own or buy grilled vegetables. Dice the vegetables and stir them into heated marinara sauce. Spoon over warm slices of prepared polenta (follow package directions). Sprinkle with freshly grated parmesan cheese and serve. Add a Caesar salad and garlic bread. Pears are always good for dessert.
SATURDAY: The family will love Smoky Pork Kebabs. Combine 5 tablespoons smoky barbecue sauce, 5 tablespoons orange marmalade and 2 teaspoons prepared horseradish in a shallow dish. Add 1 pound well-trimmed pork tenderloin (cut into ¾-inch cubes); turn to coat completely. Cover; marinate in refrigerator 30 minutes. Thread pork onto 4 metal skewers; place on grill and brush with marinade. Discard marinade. Grill kebabs over medium-hot coals 10 to 12 minutes; turn frequently. Serve with rice, baked beans, deli coleslaw and cornbread. Use leftover cake and ice cream to make Fresh Mango Shortcake (see recipe) for a perfect dessert.
THE RECIPES
Baked Squash and Rice au Gratin
1 cup chopped onion
4 cups sliced yellow squash
4 cups sliced zucchini
¼ cup unsalted chicken broth
2 cups hot cooked rice
4 ounces shredded cheddar cheese
1 cup sour cream
¼ cup freshly grated parmesan cheese, divided use
¼ cup Italian-seasoned bread crumbs
1 teaspoon coarse salt
¼ teaspoon ground black pepper
2 eggs, lightly beaten
Coat a 9-by-13-inch baking dish with cooking spray.
In a large bowl, microwave onion on 100% power for 2 minutes or until softened; drain. Add yellow squash and zucchini to onion and microwave for 10 minutes or until softened; drain. Add broth; lightly mash with forks or a potato masher. Add the rice, cheddar cheese, sour cream, 2 tablespoons parmesan cheese, bread crumbs, salt, pepper and eggs; stir gently to mix. Spoon into baking dish; sprinkle with remaining parmesan cheese. Cover and microwave 12 to 15 minutes or until bubbly. Heat broiler; broil 2 minutes or until lightly browned.
Makes 10 servings.
Nutrition information: Each serving (prepared with reduced-fat cheese and sour cream) contains approximately 163 calories, 9 g protein, 7 g fat, 18 g carbohydrate, 57 mg cholesterol, 378 mg sodium and 1 g fiber.
Carbohydrate choices: 1.
Couscous With Chicken and Artichokes
½ cup sun-dried tomatoes
1 (14-ounce) can unsalted chicken broth
1 cup couscous
2 to 3 cups cooked chicken
½ cup crumbled Greek feta cheese with basil and tomatoes
1 cup chopped fresh flatleaf parsley
2 (6-ounce) jars marinated artichoke hearts with liquid
¼ teaspoon freshly ground pepper
In a microwave-safe bowl, combine 2 cups water and the sun-dried tomatoes; cover and microwave on 100% power for 3 minutes or until water boils; let stand 10 minutes or until softened. Drain, chop tomatoes and set aside.
In a large saucepan, bring broth to a boil. Remove from heat and stir in couscous; cover and let stand 5 minutes. Fluff with fork and transfer into large serving bowl. Add tomatoes, warmed chicken, feta cheese, parsley, artichokes with liquid and pepper. Toss to mix and serve.
Makes 6 servings.
Nutrition information: Each serving contains approximately 284 calories, 21 g protein, 9 g fat, 31 g carbohydrate, 47 mg cholesterol, 327 mg sodium and 4 g fiber.
Carbohydrate choices: 2.
Fresh Mango Shortcake
1 cup orange juice
¼ cup sugar
1 teaspoon lemon zest (yellow part only)
1 ripe mango
4 slices pound cake (½ inch thick), thawed if frozen
1 pint vanilla ice cream
¼ cup chopped macadamia nuts or almonds
Fresh mint leaves
In small saucepan, heat juice, sugar and lemon zest on medium until boiling. Reduce heat; simmer 12 to 15 minutes or until thickened and syrupy. On a cutting board, hold mango with one of the narrower sides facing up. Starting ¼ inch from stem, slice along each side of the pit to cut off the "cheeks." Peel the center section of mango; cut off remaining fruit and dice. Stir diced mango into the syrup; set aside. With a knife or large spoon, carve out the flesh from cheeks in a single piece, cutting as close to the skin as possible. Thinly slice each cheek; cut slices in half.
To assemble dessert: Cut cake slices in halves diagonally. On each plate, place 1 cake triangle; top with 1 scoop of ice cream. Place second cake triangle on plate, leaning against the ice cream. Spoon about ¼ cup of sauce over ice cream; sprinkle with nuts. Garnish with mango slices and mint.
Makes 4 servings.
Nutrition information: Each serving contains approximately 436 calories, 6 g protein, 20 g fat, 61 g carbohydrate, 70 mg cholesterol, 137 mg sodium and 3 g fiber.
Carbohydrate choices: 4
Susan Nicholson is an Atlanta-based cookbook author and registered dietitian. She can be reached by email:
susan@7daymenu.com
Sponsor Content