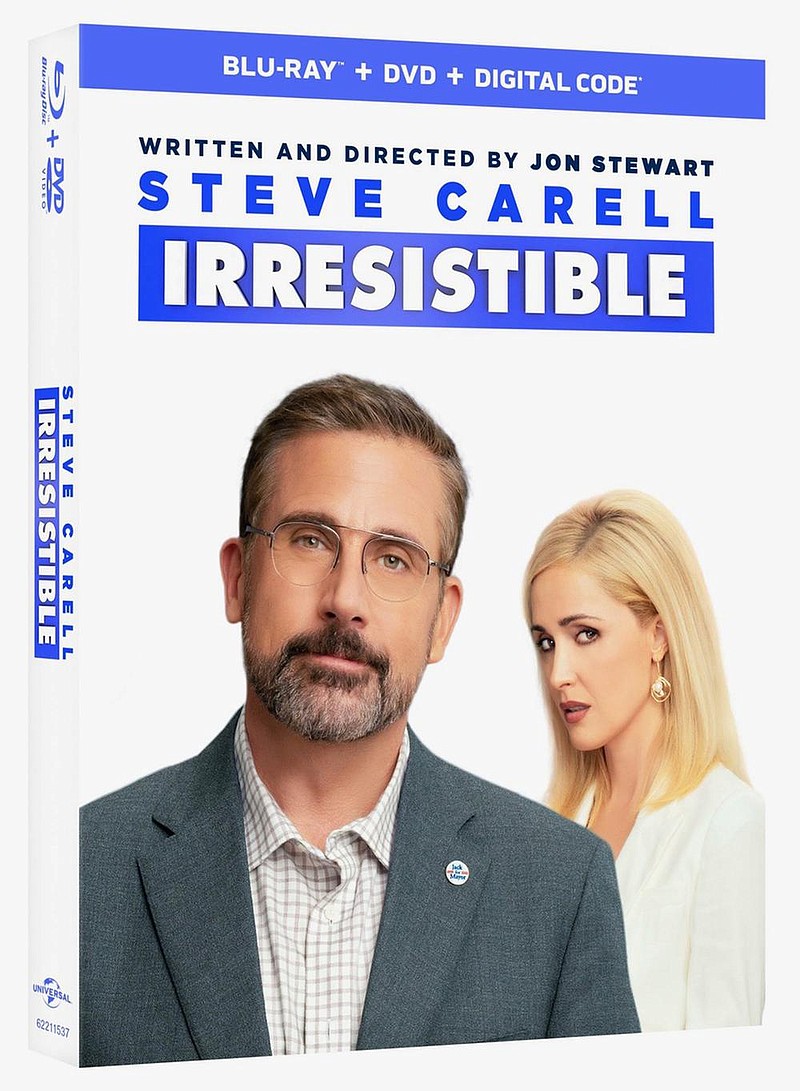 Irresistible
"Irresistible,"
written and directed by Jon Stewart (R, 1 hour, 41 minutes)
One of the few films that made it into theaters before covid-19 turned off the cinematic flow, this was hotly anticipated by movie-goers upon its release in late June. Too bad it landed with a resounding thud, never to regain its supposed comedic footing.
It concerns a legendary Democratic strategist (Steve Carell) who, after viewing a video of an earnest, determined retired marine colonel (Chris Cooper) on a crusade to aid his small town's undocumented workers, is convinced he's found in the colonel the key to conquering the voters in flyover country.
So off he goes to Wisconsin, only to encounter his arch-enemy, a beautiful, brilliant Republican strategist (Rose Byrne), who has no intention of ceding red-state territory.
Very little succeeds in this curiously flat satire, with the exception of watching Byrne outfox Carell in practically every scene. It's yet another reason to wonder why Stewart gave up his groundbreaking "Daily Show" in 2015 to write and direct movies, which he doesn't seem to do all that well.
With Mackenzie Davis, Topher Grace, Natasha Lyonne.
"Bad Education," (TV-MA, 1 hour, 48 minutes)
Roslyn School District on New York's Long Island was ranked among the 10 best in the country in the late 1990s and early 2000s. It had good athletic programs, solid teachers, and a student newspaper that wouldn't quit.
In March 2004, that newspaper published a story about an assistant superintendent for the district who had been quietly fired by the school board. Pam Gluckin would eventually be convicted of embezzling more than $4 million from the school district. Eventually it was discovered more than $11 million of the district's money had disappeared. The scandal torpedoed the career of district superintendent, Frank Tassone, who is believed to have stolen more than $2 million from the school district.
"Bad Education," the HBO movie about the Roslyn school district scandal, portrays Tassone (Hugh Jackman) as complicated and possibly sociopathic. While driving a Mercedes and wearing Canali suits, he was brazenly appropriating funds that were supposed to go toward improving the schools in his charge.
Gluckin (Allison Janney) is his chief deputy, and less careful. She advises her niece, who works with her in the district office, to abuse the district's credit card, telling her she'll reconcile things later.
But then Gluckin's none-too-bright son is caught buying home remodeling supplies with the district's card, and her world falls apart. School board president Big Bob Spicer (Ray Romano) wants to call the police, but Tassone chooses to let her resign quietly and agree to pay the money back.
And there's earnest student journalist Rachel Bhargava (Geraldine Viswanathan) who's asking questions about the proposed $8 million skybridge project: How can the school afford that when the roof is leaking?
This is a great vehicle for Jackman, who reminds us that he isn't just a movie star gliding along on goodwill and magnetism, and Janney, who slides effortlessly from competent graciousness to hot fury. Best of all is Romano's school board president, a guy who got lucky and is just trying to give something back to the community, who finds himself betrayed not by the politicians but by the career professionals he thought he could count on.
"I hope you find peace, Frank," he tells Tassone.
"First Cow" (PG-13, 2 hours, 1 minute) A low-key, seemingly uncomplicated story of the American frontier that will prove to be hard to forget concerns a 19th-century cook (John Magaro) who joins a group of fur trappers in Oregon Territory and forms a business relationship with a Chinese immigrant (Orion Lee) based on a wealthy landowner's prized milking cow. With Rene Auberjonois, Toy Jones, Ewen Bremner; co-written and directed by Kelly Reichardt.
"True History of the Kelly Gang" (R, 2 hours, 5 minutes) Based on Peter Carey's novel, this gritty, spirited story set in British-ruled colonial Australia concerns Irish rebel Ned Kelly and his cross-dressing gang of brutes as they plot sensational acts of anarchy. There's no guarantee that the tale told here is true, though. With George MacKay, Charlie Hunnan, Sean Keenan, Thomasin McKenzie, Russell Crowe, Nicholas Hoult, Essie Davis; directed by Justin Kurzel.
"Retaliation" (R, 1 hour, 31 minutes) While enjoying an evening at the pub with friends, an adult victim of childhood sexual abuse encounters his abuser. Vengeance follows. With Orlando Bloom, Janet Montgomery, Anne Reid; directed by Ludwig Shammasian and Paul Shammasian.
"The Big Ugly" (R, 1 hour, 46 minutes) A whiskey-drenched and violent macho fest in which British mobsters get involved in a West Virginia oil deal that has something to do with laundering money, which goes well until the daughter of the London crime boss and the son of an American oil man disappear. With Vinnie Jones, Malcolm McDowell, Nicholas Braun, Ron Perlman; co-written and directed by Scott Wiper.
"A Good Woman Is Hard to Find" (not rated, 1 hour, 37 minutes) Ken Loach-style kitchen sink realism meets pulpy crime fiction in Abner Pastoll's "lean, mean, painfully real crime thriller." Single mother Sarah (Sarah Bolger) is struggling to raise two young children while searching for answers about the unsolved murder of her husband. After getting involved with a low-level drug dealer, she finds herself targeted by a dangerous crime boss. But don't get Sarah mad, you won't like her when she's mad.
Reviews are mixed, but everyone agrees Bolger's performance is terrific. With Edward Hogg, Andrew Simpson, Jane Brennan.
"Blood Quantum" (not rated, 1 hour, 38 minutes) The overworked, overwrought zombie genre gets a burst of energy from this original approach, full of violence and fresh ideas concerning an American Indian reservation in Canada which becomes overrun with zombies, yet the indigenous residents are somehow immune from the plague. George Romero would be impressed. With Michael Greyeyes, Forrest Goodluck, Kiowa Gordon, Olivia Scriven; written and directed by Jeff Barnaby.
"Children of the Sea" (not rated, 1 hour, 51 minutes) A beautiful, attentive anime fantasy in which a 14-year-old girl is inexplicably drawn to the aquarium where her father works, where she develops a fascination with two extraordinary boys there who are concerned about the disappearance of sea life around the world. With the voices of Mana Ashida, Hiiro Ishibashi, Seishû Uragami; directed by Ayumu Watanabe. Subtitled.
"Rogue" (R, 1 hour, 45 minutes) Nobody has seen this yet, but you can pretty much figure out what to expect from the plot: A battle-experienced veteran leads a group of mercenaries on an African mission to rescue kidnapped schoolgirls, where matters become complicated when they run out of ammunition while taking on violent rebels and angry lions. With Megan Fox, Philip Winchester, Calli Taylor.
Blu-ray special features include commentary with co-writer-director-producer MJ Bassett, co-writer-actor Isabel Bassett, and actor Philip Winchester, director's commentary, and cast interviews.
"Z" (not rated, 1 hour, 23 minutes) A simple, scary, sometimes traumatic and well-told horror story in which a shy and unpopular 8-year-old develops a relationship with an imaginary friend named Z, which his parents find charming -- until the kid's increasingly strange behavior gets him suspended from school. Maybe that cute make-believe friend has something to do with it. With Keegan Connor Tracy, Chandra West, Jet Klyne, Sara Canning, Luke Moore; directed by Brandon Christensen.
Sponsor Content