Temple members load up on food as they break their fast following the end of Yom Kippur in this 2015 file photo at Temple Shalom of Northwest Arkansas in Fayetteville. The temple has adapted its High Holy Day services this year due to the coronavirus pandemic. (NWA Democrat-Gazette/Michael Woods)
Even without a pandemic, the weeks leading up to the Jewish High Holy Days each September are the busiest time of the year for Rabbi Barry Block.
The leader of Little Rock's Congregation B'nai Israel usually devotes most of his preparation time to writing the sermons he'll give during the Rosh Hashanah and Yom Kippur services, easily the most highly attended services at the temple.
But this year, he has also found himself occupied with tasks for the temple's mostly recorded services, which are being held online due to the coronavirus.
"In the past, I prepared cue sheets so that the musicians knew where to come in, and what I was going to read in the prayer book right before they sang each piece," Block said. "But I've never written a whole script of exactly what was going to happen shot-by-shot, and I'm not a Hollywood person."
Jewish congregations across denominations in Arkansas are adapting their services for the High Holy Days of Rosh Hashanah and Yom Kippur this month, reflecting on what it means to gather as a community and seeking to balance observing the sacred traditions of the holidays while engaging their members from a distance. It's another new challenge for congregations that made the abrupt shift to streaming services online earlier in the year.
[CORONAVIRUS: Click here for our complete coverage » arkansasonline.com/coronavirus]
Rosh Hashanah, the Jewish New Year, begins at sunset Friday and falls just before the days of repentance leading up to the Day of Atonement, known as Yom Kippur. The two holidays are preceded by the 29 days during August into September, during the month of Elul -- a time leading up to the holidays that adherents spend in mental and spiritual repentance for transgressions of the past year.
ASK FOR REPENTANCE
The most important message during the High Holy Days -- also referred to as the High Holidays among the denominational movements in Judaism -- is for a person to ask for repentance, a challenge for some during what Block called "a time that's very difficult."
"That sounds like a downer, when you're going over all your sins," Block said. "But Judaism [casts] it as a time of hope ... when we acknowledge that we can do better, that the future can be better.
"[It's] the primary message that we're going to be working to communicate through our prayers and through our sermons this year, is that there's hope -- even at this time that's very difficult, not only because of a pandemic, but because of renewed recognition of racial injustice and terrible political division," he said.
Rabbi Emeritus Jacob Adler said one of the central prayers of the High Holidays is the Utataneh Tokef, according to which the belief is outlined that God on Rosh Hashanah inscribes the words, and on Yom Kippur seals them: How many will be born? How many people will die? How many will reach old age ... who will die before their time? And who by fire, who by water, who by earthquake, who by plague?"
Another prayer to "Withhold the plague from your people," takes on a special poignancy this year, Adler said.
"We're used to being pretty much healthy. ... We have medical care to take care of most of what ails us," Adler said. "These prayers [in the time of coronavirus] don't seem like something that happened to people a long time ago, but something that happens to people now."
Temple B'nai Israel's morning service for Rosh Hashanah typically lasts 3 hours and 15 minutes, and this year's services will be broken down into more segments, with breaks in between. The temple will provide Rosh Hashanah gift bags with apples, challah bread and honey cakes or other baked goods for those who drive up. They'll also receive bags to fill with canned goods for the food drive B'nai Israel conducts each year during the High Holy Days.
BLOWING THE SHOFAR
The essential opening ritual of blowing the shofar, or ram's horn, at Rosh Hashanah to call those hearing it to reflection and repentance will be recorded for online streaming; a separate drive-in on Sept. 19 at the temple will allow people to hear the shofar blown live.
"It's a very tactile experience," Block said. "It's something we thought we could do as long as people stay in their cars, distanced ... so they could actually hear the shofar in person and have that experience."
Sue Weinstein, president of the Conservative Movement-affiliated Congregation Agudath Achim in Little Rock, said the key tenet behind Jewish worship houses refraining from gathering as a congregation is the belief in preserving human life, or pikuach nefesh.
"Protecting a person's health is way above how you pray," she said. "It's just one of the highest principles -- health trumps almost everything else."
It's led by Weinstein and a part-time student rabbi, Ben Freed, who is based in New York while finishing his last year of rabbinical school.
Freed will be at the Little Rock synagogue for both of the High Holy Days, where, instead of the five or six-hour services that would otherwise have taken place, a pared-down version will be livestreamed. For members online, computers will be set up before the holiday so the service can start and be viewed without the member at home pressing a button. Weinstein called it passive livestreaming.
20 MEN PERMITTED
Up to 20 people -- preferably men, in keeping with the Conservative traditions, according to Weinstein -- who have registered will be permitted inside the building that seats 300 for the holiday services, once they've finished a health screening, and are sitting in seats at the right distance designated by tape on the floors.
Still, she has concerns.
"What if someone who didn't know you had to register comes to the synagogue for the High Holiday services?" Weinstein asked. "You don't want to turn people away who have come to pray."
Orthodox Judaism, which observes stricter laws, disallows the use of electronics on the Sabbath and major holidays such as Rosh Hashanah and Yom Kippur. According to Adler, some Orthodox Jews he has spoken with from the Northwest Arkansas area plan to gather in person with precautions; others will recite their prayers in solitude at home.
"That's a real challenge for Orthodox [Judaism], at least in theory," said Adler, who led Fayetteville's Temple Shalom until earlier this year. No members of Temple Shalom, a multidenominational congregation, currently observe the holidays without technology, he noted.
Rabbi Pinchus Ciment, director of the Orthodox synagogue Chabad Lubavitch of Arkansas, said the pandemic has indeed proved a challenge for daily and annual observances and celebrations. He said it has also given faith members an opportunity to be introspective during this time of the year.
"We've broken from the regular course of events, and any time that [happens it] gets to be unsettling, but from a Jewish perspective this can be seen as empowering," Ciment said. "Many have become accustomed to participating in a High Holidays service in which they seek to be stimulated from external forces, be it the rabbi, the chorus, the crowd.
"This year it's challenging us to find that stimulation internally. It's not going to be the sermon. It's not going to be the pre-sermon service. It's going to be me, making this meaningful at this time. It's what I've got to do this year."
PLACE FOR WORSHIP
Agudath Achim has generally older members who fall into the high-risk group for the coronavirus, and for several months after the outbreak there were no religious services, Weinstein noted. Since then, in lieu of the congregation gathering in its entirety in person, it has been recommended that members set up a special place in their homes devoted to worship.
"Challenges are good. Challenges make us rethink how we do things, and everything is different right now -- the isolation and the loneliness," Weinstein said. "The holidays are a time when we gather together, and because we're smaller we're like one big family, and I miss my family here. I don't get to see very many people, and it's hard, but right now we have to make the best of what we have."
Doris Krain, a member of Temple B'nai Israel, sifted through old photos of members taken at the temple and in other settings, "so that ... we can show that we're really all here."
"We may be in our own home, but we're really all here, and that's really what we're trying to do" with the photo montage, which will be interspersed through parts of the services, she said.
Krain, a septuagenarian, has children and grandchildren in the area but will be participating in the service by herself to maintain social distancing during the pandemic.
A three-minute video segment that Krain said was an outtake from the service featured in part a photo montage of mostly teens and older children. Clustered together, standing alone, or with arms around one another, they all had grinned for the camera. It was set to a recording of Noah Aronson and other musicians performing "Let There Be Love."
"Instead of watching the singers sing, which is what you would do if you were there, you're seeing the kids you know that you see when you walk in the building at a service," she said. "Doesn't that make you feel good?"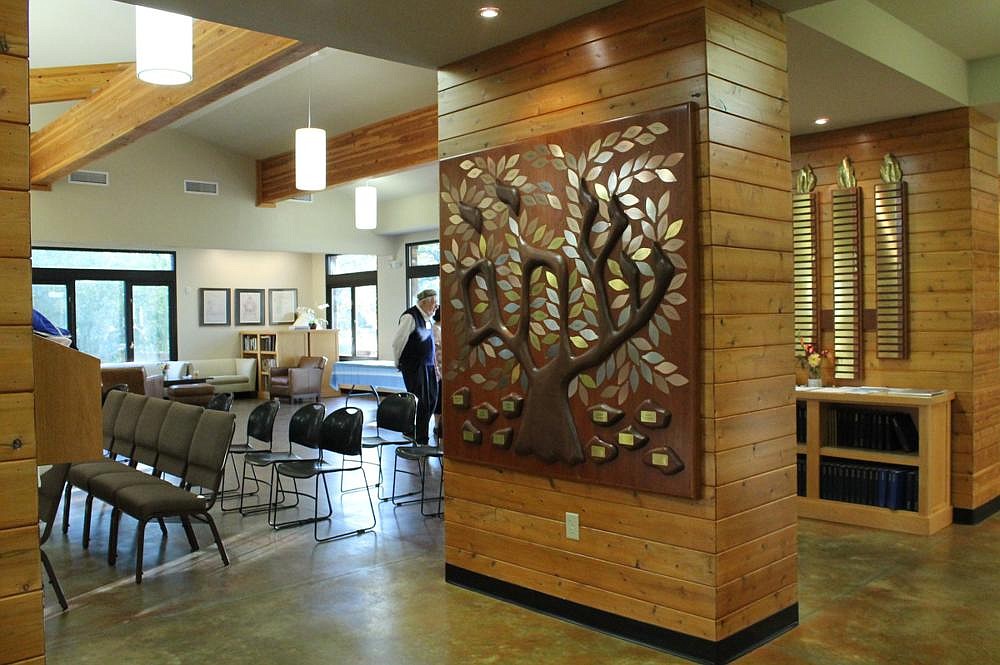 Former president of Fayetteville's Temple Shalom, Dr. Mike Lieber, stands in the temple's larger gathering room in November. This year the temple and most Jewish worship houses in Arkansas will remain empty as congregations join together online for Rosh Hashanah and Yom Kippur services during the coronavirus pandemic. (Arkansas Democrat-Gazette/Francisca Jones)
Sponsor Content