McNeil Republican Charles Beckham III is challenging the conservative credentials of Sen. Bruce Maloch of Magnolia in his bid to oust the Magnolia Democrat in the Nov. 3 general election.
Maloch represents Senate District 12, which includes Columbia and Dallas counties and parts of Clark, Grant, Nevada and Ouachita counties.
Beckham is making his first bid for elected office, while Maloch hasn't had an opponent before in a legislative race.
Beckham, 37, is a self-described conservative. Maloch, 63, is a self-described Blue Dog Democrat who is known as a conservative Democrat in legislative circles.
Beckham said he moved to Arkansas five or six years ago from Louisiana and started a propane distribution company called Budget Propane earlier this year. He was a district general manager for Amerigas, a propane distribution company, for four years. He is married with two children. He graduated from Pascagoula High School in Mississippi and attended Mississippi State University.
Maloch has served in the Senate since 2013 and was in the state House of Representative from 2005-11. He was a member of the Columbia County Quorum Court for 10 years.
He is vice chairman and general counsel for Farmers Bank and Trust. He is married with three children. He graduated from Emerson High School and received a bachelor's degree in agricultural business at Southern Arkansas University and a law degree from the University of Arkansas at Little Rock W.H. Bowen School of Law.
Maloch is one of nine Democrats in the Arkansas Senate, which includes 26 Republicans.
Beckham said he decided to challenge Maloch because "it is apparent that at least there has been a short supply of people willing to challenge him."
He said voters should cast their votes for him rather than Maloch because "I am actually a conservative."
Beckham said there is a perception in Senate District 12 that Maloch is as close to being a Republican as a Democrat can be, but "the problem is there is no factual backing" for that perception.
ABORTION, TAX VOTES
Beckham cited Maloch's votes against overturning then-Gov. Mike Beebe's vetoes in 2013 of bills that sought to ban most abortions after 12 weeks and 20 weeks of pregnancy. The Republican-controlled Legislature overturned the Democratic governor's vetoes of both bills.
Maloch, who said he has been endorsed by Arkansas Right to Life, said he voted in 2013 for both bills.
He said he voted against overturning Beebe's' vetoes after Beebe, a former attorney general, concluded they were unconstitutional.
The federal courts ruled the 12-week ban was unconstitutional. The 20-week ban is in effect.
Maloch said he considers himself to be pro-life and opposes abortion except when the life of the mother is in danger.
Beckham said he is "pro-life from conception" and doesn't support abortion in any case.
Beckham also pointed to Maloch's vote against legislation in 2013 that would phase in a reduction in the state individual income tax rates by 0.1%. The legislation was projected to reduce state general revenue by $55.7 million in fiscal 2016.
Maloch said he voted against the tax measure because it disproportionately benefited people with higher incomes and should have benefited the middle class more.
Maloch said he has voted for $750 million in tax cuts during his time in the Legislature, including Beebe's proposals to cut the sales tax on groceries and Republican Gov. Asa Hutchinson's individual income tax cuts measures for Arkansans of all income levels.
Last year, Maloch voted for legislation that imposed a wholesale sales tax on gasoline and diesel fuel, raised electric and hybrid vehicle license fees and reallocated some state casino revenue. The measure is aiming to raise about $95 million a year more for the state Department of Transportation for highways and $13 million a year more a year each for cities and counties for roads.
Maloch said he voted for the highway funding law because revenue hasn't kept up with the rising cost of road construction and the state needs "good connector highways."
Last year, Maloch voted to refer to voters in the Nov. 3 general election a proposed constitutional amendment that would make permanent the 0.5% sales tax for highways and roads. That tax was approved by voters in 2013 for a 10-year period.
State officials said the proposed amendment, if approved by voters, will raise about $205 million a year for highways and about $44 million a year each for cities and counties. It's Issue 1 on the general election ballot, and backed by Hutchinson.
Beckham said he plans to vote against Issue 1.
"We have taxes in Arkansas that are difficult for businesses to work with already and continually tacking on more taxes is a detriment to the business environment" he said.
Maloch said he plans to vote for Issue 1.
"We have been using that [tax] for 10 years," he said. "Our cities and counties split 30% of that, so you would be taking a pretty good chunk away from the cities and the counties as well as highways."
Maloch said voters should cast their ballots for him rather than Beckham based on his legislative experience and history of getting things done.
He said he wants to work on expanding broadband access in rural communities; push for more funding for rural school districts for transportation and small class sizes; support Arkansas' version of Medicaid expansion called Arkansas Works; and work on balancing tax cuts with financing the state's needs.
Beckham said he wants to work on lowering taxes and building an environment more conducive to businesses.
MEDICAID EXPANSION
The Medicaid expansion program provides health insurance to about 280,000 low-income Arkansans. The state covers 10% of the cost of the program and the federal government covers the rest.
A federal appeals court, in affirming a lower court order, has ruled that the Trump administration unlawfully allowed Arkansas to impose a work requirement on recipients of coverage under the Medicaid expansion program. That ruling has been appealed to the U.S. Supreme Court.
Beckham said he supports the program if it has a work requirement and "what happens would have to be discussed and debated in the Legislature if there is no work requirement." He said kicking people off the program over the lack of a work requirement wouldn't be taking care of the people or better Arkansas.
Maloch said he supports continuing the program whether it has a work requirement or not. The program is critical for sustaining hospitals, particularly rural hospitals, he said.
OTHER ISSUES
Beckham said he would support legislation to allow state education funding to follow a child no matter whether he attends public school or private school or is home-schooled.
"I believe a parent should be able to make the decision of where to send the child for education and the money would follow the child," he said. He said it would create an incentive for the public schools to provide a high-quality education for each student.
Maloch said, "At this time, with the state's budget as it is and concerns over where we might be, I am not in favor of vouchers due to the impact on the state budget.
"There may be a time I can support that, but I don't think that time is now," he said.
Beckham said he supports stand-your-ground self-protection legislation because "I don't feel that anyone has the obligation to retreat if faced with a threat."
Maloch said his law enforcement and prosecutor friends advise him that current state law has adequate protections and fully gives the right for people to use deadly force in their lives are in danger.
According to their latest campaign-finance reports, Beckham has raised $11,140 in contributions, lent his campaign $15,500 and spent $7,500 through the end of July, while Maloch has raised $121,322 in contributions, lent his campaign $1,500 and spent $66,972.78 through the end of July.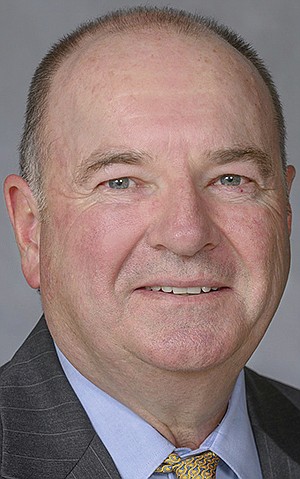 Bruce Maloch (Special to the Arkansas Democrat-Gazette)