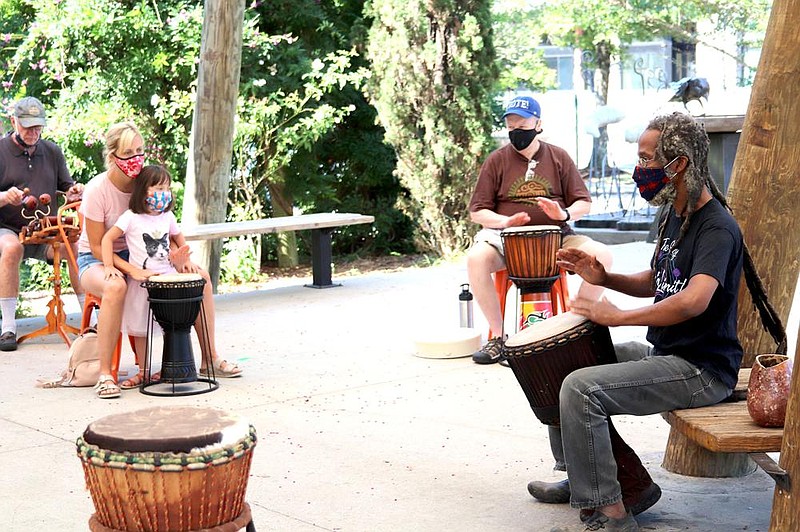 Participants create rhythm at the Aug. 22, 2020 edition of the Saturday Drum Circle, held at 10 a.m. Saturdays at the Bernice Garden in Little Rock and facilitated by Searcy Ewell (right). (Arkansas Democrat-Gazette/Helaine R. Williams)
An intimate crowd -- including one man with his own unique percussion instrument -- turned out for the Aug. 22 edition of the Saturday Drum Circle.
The "drum jam session," which meets Saturdays under the canopy of the Bernice Garden, is facilitated by Searcy Ewell. The event is free and open to any member of the public who wants to come out and make some joyful noise on the African djembe drum ... no experience necessary.
Gallery: Drum Circle
[Gallery not loading above? Click here for more photos » arkansasonline.com/913drums/]
At the beginning of the Aug. 22 session, Ewell taught new participants how to get the best sound from the drum: Tilt it away from the body. Hit the center of its surface lightly, with the flat of the hand, to make a bass sound. Use the top of the palm, not the fingers, near the edge of the drum to make a higher-pitched sound. Ewell taught the group to play in one particular pattern, then he made it interesting by layering a different, coordinating sequence over it. He encouraged participants to make up their own sequences.
Of course, playing with both one's hands, when a beginner, can sometimes be likened unto that old exercise of trying to pat the head and rub the tummy at the same time ... not quite as easy as it looks. But it's a good time, nonetheless.
Sponsor Content