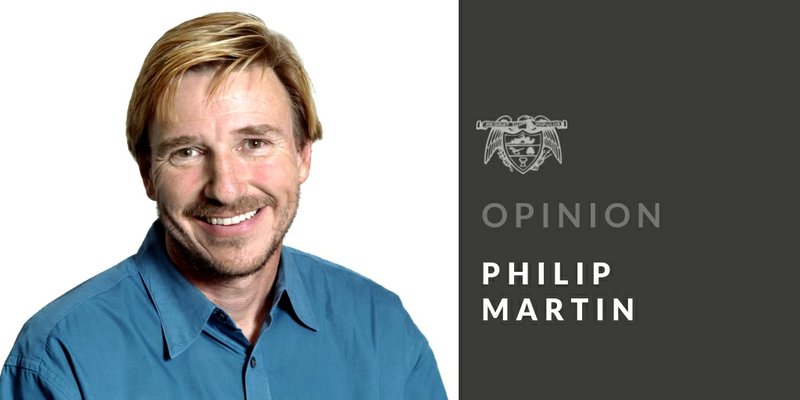 FAYETTEVILLE--When I was a child, my family would go on road trips.
From upstate New York to Georgia; from North Carolina to Florida. From southern California to Lake Mead and Tucson and Death Valley. I remember them, all jumbled up and endless, a long view from the backseat to the horizon. Coming through the Tejon Pass from Bakersfield down to Los Angeles in a camper-
shelled pickup.
I remember the the ubiquitous yellow "happy bear" that served as the mascot for the Bear Manufacturing Company, which produced wheel alignment and diagnostic tools and trained mechanics all over the country to use them. (The Grateful Dead probably appropriated the symbol for their own uses; while the Bear Company didn't mind, some Deadheads defensively suggest Bob Thomas, the artist who designed the band's dancing bear logo, was inspired by a generic bear that had been used in dozens of advertising campaigns. Seems odd that Dead fans would be more uptight about that sort of thing than the corporate types, but there you go.)
I remember the billboards on U.S. 70 at the limits of the small town of Smithfield, N.C., that urged people to "fight communism & integration" by joining the "United Klans of America." with the image of a hooded figure raising a burning cross astride a hooded horse.
There was another you could see from I-95, the same iconography with the legend "You Are In The Heart of Klan Country, Welcome to North Carolina." Another proclaimed "Love it or leave it." I remember one in South Carolina too. They stayed up well into the '70s.
I built my personal map of America from riding around in cars, watching cows and mile markers click by.
I spent a lot of my 20s driving in circles--Shreveport, Dallas, Austin, Houston, Lake Charles, Baton Rouge, New Orleans, Jackson, Monroe, Shreveport. Mostly I drove alone, in fast nondescript cars. I had an Audi Fox and the very first model Volkswagen GTI. I had a press card and sticker for the windshield. Home was where I kept my bed and clothes.
I lost my heart for those six-, eight-, 10-hour burns across America about the time I drove back to Little Rock from Phoenix. I'd stopped at Motel 6 in Texarkana hoping to get a few hours' sleep but there was a party going on next door, so I gave up, checked out at 3 a.m., and came in the rest of the way.
I wouldn't do that sort of thing again until a couple of days after 9/11 when, having made it on a bus to Cleveland from Toronto, we rented a subcompact and drove 13 hours under vacant skies back to Little Rock.
I won't say that trip broke me; my main problem with driving is other drivers, who either haven't been properly trained or simply don't care. I don't trust you guys, with your oversized phones and SUVs and automatic transmissions. I would rather deal with the ritualistic dehumanization of airline travel than drive more than a few hours.
Bentonville is about my limit.
We've been making that trip three or four times annually since Crystal Bridges Museum of American Art opened; enough to have a routine. We know where to get gas, which budget hotel we like best, a few places to eat. In a pinch, each of us has gone up and back in the same day. Unpleasant, but it's business, not a vacation.
We hadn't been anywhere in about six months, and were inordinately excited about the prospect of getting out of town.
One of the good things about the pandemic is that we have had our dogs beside us nearly constantly. Paris, Dublin and Audi have always gone on short car trips; we have leads installed in the back of the Mini Clubman that connect to their harnesses.
Over the past months, we've developed new routines and ways of interacting--they ride with us when we go pick up food. We take them to dog parks and to other neighborhoods to walk, just for the variety. They have made shopping trips to Bass Pro Shops and Petsmart and Home Depot.
Let's take them to Bentonville, Karen said. I've found a dog-friendly hotel, and we can leave them at Hounds Lounge in Fayetteville for the few hours we'll be at the Momentary and Crystal Bridges. We'll pick them up, spend the night and come home the next day.
But while they've stayed in hotels before, the furthest they'd been from home was Hot Springs. I remembered how long and disorienting a three-hour car ride could feel when I was small. We figured we had to stop at least once, to allow them a chance to feel grass beneath their paws and the sensation of stillness.
In the '90s, Karen and I traveled all over Arkansas. We feel like we know most places, or at least will remember them when we get there, like how when you're watching an old movie you haven't seen in years you can sometimes remember what happens next, even if you can't recall the overall plot. I had a couple of rest areas--a scenic overlook--in mind.
But after about 90 minutes on the road Clarksville was coming up, so we pulled off and wandered a couple of miles down to the Spadra campground on some bluffs where the Arkansas River widens into Lake Dardanelle. We had never been there before.
We spent 10 minutes or so looking out across the river and contemplating the alternative history -- Spadra was once the seat of Johnson County. When coal was discovered near here in 1840, it was a boom town. But the railroad favored Clarksville.
One of Spadra's sons made his way to California. William "Uncle Billy" Rubottom--a character who is variously blamed for introducing both slavery (didn't take) and possums (did) into California--bought some land in eastern Los Angeles County in 1866 near a train stop, and built a hotel and tavern there.
He named it Spadra after his hometown, and soon returned to Arkansas to lead a wagon train from his old town to his new one. Somewhere along the way he caused a murder warrant to be sworn out for him, but he made it back to California just in time to see the Pacific Union railroad move the Spadra station east to Colton. History rinsed and repeated and Spadra once again dried up.
Pomona eventually overran the place, but left there for decades was a vestigial Spadra Road for locals to wonder about.
The trip worked out fine.
I look at it as a dress rehearsal or a drill. When it gets bad we can load everyone up and head out, drive across the burning country to the edge of the continent, turn around and drive to the other edge.
A car is a bubble, a climate-controlled capsule hurtling through a larger world. So long as we've fuel and time, we can keep going.
--–––––v–––––--
Philip Martin is a columnist and critic for the Arkansas Democrat-Gazette. Email him at pmartin@adgnewsroom.com and read his blog at blooddirtandangels.com.
Sponsor Content