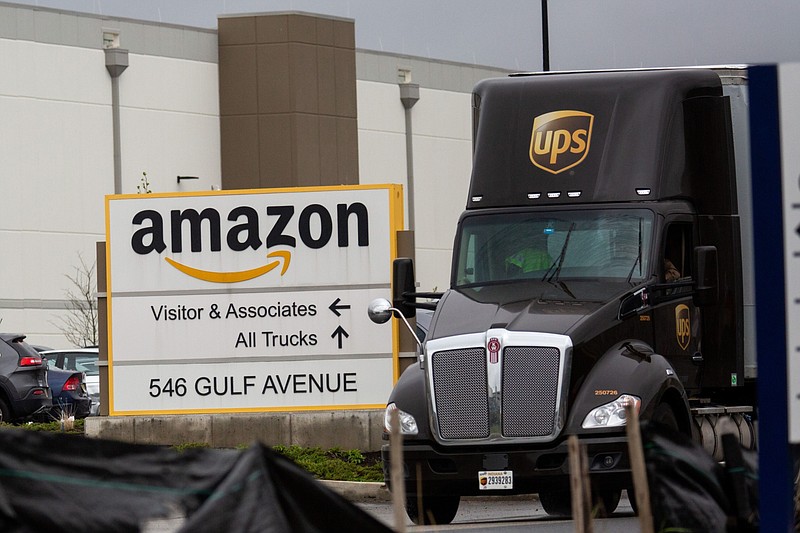 A United Parcel Service truck leaves an Amazon facility in the Staten Island borough of New York on May 1, 2020. (Bloomberg photo by Michael Nagle)
Amazon plans to open 1,000 small delivery hubs in cities and suburbs all over the U.S., according to people familiar with the plans.
The facilities, which will eventually number about 1,500, will put products closer to customers, making shopping online about as fast as a quick run to the store. It also will help the world's largest e-commerce company take on a resurgent Walmart.
Amazon couldn't fulfill its two-day delivery pledge earlier this year when shoppers in covid-19 lockdown flooded the company with more orders than it could handle. While delivery times have improved thanks to the hiring of 175,000 workers, Amazon is now consumed with honoring a pre-pandemic pledge to get many products to Prime subscribers on the same day.
So with the holidays approaching, Chief Executive Officer Jeff Bezos is doubling down by investing billions in proximity, putting warehouses and swarms of blue vans in neighborhoods long populated with car dealerships, fast-food joints, shopping malls and big-box stores.
Historically, Amazon gnawed away at storefront rivals from warehouses on the exurban fringes, where it operated mostly out of sight and out of mind. That worked fine when the company was promising to get products to customers in two days. Now Walmart and Target are using their thousands of stores to beat Amazon at its own game by offering same-day delivery of online orders. Walmart also recently started is own Prime-style subscription service, upping the competitive ante.
A recently opened warehouse in Holyoke, Mass., exemplifies Amazon's answer to this challenge. Situated not far from a once vibrant mall, it's just a short drive from more than 600,000 people.
Beyond Amazon's retail rivals, the mass opening of small, quick-delivery warehouses poses a significant threat to UPS and the U.S. Postal Service. Being fastest in the online delivery race is so critical to Amazon's business that it doesn't trust the job to anyone else and is pulling back from these long-time delivery partners. Amazon is basically duplicating UPS' logistics operation. Many of Amazon's new hubs are within walking distance of UPS facilities.
"In just a few years, Amazon has built its own UPS," said Marc Wulfraat, president of the logistics consulting firm MWPVL International, who estimates Amazon will deliver 67% of its own packages this year and increase that to 85%. "Amazon keeps spreading itself around the country, and as it does, its reliance on UPS will go away."
Amazon declined to comment on its expansion plans, and the company has said its last-mile delivery efforts are meant to supplement, not replace, its long-time partners. "Our dedicated last-mile delivery network just delivered its 10 billionth package since launching over five years ago, and we're proud to provide a great service for our customers," an Amazon spokeswoman said.
The company's appetite for real estate is so strong that many analysts have speculated that Amazon would convert vacant department stores into distribution centers. In fact, that option is only a last resort, said the people privy to the company's plans, who requested anonymity to discuss an internal matter.
Department stores such as J.C. Penney are often two stories and lack sufficient loading capacity, they said, meaning they require extensive remodeling to accommodate an Amazon delivery hub. Moreover, mall leases with existing tenants often prohibit the owner from introducing a delivery hub that could spoil the shopping experience, and city officials might not quickly approve an industrial use in a retail area.
Still, analysts expect underutilized retail space to make way for more e-commerce delivery stations due to rising rents for industrial space, along with a surge in store vacancies. "Any time you see retail being occupied by non-traditional retail uses, they're just holding off what's inevitable," said Rick Stein, principal at Urban Decision Group, who estimates the U.S. has 50% more retail real estate than it needs. "It's a Band-Aid, and at some point that mall is coming down."
In the past three years, 13.8 million square feet of retail space has been converted to 15.5 million square feet of industrial space, including vacant shopping malls razed to make room for new warehouses, according to a July report by the commercial real estate firm CBRE Group.
Sponsor Content