DeFrance will perform at 8:30 p.m. Friday at Stickyz Rock 'n' Roll Chicken Shack, 107 River Market Ave. in Little Rock, as the club reopens its main stage for the first time in months. Advance tickets for table seating, ranging from $20 to $60, are on sale.
Drew deFrance, lead singer and guitarist in the band that bears his name, says he and his band members are excited to have been chosen as the band to play when one of the city's best-known clubs brings back live entertainment.
"We're real proud that they asked us," deFrance says. "It's an honor, but kind of scary. They have a list of rules to follow, and it's only table seating. No shaking hands, no hugging, things like that. Maybe folks can practice their chair dancing skills. We're excited to see folks for sure. Our last show was March 12, and we lost a lot of opportunities to play since then.
"We had scheduled a West Coast tour in August, and we even lost a tour of Germany, Switzerland and the U.K. And in those countries the government takes care of their musicians, but it's not like that in our country. A lot of musicians have had to sell their gear and change careers, plus their venues will have had to close their doors with the virus thing going on."
The next show scheduled at Stickyz will be Randall Shreve on Sept. 25.
◼️ Meanwhile, the Rev Room, 300 President Clinton Ave., owned by the same fine folks who run Stickyz, will present its first show since the coronavirus hit in March, with The Read Southall Band performing at 8:30 p.m. Saturday.
◼️ Clayton Nichols will perform today at the Oyster Bar, 3003 W. Markham St. in Little Rock. Glenn Mack will perform Saturday at the club. Table reservations are required.
◼️ Creek Rocks will perform at 6:30 to 9 p.m. Friday at the SoMa Outdoor Dining Room, on the parking lot at 13th and Main streets, Little Rock.
◼️ Route 358 will perform at 4 p.m. Saturday and Bree Ogden will perform at 2 p.m. Sunday on the patio at the River Bottom Winery, 13810 Combee Lane in Roland.
◼️ The Unfair Advantage Reggae Trio will perform a free show from 7 to 9 p.m. Saturday on the Argenta Branch Laman Library steps, 420 Main St., North Little Rock.
◼️ An "Acoustic Throwdown" will be held at 5 p.m. today; Cory Fontenot will play from 5 to 8 p.m. Friday, followed by Mayday by Midnight, from 9 p.m. to midnight Friday; Brian Mullen at 5 p.m. Saturday and Brian Ramsey at 9 p.m. Saturday at The Library Kitchen + Lounge, 313 President Clinton Ave., Little Rock.
◼️ Percussionists of all levels and skills are invited to a Drum Circle on Saturdays, continuing through Oct. 11, at Bernice Garden, 1401 Main St., in Little Rock. Searcy Ewell will facilitate. Donations are encouraged, masks are required and physical distancing will be practiced. Drums, chairs and hand sanitizer will be supplied. No musical experience is needed.
VIRTUAL FESTING
The Yadaloo Music & Arts Festival, which was founded a year ago on the north side of the Arkansas River, will be held again, this year virtually via yadaloo.com, from 4 to 10 p.m. Saturday.
Performers will include Craig Campbell, Erin Enderlin, Texas Hill, Blane Howard, Charlotte Leigh, Bree Ogden, Ryan Harmon, Cory Jackson, Terri Hendrix & Lloyd Maines, Cliff & Susan, Gravel Yard Bluegrass Band, Ten Penny Gypsy, Ashtyn Barbaree, Pamela Hopkins, Midnight South, Lauren Richmond, The Going Jessies, Jon Bailey, Joey Barrett and Townsend.
Donations will benefit the festival's nonprofit partner, City Connections, with every $1 donation feeding three people toward the charity reaching the goal of its Million Meal Mission.
OUTSIDE LITTLE ROCK
Josh Stewart will perform at 8 p.m. Saturday at The Trough Bar and Grill, 833 Central Ave., Hot Springs.
◼️ Townsend will perform at 6 p.m. Saturday at Almost Famous Smoke House & Grill, 258 U.S. 64 in Conway.
◼️ The Rusty Roosters Band will perform at 7 p.m. Saturday at Mustang Sally's, 303 W. Main St. in Perryville.
◼️ The Ouachita Strings Ensemble will perform for its fourth annual Concert in the Park at 5 p.m. Saturday in Janssen Park, bounded by Janssen and Port Arthur avenues, and Ninth and Seventh streets in Mena.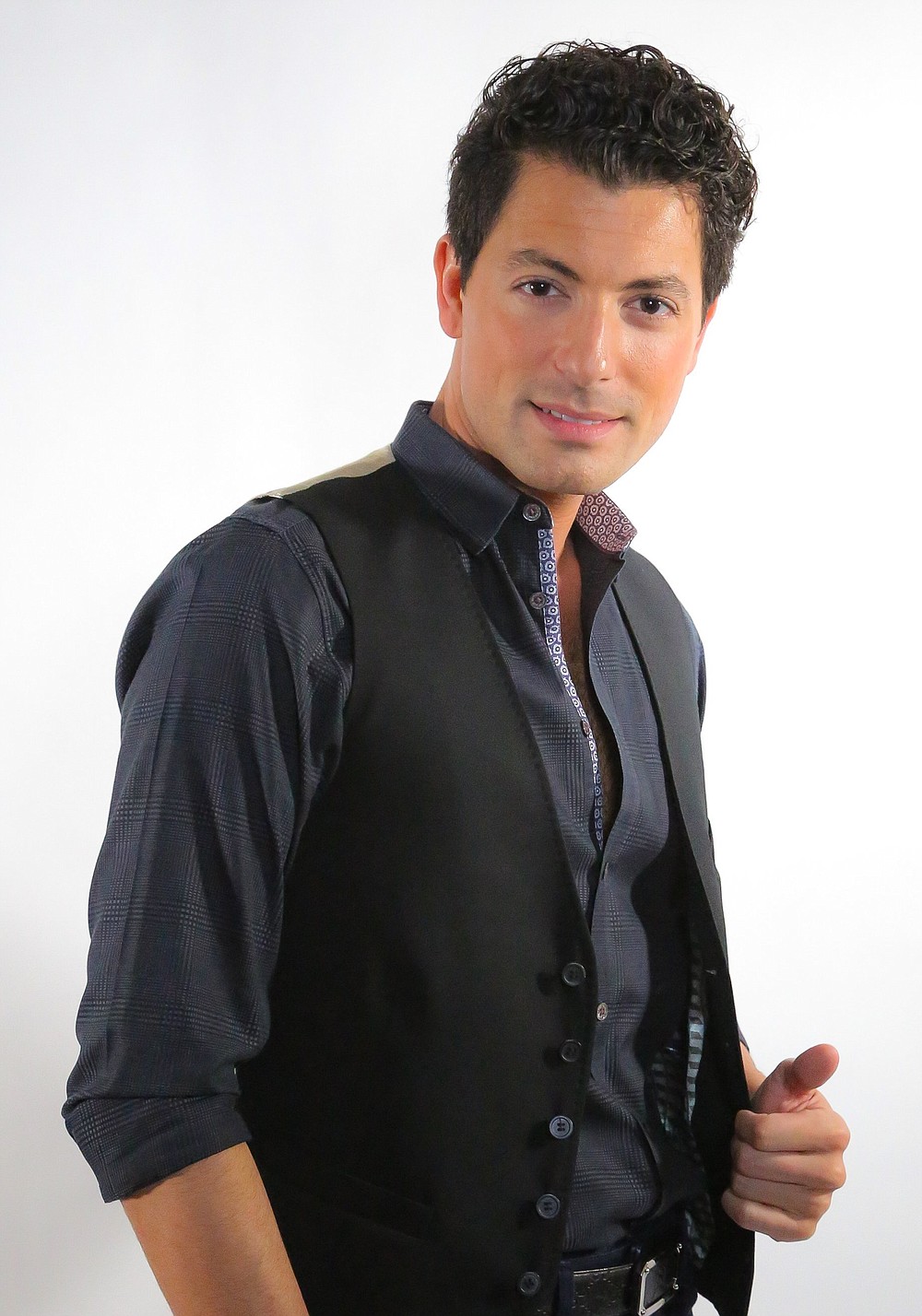 Fort Smith native Jonathan Karrant has released a new single, a jazzy version of the blues classic "I'd Rather Go Blind," available on iTunes and elsewhere. Karrant now lives in Las Vegas. (Special to the Democrat-Gazette)
STAY TUNED
Singer-songwriter James McMurtry will be the special guest on Mary Gauthier's show Sunday on Facebook Live.
◼️ Singer-songwriter-humorist Steve Poltz recently appeared on YouTube as a benefit for Texas Heartstrings, a breast cancer research organization. (Poltz, one of the funniest, smartest, best musicians we've ever seen, is worth seeking out on the internet, and hopefully, someday again, live.)
◼️ Lyle Lovett and Dwight Yoakam will perform a livestream show at 8 p.m. Friday at lylelovett.com. Admission is $10.
◼️ Sara Hickman, who retired in March 2017, will do a streaming show at 7 p.m. today, with donations requested that will be split with Poor David's Pub, the noted folk venue in Dallas where she frequently performed. To access the show, send donations to David@poordavidspub.com via Paypal or DAVID-CARD-12 via Venmo.
◼️ The Abracadabra Festival of music and environmental awareness will be held today through Sunday, livestreaming DJ Snoopadelic (Snoop Dogg), Diplo, Tycho Channel Tres, Claude Vonstroke, Nicole Moudaber, Paris Hilton, Robert "Kool" Bell & Friends, T-Pain and BLOND:ISH, via Twitch (twitch.tv). The festival is raising money for Planet Earth, in partnership with Parley for the Oceans, Lonely Whale and Bye Bye Plastic.
◼️ Eureka Springs has a fine, intimate auditorium that has hosted many memorable concerts, and these days the intimate, yet empty space, is offering shows, virtually, of course on YouTube, available at theaud.org. Some of the performers for Live at the Aud include singer-songwriter-guitarist Steve Jones, guitarist Tim Hillwood and singer-songwriter Kurt Hunter.
◼️ Hayes Carll, apparently inspired by his pal, Todd Snider, is now performing virtual shows called "Alone Together Sessions," at 6 p.m. Tuesdays from the Purple Building (purplebuildinglive.com) in Nashville, Tenn. Carll's show a week ago featured his guest and wife, Allison Moorer. Carll, a 1998 graduate of Hendrix College in Conway, has recorded six albums. Tips can be left at Paypal.me/HCTip.Jar and Venmo at @Hayes-Carll
◼️ Jonathan Karrant, a Fort Smith native now living in Las Vegas, has released a new single, "I'd Rather Go Blind," a jazz recording of an old blues song. The song is available to download on iTunes and other digital platforms. To preview the tune, go to arkansasonline.com/917karrant/.
◼️ Brothers Osborne, Wendy Moten and Ricky Skaggs will perform live at 6:30 p.m. Saturday at the Grand Ole Opry on the Circle network, available on YouTube, Twitter and Facebook channels or on the DISH network and TV Channel 11.5 with an antenna in Central Arkansas.