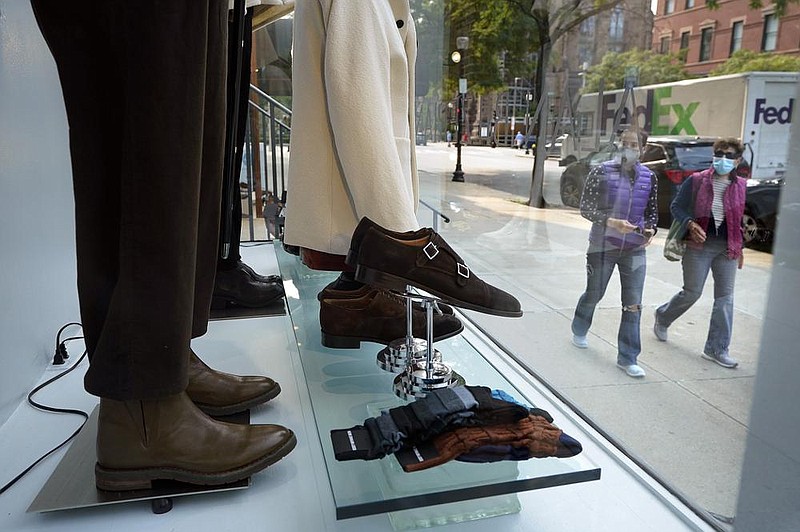 Passers-by examine a storefront window Tuesday in Boston's Newbury Street shopping district. Clothing sales climbed nearly 3% in August but were down 20% from a year earlier. (AP/Steven Senne)
The rebound in U.S. retail sales slowed by more than expected in August as federal relief for jobless Americans and small businesses dried up at the end of July and the pandemic continued to weigh on activity.
Retail sales rose 0.6% last month, the fourth-consecutive month of growth, the U.S. Commerce Department said Wednesday, but lower than the 0.9% increase in July. It's also below the 1.1% increase analysts expected.
So-called control group sales, which exclude food services, car dealers, building-materials stores and gasoline stations, fell 0.1%, also missing forecasts. The measure is often considered more reflective of underlying consumer demand.
"These are disappointing numbers," said Ian Shepherdson, chief economist at Pantheon Macroeconomics. "And they're probably a hint of what's to come in the wake of the ending of enhanced unemployment benefits."
Much of last month's growth came from spending at restaurants and bars, which are just starting to let people in to eat and drink. Sales rose 4.7% at those places, but are still down 15.4% for the year.
[CORONAVIRUS: Click here for our complete coverage » arkansasonline.com/coronavirus]
Clothing sales rose nearly 3% in August but they were down 20% from where they were a year earlier.
Conversely, grocery store sales declined 1.6% in August, but were 9% higher than a year earlier.
Also reflected in the numbers released Wednesday is the new reality for many Americans: they're working from home or taking classes online instead of going to school. Sales at electronic stores rose 0.8% as people bought up computers and laptops. Furniture and home furnishing stores posted a 2% increase in August and were up 3.8% from a year ago.
Ikea, the chain of affordable furniture stores from Sweden, said last week that demand for desks, chairs and filing cabinets has been so high that it's been sold out of numerous items and is working to restock them.
Back-to-school shopping -- which normally takes place in August and September -- was likely diminished this year, as families navigated remote learning plans and spent less on new apparel and backpacks for their children.
Overall retail sales have been recovering since they plunged in the spring as stores and malls were ordered closed to help prevent the spread of the coronavirus.
A number of those retailers, some of them part of the U.S. retail landscape for more than a century, have failed. Century 21 said last week it's shutting down all 13 of its stores for good after nearly six decades in business. Lord & Taylor, which has been around for nearly 200 years, is also going out of business. Several other major retailers have sought bankruptcy protection, including J.C. Penney, Brooks Brothers and J.Crew.
Retailers that had already pivoted to accommodate a shift to online shopping, like Target and Walmart, have thrived. Sales at Amazon.com have soared.
Online sales, however, were flat last month, according to the Commerce Department, after soaring 22% in the past year. People also spent less at supermarkets and sporting goods stores in August, after shoppers rushed to them this year to stock up on food and exercise equipment for their quarantines.
At the end of July, nearly 30 million laid-off workers stopped receiving a $600-a-week federal unemployment check, which economists have said helped sustain spending. The Trump administration has set up a program to provide some of the unemployed with $300 a week.
Those benefits bolstered incomes during the pandemic, and without them, millions of unemployed Americans will have significantly less cash to support the nation's retailers. Meanwhile, federal support for small businesses is running dry with the Paycheck Protection Program closing in early August. Lawmakers appear increasingly unlikely to approve additional stimulus until after the election, despite still-elevated joblessness.
"I think it will be much more difficult to see these gains going forward given that unemployment benefits have expired," said Gus Faucher, chief economist at the PNC Financial Services Group.
Still, the level of spending over the past four months has surprised some experts, even when factoring in Americans' seemingly unwavering propensity to shop.
"It's extraordinary that retail sales remained resilient in August," Morgan Stanley economists wrote in a research note this month.
Consumer spending makes up two-thirds of all economic activity in the U.S., and is monitored closely by economists gauging the nation's economic health.
Wednesday's retail sales report covers only about a third of overall consumer spending. Services such as haircuts, movie tickets and hotel stays are not part of the report. All of those businesses have been hammered during the pandemic.
Information for this article was contributed by Joseph Pisani of The Associated Press; by Reade Pickert of Bloomberg News; and by Michael Corkery and Sapna Maheshwari of The New York Times.
Sponsor Content