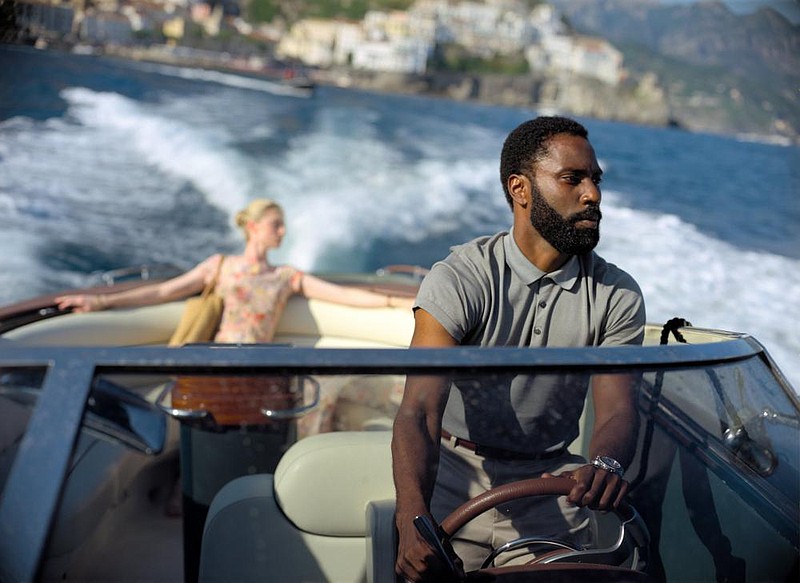 Elizabeth Debicki and John David Washington go for a ride in Christopher Nolan's "Tenet," which some have proclaimed an intellectual spectacle and others have found baffling.
When Warner Bros. finally selected a firm release date for Christopher Nolan's "Tenet," I committed to returning to the movie theaters. This was a movie I'd been waiting to see for a long time (that they stubbornly refused to release digitally during the pandemic), and I was ready to watch it in whatever form it was presented.
I'm a firm believer that Nolan is incapable of making a bad movie. To this day, even after "Tenet," I'm convinced that statement remains true. So when I saw the first trailer for "Tenet," and knew right away I had no clue what was happening, I knew this film was on track to be another Nolan hit.
Having been a former AMC Stubbs A-List member before the pandemic forced everything to shut down, the theater chain gave me some reward points to entice me back into their business. Opening their app, I saw two things. First, the final movie I'd seen before the pandemic was "Onward" on March 6. Second, the reward points were enough to make "Tenet" free.
The next thing I did was check out AMC's website to see if they were committed to a safe movie-going experience. Their plan looked thorough and included things like cleaning theaters in between showings, limited capacities to keep numbers low, enforced social distancing by determining which seats you can reserve and requiring masks at all times (except when eating and drinking).
Fine. AMC had convinced me to give theaters another shot. I don't want to think I'm someone who is paralyzed by fear at the thought of covid-19. Hopefully, I have the right amount of cautious respect for just how dangerous the virus is and the long-term damage it might present to some people who become infected.
With that said, I'm also an extrovert that's been slowly dying on the inside since March. It didn't take long for all the folks in the Northwest Arkansas Democrat-Gazette newsroom to be told, "Go work from home." I miss seeing my friends every day. I miss going out to eat with my buddies. And I've missed weekly visits to the movies. Having an affordable subscription option meant I went every week, whether there was something worth seeing or not. It was my favorite hobby.
And while going to see "Tenet" wasn't exactly a no brainer (there were several days of internal debate), I eventually came to the decision it was worth going to see. I just had to be smart about it.
My wife works in retail and wears a mask during each shift. I figured if she can go work in a store several times a week, we could go sit in a movie theater for a couple hours and be reasonably safe.
I picked a showtime early Sunday afternoon because I figured that's when the theater was most likely to be deserted. And I was right. The place was a ghost town as we pulled up. The man scanning our tickets stood behind a sneeze shield. We skipped the snacks to limit exposure to others and found our theater.
There were five people inside the whole room, spaced out rows apart, aside from my wife and me. Everyone I saw was following the rules and wearing a mask. No complaints there.
Throughout the movie I was occasionally reminded I was wearing a mask, but the spectacle that was "Tenet" kept me engaged and distracted from that fact for the most part. By the time I'd reclined in my seat and started trying to figure out what the heck was going on with this time travel story, my mask was the farthest worry from my mind.
Some of my friends texted to ask how "Tenet" was after I got back. They were wondering if it was worth going to see in theaters.
I told them it was. It's a good, albeit confusing, movie. And it's worth seeing on the big screen with one caveat. You have to feel safe. If you have any misgivings about going to see a movie during a pandemic, then it's absolutely not worth seeing. If you're going to be distracted by fears of the virus all around you while John David Washington is running forward and backward through time, then it's not worth it.
Just because I felt safe, and the people at my local AMC were respectful and responsible doesn't mean that'll be the case everywhere.
Ultimately, I think "Tenet" has a pretty big flaw in its lack of character development. Nolan was so wrapped up in the mechanics of his time travel story that he forgot to grow the characters doing the time travel action. You're ultimately left with two essentially nameless heroes, an evil Russian, and Elizabeth Debicki, who plays the only human character in the bunch. She was the only person I watched and thought, "Damn, now that's a character I'm concerned about and want to follow."
"Inception" and "Interstellar" are both superior to "Tenet" in every way. Why? Because they both featured broken men stretched to their emotional limits just trying to make it home to see their families. What did the Protagonist in "Tenet" want? To save the world, I guess. That's about all there was to him.
Is the time travel stuff cool once you figure it out? Hell yes it is. Did I feel wicked smart figuring things out and putting the puzzle together? You bet. "Tenet" is an audacious film. The final mission with soldiers simultaneously moving backward and forward through time is mind blowing stuff.
I just wish more of the characters going through those mind blowing scenes had been human enough for me to get attached to them, regardless of how ridiculously charming and cheeky Robert Pattinson was (I can't wait to see him as Bruce Wayne).
When the movie finished, we exited the theater, easily socially distanced. And I spent the later half of that afternoon nursing a headache from the madness of what I'd just watched.
In hindsight, I'm glad I went and watched the movie. Of course, I don't see anything else coming out in September that I anticipate going to see in theaters. "Wonder Woman 1984" will probably be the next thing I go see at my AMC, unless Warner Bros. moves it again.
I'd say my return to the movies felt hollow somehow, and that's not AMC's fault. The theater did everything it could to get me there, from enhanced safety policies to the free movie ticket. I think what I missed was the buzz of other people around me, excitedly discussing their own movies. I missed buying popcorn and candy (at ridiculous prices).
That stuff had to be cut/limited for safety during the pandemic, and I understand that. I guess no matter how good the movie was, or how many inches it moved the dial back toward "normal life" for a couple of hours, the enjoyment of this return was always going to be constrained by the ongoing pandemic.
But if there was something to distract me for a couple hours, I'm glad it was a Christopher Nolan movie. It wasn't like "The New Mutants" was enough to pull me out of my apartment.
Sponsor Content