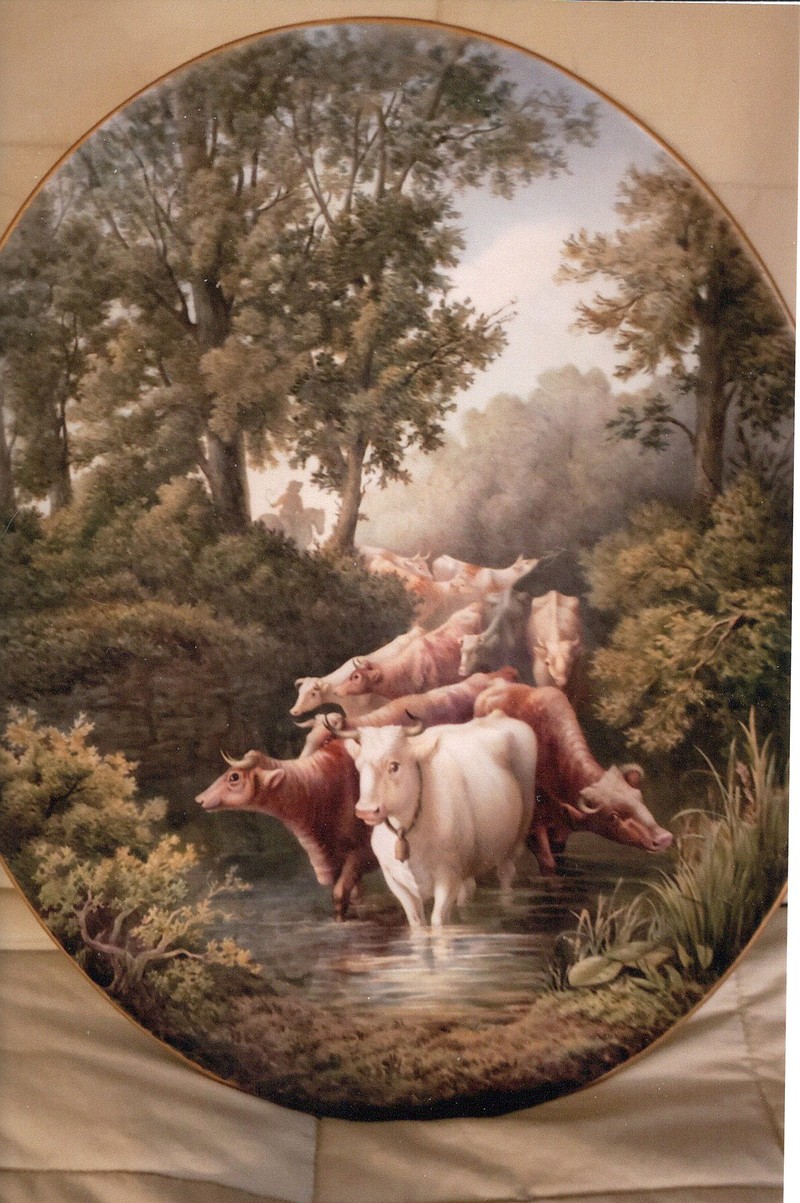 A herd of cows never looked so good. (Handout/TNS)
DEAR HELAINE AND JOE: I would appreciate any information you might have on this colorful cow platter and its value. The marks on the back are not very good or distinguishable — it looks like a crown and a blue stamp. There are some impressed letters that appear to be "DERD." It is approximately 18-by-15 inches. It has four holes on the back for hanging, and we have found no initials or name on the front. My husband suggests there is a "Spanish cowboy" in the background.
— B.S.
DEAR B.S.: Yes, there is a tiny, shadowy herdsman on horseback in the background, but we doubt very seriously he is Spanish.
We have stared at the piece's marks until our eyes are collectively bleary, and we agree these are probably marks used by the Derby Porcelain Works, which was founded sometime in the 1750s, appropriately in the city of Derby in Derbyshire, England. The time is a little loose because we know that William Duesbury, who was a decorator in London, was buying undecorated porcelain from someone in the early 1750s.
Who that actually was is open to conjecture. Some theorize Derby can trace its ancestry back to the Cockpit Hill Potworks, which was working as early as 1708, and is sometimes referred to as the Derby Potworks. Be that as it may, there is a contract dated Jan. 1, 1756, between Duesbury, John Heath and Andrew Planche to manufacture "English China" in Derby.
The firm sometimes referred to itself as being the "Second Dresden" — or as we might say today the "Second Meissen" — because they produced such finely decorated wares. Sometime between 1811 and 1815, the factory was acquired by Robert Bloor, and pieces can be found marked "Bloor Derby" with a crown.
In 1848, the original Derby factory closed. Some former Derby employees reopened the works on King Street in Derby, and this factory operated until 1935. It was absorbed by Royal Crown Derby, which was established in 1890 and is still in business.
The marks on B.S.'s oval plaque seem to indicate it was made sometime between 1878 and 1890. The shape and size of the plaque say Derby to us, and when the incredible enamel painting of cows in a bucolic landscape is added to the equation we are even more comfortable with this attribution. Plus, we read "DERD" as "DERBY" to seal the deal.
We feel the image of the cows is a reproduction of a painting in the English Romantic style or the Barbizon School, which was founded in France. We are reminded of the work of Barbizon artist Constant Troyon (1810-1865) or the English artist David Cox (1783-1859).
B.S. should search the bottom of the oval in the darker areas for an artist's signature that would tell us who did the rendition. As for value, we feel it should sell in the $2,000 to $2,500 range at auction and be insured in the neighborhood of $3,500 to $4,500.
Helaine Fendelman and Joe Rosson have written books on antiques. Do you have an item you'd like to know more about? Contact them at Joe Rosson, 2504 Seymour Ave., Knoxville, TN 37917, or email them at treasures@knology.net. If you'd like your question to be considered for their column, please include a focused, high-resolution photo of the subject with your inquiry.
Sponsor Content