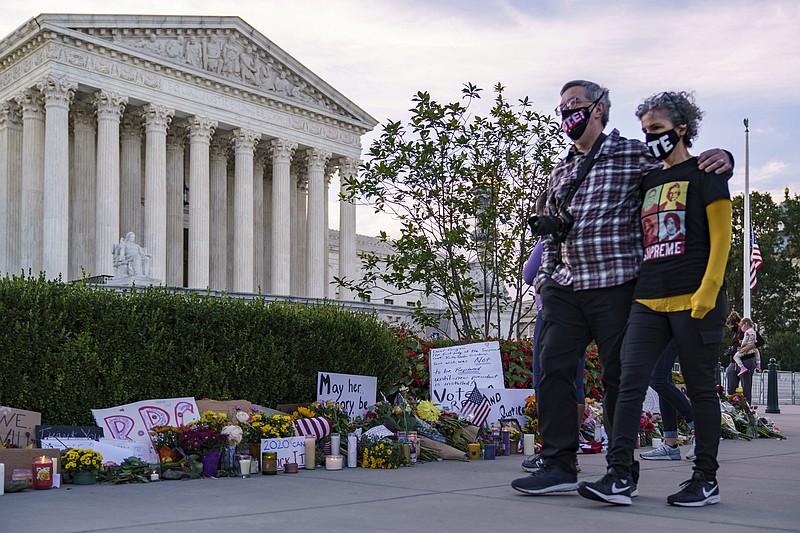 People gather at the Supreme Court on the morning after the death of Justice Ruth Bader Ginsburg, 87, one of the high court's liberal justices, and a champion of gender equality, in Washington, Saturday, Sept. 19, 2020. (AP Photo/J. Scott Applewhite)
WASHINGTON -- Democrats raised more than $50 million in the hours after Supreme Court Justice Ruth Bader Ginsburg's death, demonstrating how the liberal icon's passing and the nomination fight that lies ahead have already galvanized the party's base.
The sum was raised by 4 p.m. Saturday after news of her death broke late Friday, according to a donation ticker on the website of ActBlue, the party's online fundraising platform.
Ginsburg's death brought new impetus to the campaign, particularly after President Donald Trump and Senate Majority Leader Mitch McConnell, R-Ky., both pledged to move forward with finding a new justice.
A group of Democratic strategists raising money through an effort called "Get Mitch or Die Trying," which shares donations among Democratic Senate contenders, reported that within hours of Ginsburg's death they more than doubled what they had previously raised.
"In tribute to the extraordinary life of Justice Ginsberg, I'm matching donations to this fund up to $10,000 tonight," tweeted Grey's Anatomy showrunner Krista Vernoff.
Sen. Brian Schatz, D-Hawaii, included a link to the fundraising effort in his tweet: "Don't pick your favorite candidate or the one you've heard of. Give here. I repeat, this money goes directly to the most competitive races, not just the most famous candidates."
A separate Senate-focused Democratic fundraising push specifically mentions Ginsburg's legacy.
"In this moment it is vital to give to Senate candidates," reads an ActBlue fundraising page called "Protect RBG's Legacy"
"Time to apply maximum pressure so that they do the right thing & refuse to vote to confirm before the 2020 election."
A representative for ActBlue did not respond to a request for comment on Saturday. A spokesman for WinRed, Republican's ActBlue counterpart, also did not respond to a request for comment.
Democrats were not the only ones who raised the specter of the coming Senate nomination fight while raising money.
On Saturday, Trump's campaign also texted out a fundraising solicitation to supporters.
"Pres. Trump will fill the Supreme Court vacancy with a conservative justice," the message read. "Make America Great Again!"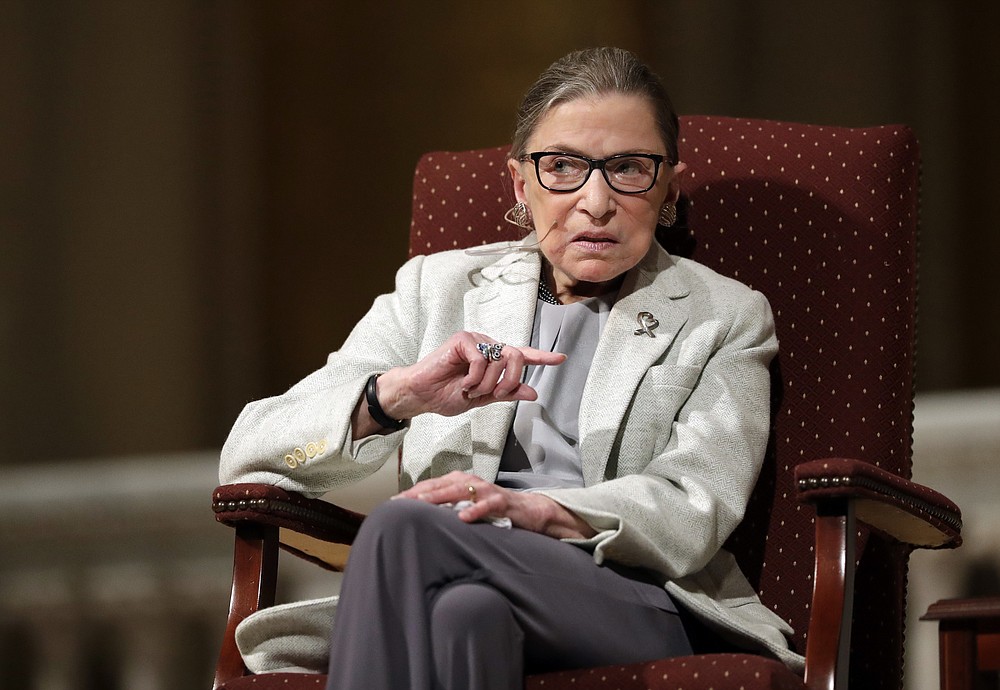 FILE - In this Feb. 6, 2017 file photo, Supreme Court Justice Ruth Bader Ginsburg speaks at Stanford University in Stanford, Calif. The Supreme Court says Ginsburg has died of metastatic pancreatic cancer at age 87. (AP Photo/Marcio Jose Sanchez, File)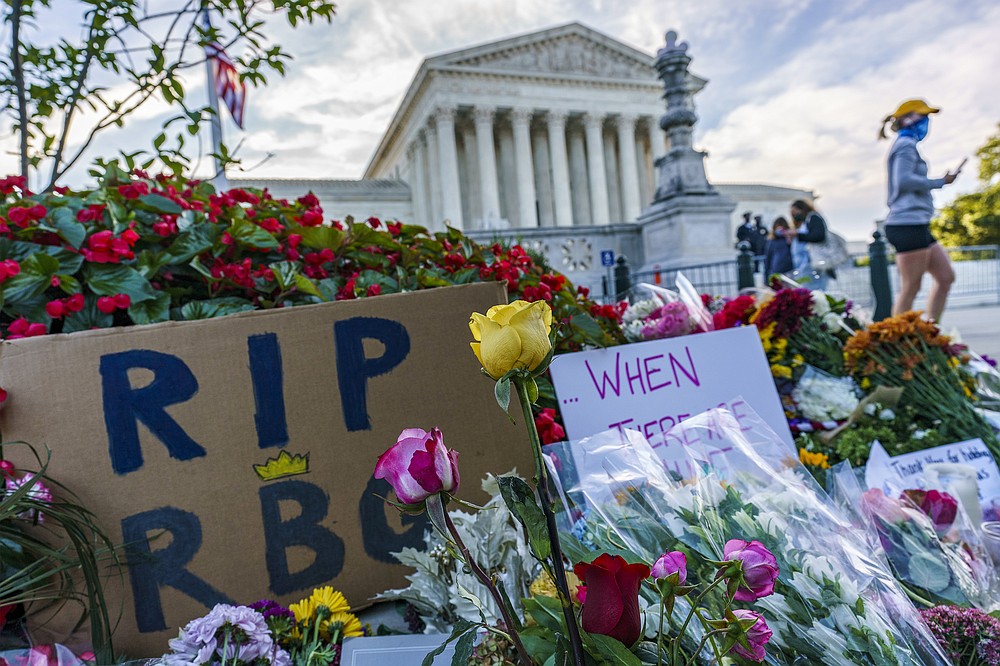 People gather at the Supreme Court on the morning after the death of Justice Ruth Bader Ginsburg, 87, Saturday, Sept. 19, 2020 in Washington. (AP Photo/J. Scott Applewhite)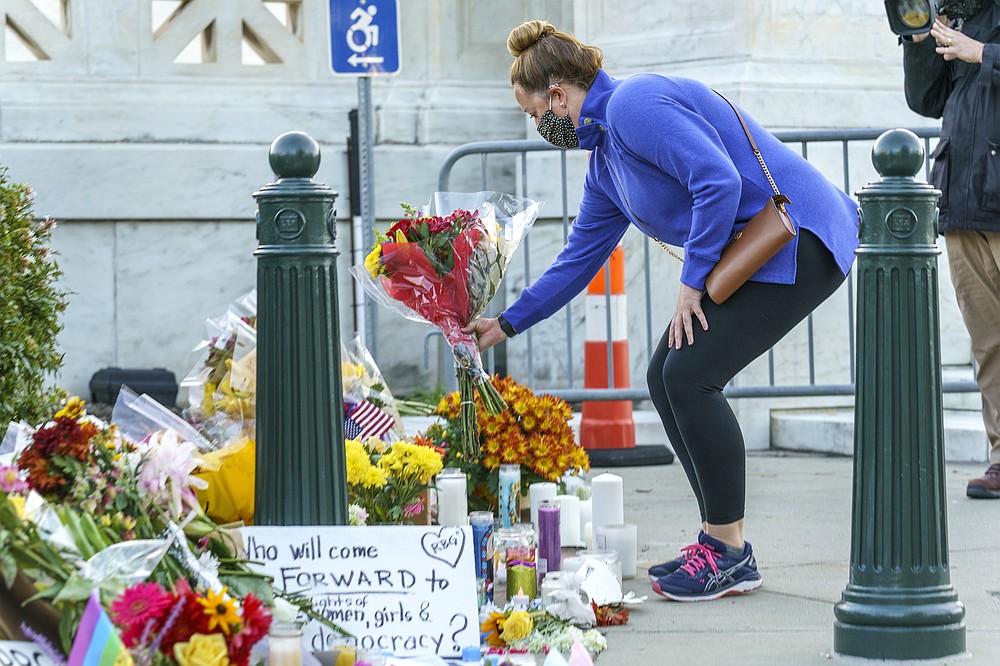 People gather at the Supreme Court on the morning after the death of Justice Ruth Bader Ginsburg, 87, Saturday, Sept. 19, 2020 in Washington. (AP Photo/J. Scott Applewhite)
Sponsor Content