The renovations at the White Hall Public Library were started over the winter and wrapped up this summer, but with high covid-19 case numbers in Jefferson County, it remains closed.
The $270,000 revamp of the 8,580-square-foot library included the addition of two four-person study rooms, a lounge and four computers dedicated to teenagers, one family computer and one preschool computer.
The 24-seat conference room was given a face-lift, the old carpet was ripped up and replaced with a hard-surface floor, and new furniture was placed throughout the library.
Fred Reed of the Reed Architectural Firm of Pine Bluff was the lead architect on the White Hall renovation, while East Harding Construction of Little Rock oversaw the work.
Ellen Bauer, the head librarian, said, "I like it. We are looking forward to welcoming our patrons back ... as soon as we can."
The 41-year-old library, at 300 Anderson Ave., is part of the Pine Bluff Jefferson County Library System, and its director, Barbara "Bobby" Morgan, said she is "thrilled" with the work.
However, a disappointed Morgan said the celebrations at White Hall will have to wait on coronavirus numbers to drop.
"We are very anxious to open the library," Morgan said.
For now, Bauer said, "It's a waiting game. We're waiting for the covid numbers to go down."
Currently, Bauer said, they offer curbside and printing services if pages are emailed to the library staff, and there is 24-7 free Wi-Fi service access from the parking lot.
Normally, they have a staff of two full-time and one part-time employees, but during this time, there is only one full-time and one part-time staffer on-duty.
"Our eResources and virtual programs are available," Bauer said.
FUNDING FOR THE REDO
In 2016 city and county voters approved two millage increases, totaling about $14 million, to upgrade the system's four branches at White Hall, Watson Chapel, Redfield and Altheimer and build a new main library in Pine Bluff on Main Street.
The system spent about $1.2 million for renovations and expansions at Redfield, Altheimer and White Hall, with the remaining money, about $12 million spent on the ground-up construction at the main branch and work at Watson Chapel.
Morgan said, "The [branch] libraries are finished and are beautiful."
The White Hall library was built in 1979 and last remodeled in 2005, and its circulation includes about 25,000 items, such as books, DVDs, audio-books, American Girl kits, and technology for children.
During non-pandemic times, the library offers programs including Toddler Time, STEAM for elementary students, as well as monthly adult programs and family activities.
SUPPORTING ACADEMICS
The renovations partly focused on supporting its patrons' future educational or career goals.
For example, Morgan said, the study rooms are "designed to allow people to concentrate on their studies."
The renovation also included technological upgrades that fill a critical need within Jefferson County, where about 57 percent of the population doesn't have access to a computer or an online connection at home, Morgan said.
However, it's critical to academic and career success.
These days high school and college students are hard pressed to complete their work without online access, Morgan said.
This was especially true when the schools shut down in mid-March due to covid-19 and many students turned to the library's free Wi-Fi access to complete their schoolwork.
After graduation, it may be difficult to land a job without the ability to conduct online job searches or fill out applications. Even jobs at Walmart or Wendy's require some computer knowledge and often applications must be filled out online.
"Without it, it's difficult to find a job," Morgan says.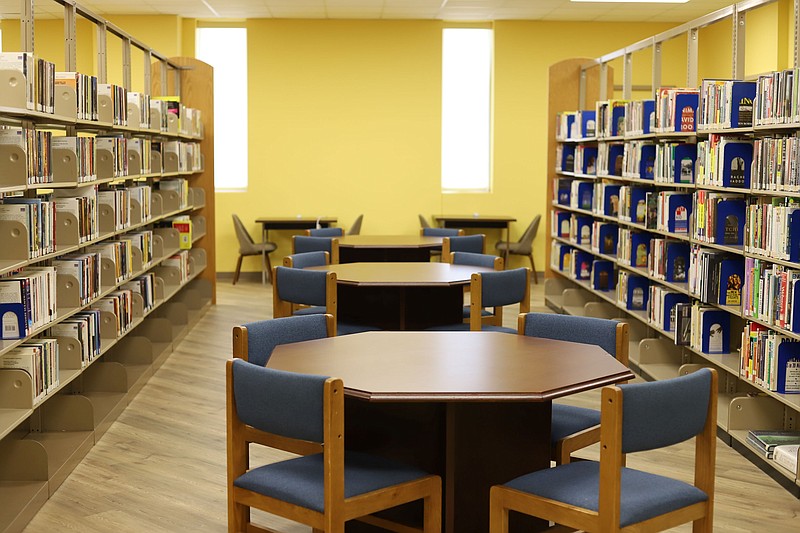 This image shows the inside of the White Hall Branch's adult area. Special to The Commercial/Pine Bluff Jefferson County Public Library System